Mini Christmas Cranberry Crackers
With the big day quickly approaching we all start to think of fun Christmas baking ideas. We have a great one for you from McKinney's Sugar and Catherine Fulvio. These little Cranberry Crackers are a great idea to make this year, whether it's for a Christmas party or New Year's drinks, this is the recipe to create some mouth-watering mini sweet treats. This easy yet impressive canapé recipe is sure to be a crowd pleaser!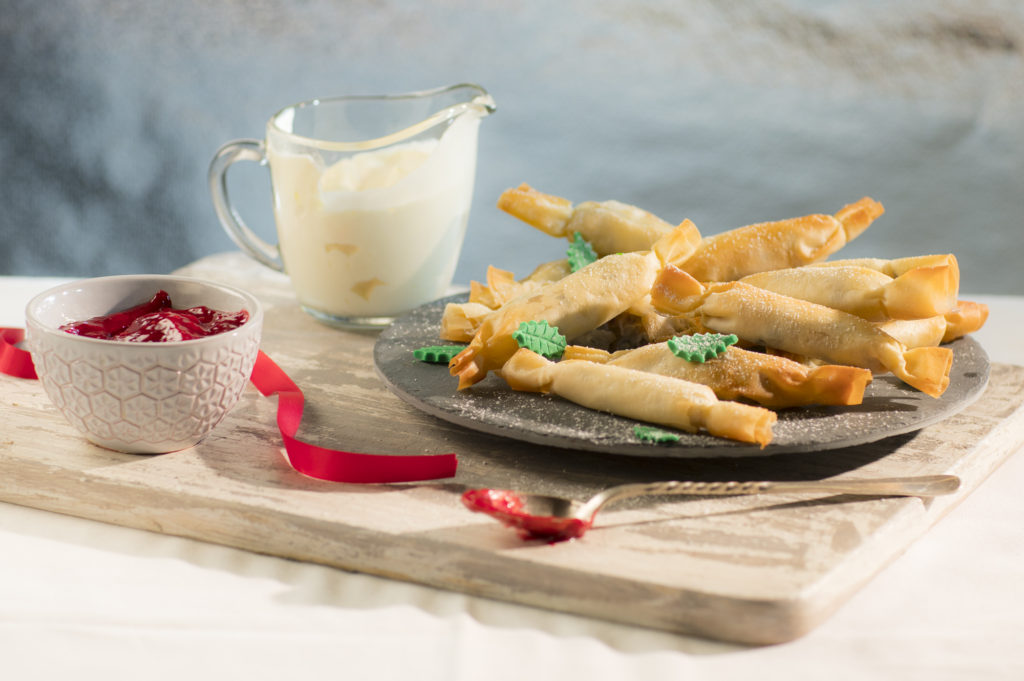 Makes 12
4 sheets filo pastry
60g melted butter
Ingredients
For the coulis
100g fresh or frozen cranberries
50g raspberries
60g McKinney's Granulated Sugar
For the filling
150g dried cranberries, soaked in 100ml orange juice for 10 minutes.
50g McKinney's Granulated Sugar
¼ tsp ground cinnamon
1 orange, zest only
McKinney's Icing Sugar, to dust
Siucra Roll Out Icing, for holly leaves
Green colouring (optional)
150ml cream, to serve
4 tbsp. McKinney's Icing Sugar
String, for tying
To prepare the coulis
Place all the ingredients into a sauce and bring to the boil, reduce the heat and simmer for about 7 to 8 minutes. Remove from the heat and cool before blending until smooth.
Preheat the oven to 190°C /fan 170°C /gas 5.
Line 2 baking trays with parchment.
To prepare the crackers, divide the pastry into 2 sheets and stick together with melted butter.
Cut the filo pastry with a pizza cutter or clean pair of scissors into 6 equal rectangles and do the same with the other sheet.
Cover with a damp tea towel while shaping the crackers.
Drain the cranberries and combine with the sugar, cinnamon and orange zest.
Brush each rectangle with butter, spoon in some filling and roll into a cracker shape, sealing the edge with butter. Tie each end with string.
Place on the baking tray and repeat until all finished.
Bake for about 8 to 10 minutes until golden.
To shape the leaves for decorating
Colour the roll out icing if you are using green colour paste.
Now roll out on a clean surface that is lightly dusted with icing sugar, cut 3 leaves for each cracker.
Once the crackers are cool, dust with icing sugar and place 3 leaves on each cracker.
For the cream, whip the cream and sugar lightly until soft peaks form.
To serve
Snip the string off the crackers, dust with icing sugar and serve with the coulis and cream.