Superflakes for a Super-crunchy Super-tasty start to the day
We're long-term fans of Nature's Path. A brand which takes huge pride in their products ensuring they're made from the finest ingredients and making the least possible impact on our planet in doing so. Or in their own words "a family-run, passionately independent, sustainably-driven, deliciously-healthy organic food company". Which I think sums it up pretty well.
Nature's Path are the creators of their own granola, porridge oats and cereal! We always keep a healthy selection of all of the above in our kitchen cupboards. We're huge advocates of the importance of breakfast. Nature's Path creates super-tasty products which sets the worlds apart from their competitors.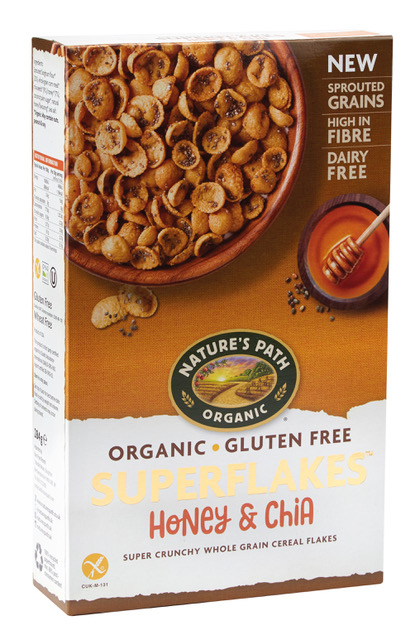 So what's new?
We love this part, the big reveal. Nature's Path have just launched their own cereal called Superflakes. A New organic, gluten and dairy-free cereal with sprouted grains.
This whole grain, organic, gluten-free and dairy-free cereal is made with sprouted grains and chia seeds and comes in two tasty flavours, Honey & Chia and Cocoa & Coconut.
So what are sprouted grains?
We're tell you this, as we didn't know the answer ourselves. So in the spirit of 'every day is a school day' we're learning something. Sprouted grains are seeds that have been harvested just before they turn into a fully-fledged plant. Sprouting is a part of the natural growing process, which gives life to the seed – but if you stop it at the right moment, you can unlock far more vitamins, nutrients and flavour than found in 'normal' grains.
I bet that has you wondering why we're not eating more of these!
In Superflakes, Nature's Path uses sorghum flour, black bean flour and brown rice flour – which are all made from nutrient-rich sprouted grains.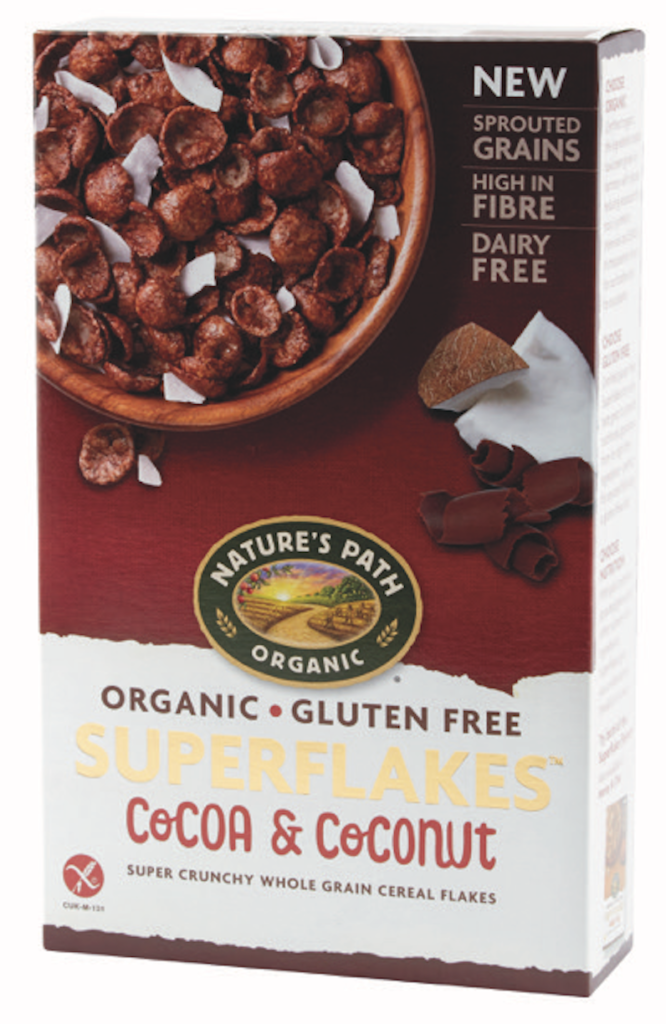 What other goodies are in these cereals?
Working alongside sprouted grains are chia seeds and cocoa, which also provide a beneficial breakfast boost. Chia seeds are high in ALA Omega-3 Fatty Acids, fibre and magnesium, while cocoa contains iron and antioxidants.
Both Superflakes flavours taste great too. Whether it's the crunchy flakes packed with chia seeds and a touch of honey – or wholegrain flakes coated with indulgent cocoa and mixed in with crisp coconut pieces, each one has a deliciously moreish taste and retains its crunch to the very last bite.
Both variants, Honey & Chia and Cocoa & Coconut, are available at Tesco stores nationwide, priced at £3.50 RRP.
We really can't think of a better start to the day!