Kick Start January On A Healthy Note
Well it is January! A month which is full of good intentions for the coming year. Most of us come up with at least one improvement or change we want to make to our lives during this time. Eating healthier is something we try and kick start every year. If you've tried it you'll know, its easier said than done! All those healthy cooking books lining the shelves of your local book store just glaring at you. Their promises of weight loss and six packs. It's not quite that simple.
We believe that it takes tiny steps to convince yourself that living a healthier lifestyle doesn't feel like a punishment. Lets face it, we all picture having to eat ryvita for months on end to even come close to being healthy. When you start looking at the options you'll actually be shocked.
So the first big step we believe is to TASTE what healthy can be. Once you taste what you can have you'll want to start making the meals yourself. This is where Marks and Spencer's new Balanced for You range comes in. The meals are incredibly. Each designed for one person. Nice portion sizes which are really filling but most importantly balanced. Balanced carbs and calories etc etc etc.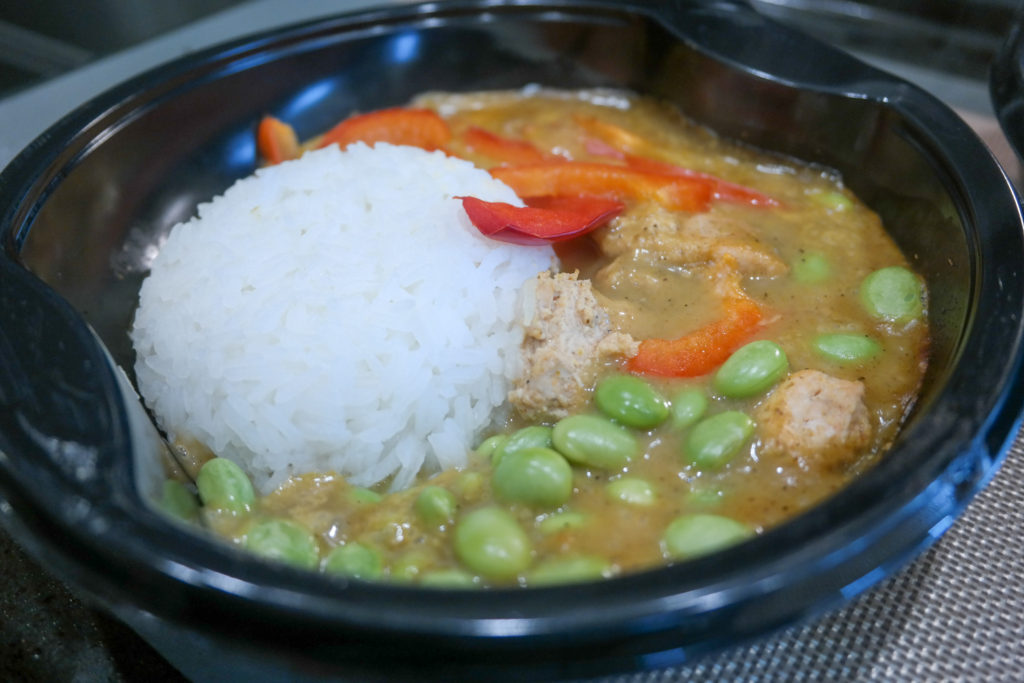 So shall we tempt you a bit? We'll showcase some of this range just for you to see how delicious they sound. We had to test them all, and they really are as good as they sound. We really hope, like these have done to us, will persuade you that healthy balanced meals can taste amazing. So these are a great inspiration to helping you get into the routine of making similar meals to these yourself. Most of these meals are in Marks and Spencer's 3 for £10 offer at the time of writing this, so it won't break the bank for you to try some healthy inspirational meals.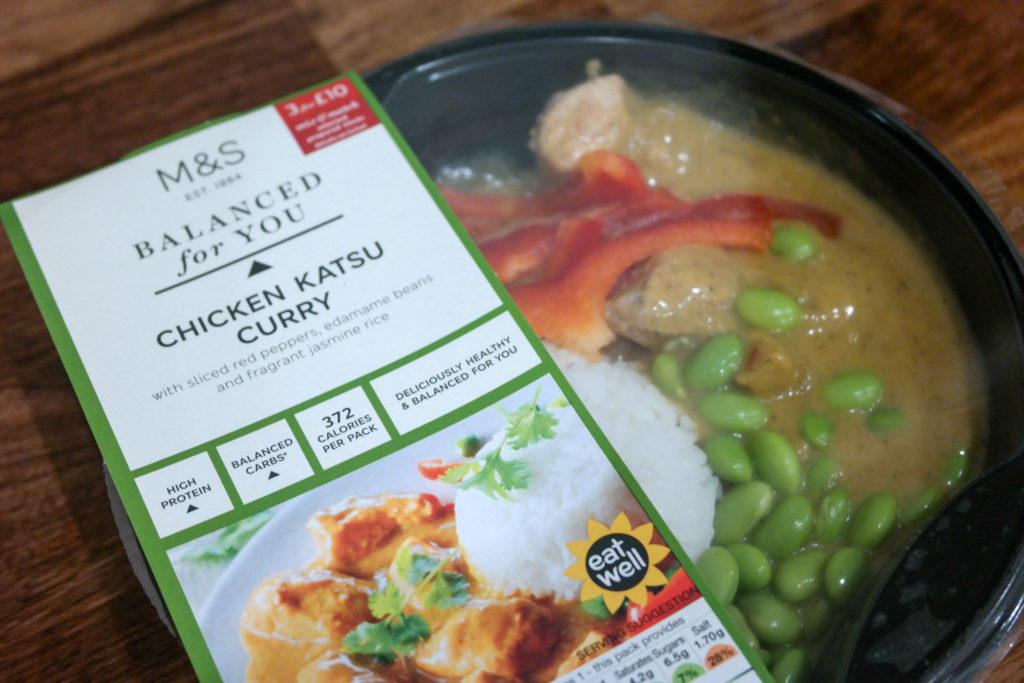 Chicken Katsu Curry
Ok you'll have seen Katsu Curry everywhere recently. It's quite a trendy dish for the past few years. The problem is that it is not always healthy. Marks and Spencer have developed an incredibly delicious balanced version. This is probably our favourite dish of the whole range. With sliced peppers, edamame beans and fragrant jasmine rice this is a really filling dish. The chicken is marinaded and succulent instead of in the usual breadcrumbs. But there is no sacrifice with taste at all. In fact we think this is better!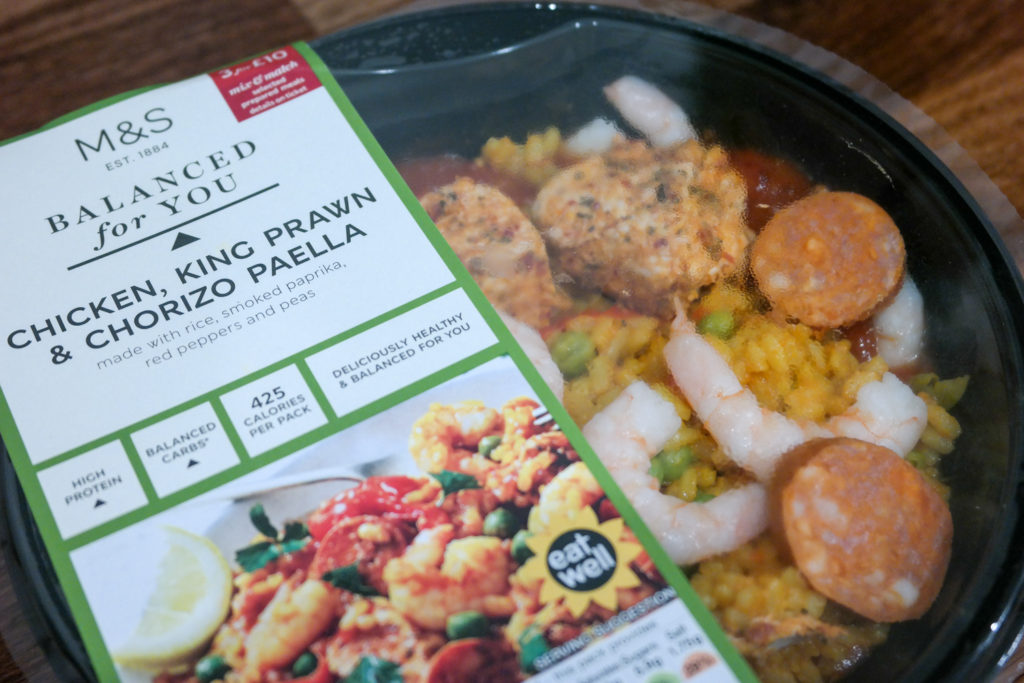 Chicken, King Prawn and Chorizo Paella
We know what you're thinking already. These are dishes which you normally would eat. So you're not really changing your diet that much except substituting more healthy versions of your favourites! How easy is that. This paella is packed full of flavour made with rice, smoked paprika, red peppers and peas.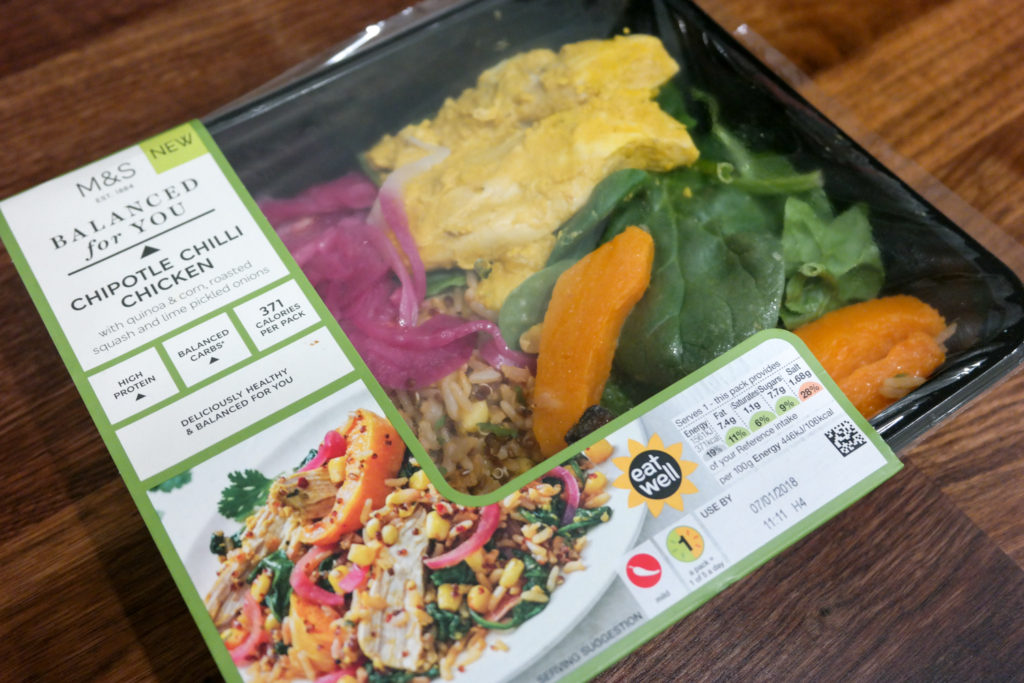 Chipotle Chilli Chicken
Again this sounds like a dish you would have without considering a healthier option. This Chipotle Chilli Chicken is served with quinoa and corn, roasted squash and lime pickled onions. So much flavour in such a simple dish. High protein and balanced carbs. What's not to love.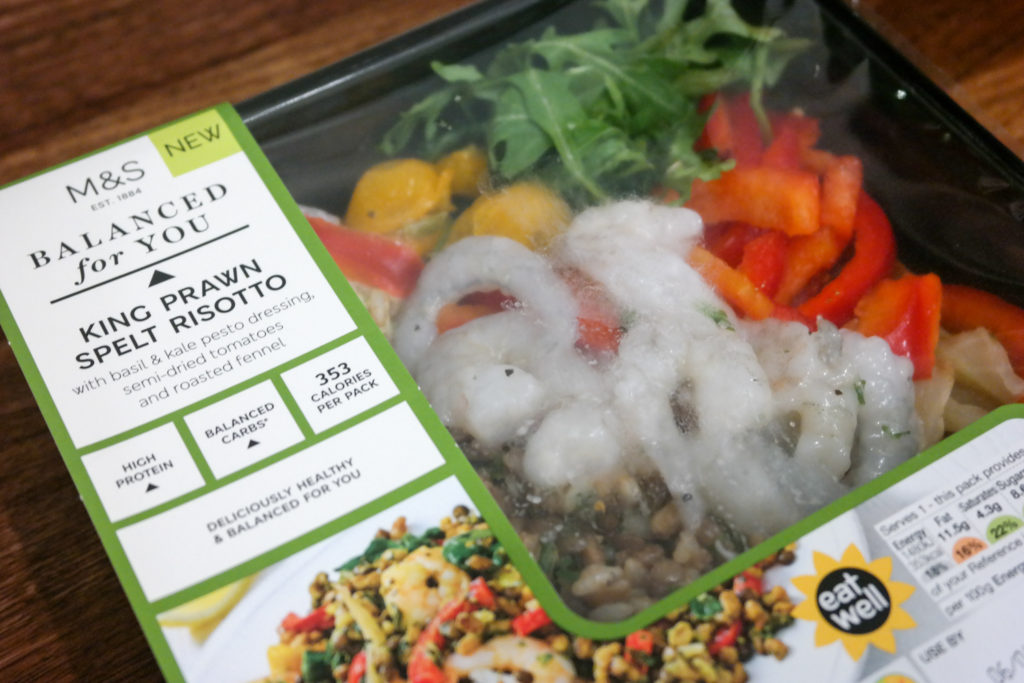 King Prawn Spelt Risotto
Risotto, a great favourite of ours and all our friends. Something which isn't normally the healthiest option on the menu. This one however, is! Made with basil and kale, pesto dessing, semi-dried tomatoes and roasted fennel it is packed with great flavours which all compliment each other. You wouldn't know the difference in a standard risotto. So why wouldn't you chose to eat this instead. This really is restaurant quality!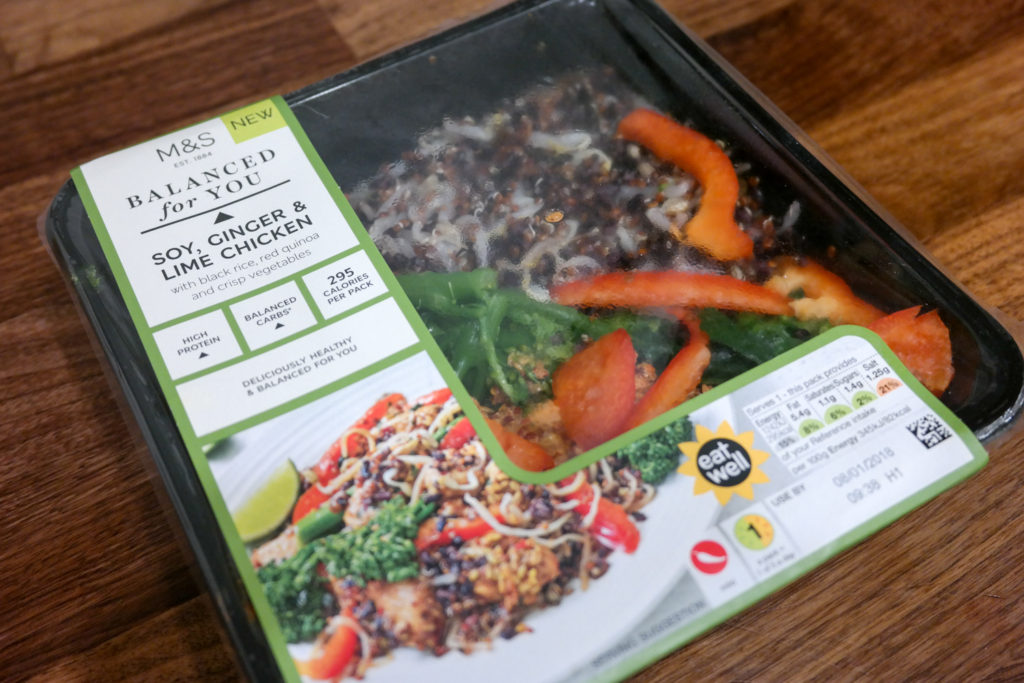 Soy, Ginger and Lime Chicken
Even the title of this meal just screams flavour! At only 295 calories this is one of the lowest in the range. This dish comes with soy, ginger and lime chicken served with black rice, red quinoa and crisp vegetables. Not only does it look incredible but it tastes phenomenal. You will have to serve this one in its black plastic container just to convince your friends or family that this isn't home made or from a restaurant!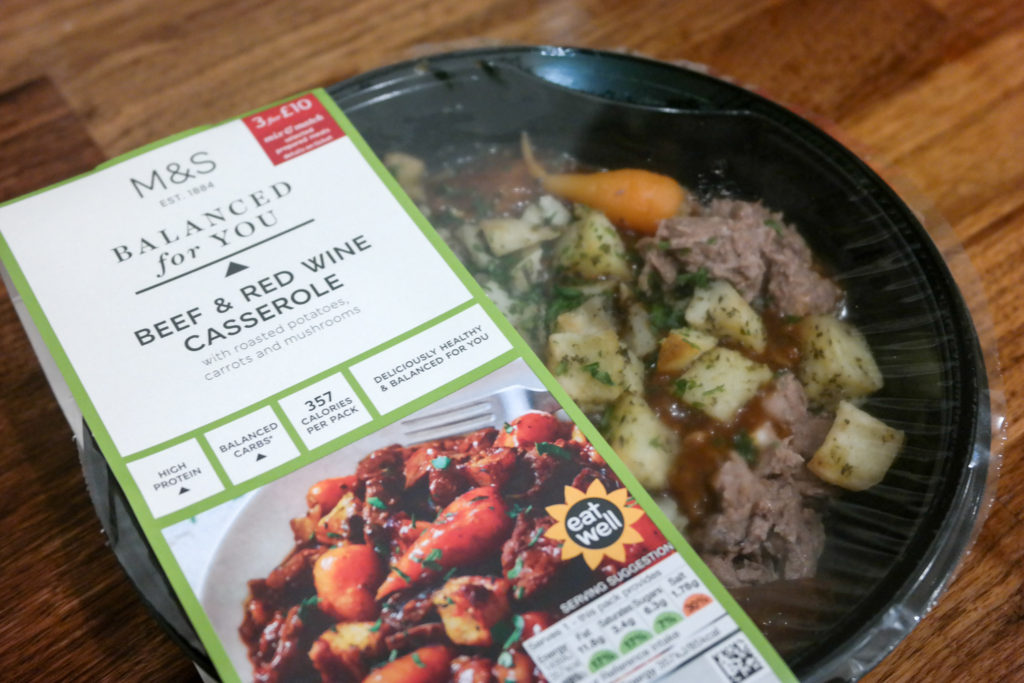 Beef and Red Wine Casserole
This is a good winter warmer favourite of our nation. So obviously we welcome a healthier version of this dish. This is Beef and Red Wine Casserole with roasted potatoes, carrots and mushrooms. None of that sounds any different to the normal dish which makes it incredible that it comes in at only 357 calories! This is our go-to option for the cold winter nights we have been having. Such a great warming dish.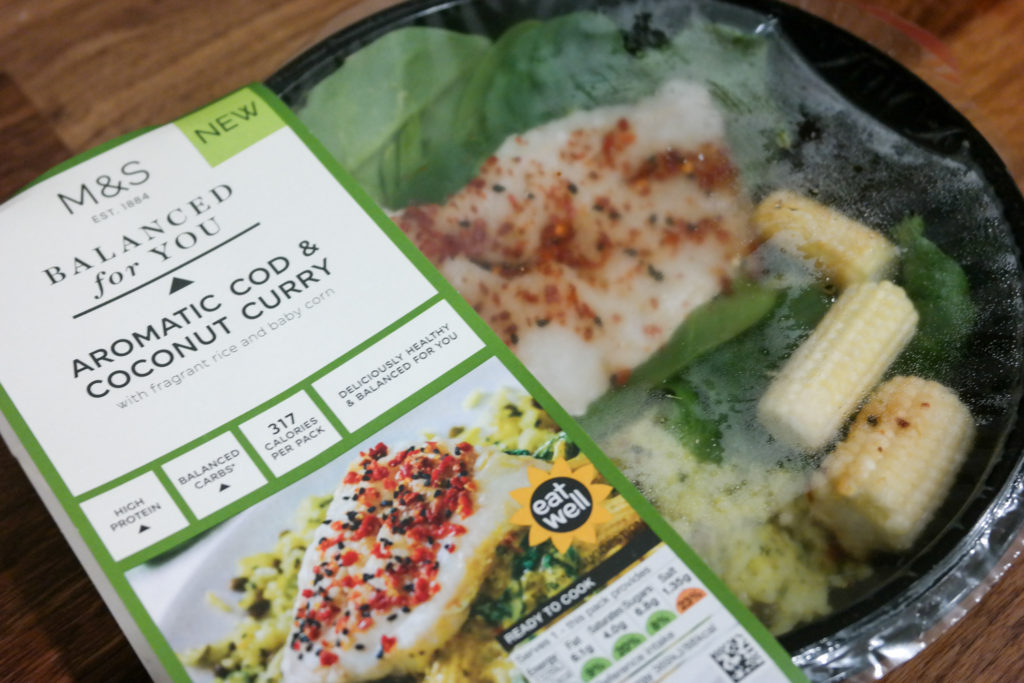 Aromatic Cod and Coconut Curry
This sounds like something you'd order when you're at your favourite oriental restaurant and it looks it too. A great chunk of cod lies on top of this dish which makes it look so tempting. Served with fragrant rice and baby corn. This is a nice and simple dish but absolutly packed with flavour. When served this looks completely home made or from a top restaurant. When you buy this dish in the 3 for £10 offer I cannot imagine being able to make this from scratch any cheaper. But we'll certainly give it a go if we can match this great flavour.
Green Thai Chicken Curry
Yet another favourite of ours. It is hard to beat a good green Thai curry. Again this dish isn't normally the healthiest on the menu but Marks and Spencer have worked wonderers and this dish is beautifully balanced and healthy. Served with red peppers, baby corn and jasmine rice. You won't look at another green Thai curry again.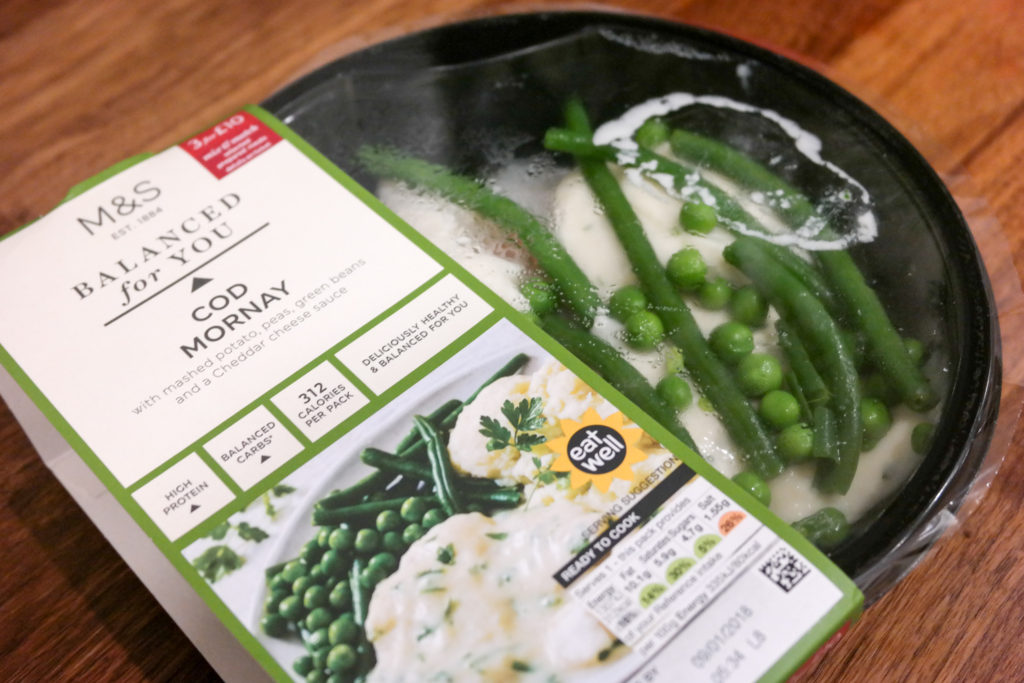 Cod Mornay
This is not a new dish to Marks and Spencer. They have had a few variants of this over the years and we have always eaten each. All have been tremendous and hard to beat.  This version is also balanced and healthy. Another great winter warmer dish served with mashed potato, peas, green beans and cheddar cheese sauce. Cheddar cheese sauce!!! And it's still balanced. Magic!