Have Your Cake and Eat It: Nutritious, Delicious Recipes for Healthier, Everyday Baking – The Review
We all want to be able to eat cake and not feel quite so guilty about it afterwards. Mich Turner has written this book 'Have Your Cake and Eat It: Nutritious, Delicious Recipes for Healthier, Everyday Baking' which this exact message in mind. There are so many ways to make a cake a little bit more healthy and nutritious. Sometimes without you even noticing a difference.
The secret to Mich's recipes is a fine balance between delicious and nutritious.  Baking and eating healthier cakes doesn't have to mean bland and boring, and Mich shows you how in this wonderful book of sweet treats. Mich offers suggestions for substituting fats, flours and sugars so you can choose what to bake. In addition, there are smaller bakes so you can portion-control your servings, which helps steer you through the jungle of information. Each recipe is filled with tips and know-how from Mich's incredible baking expertise.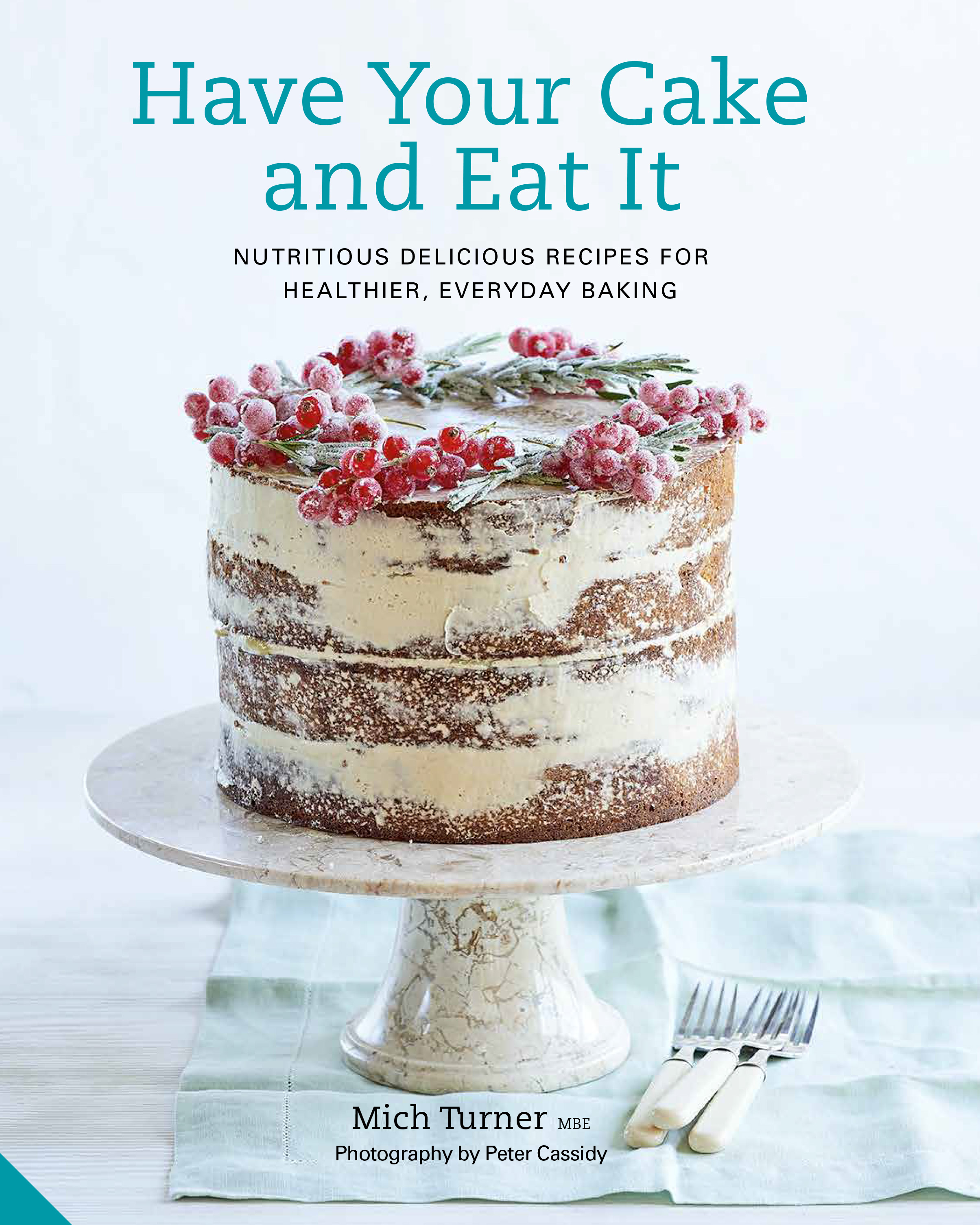 What's in it for me?
The good thing about this book is that it is designed for neither novice bakers or expert bakers, but both! There is something to learn for everyone.
Indulge in Peach Melba Muffins, Pumpkin and Poppy Seed Loaf, Pierce Brosnan's Carrot Cake, All-natural Red Velvet Cake, Hazelnut Meringue with Mango and Passion Fruit among many other delicious bakes.
This book isn't just packed with cake recipes but also biscuits, muffins, cupcakes, bars and flapjacks. The list goes on and on. This is a book which I know I will keep a the front of my cookery book shelves for inspiration.
About the author
Mich Turner MBE, is founder of Award-Winning Little Venice Cake Company; Harpers and Chanel Entrepreneur of the Year, author, TV presenter / judge and international teacher and consultant.
Mich is a qualified Food Scientist and has created over 10,000 bespoke cakes for clients, international royalty and celebrities including Madonna, Pierce Brosnan, Paul McCartney, David Beckham, Gordon Ramsay and Her Majesty the Queen. She is an ambassador for Create and Craft TV and appears at many Cake Shows around the world including CakeFair in USA. Her inspirational books offer practical advice and detailed tuition to turn everyday bakes into show-stopping cakes.
We're going to share one of our favourite recipes from the book with the authors permission.
Carrot Cake with Orange Cream Cheese Frosting & Walnut Praline
MAKES A 20CM (8 INCH) ROUND CAKE
This reicpe can be found on page 135 of Have Your Cake and Eat It: Nutritious, Delicious Recipes for Healthier, Everyday Baking.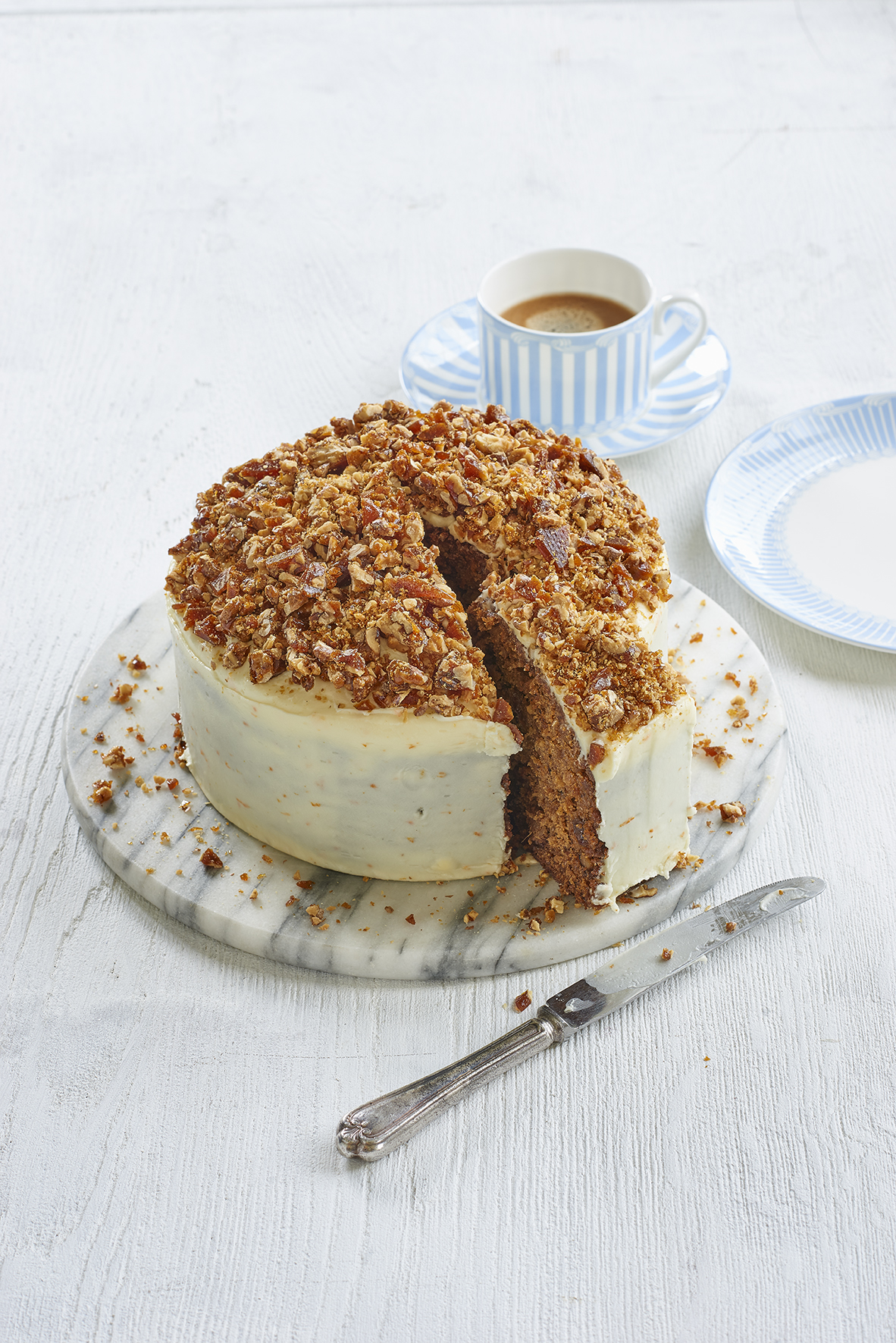 Ingredients
4 large eggs
300ml (10fl oz) sunflower oil
150g (5½ oz) golden caster sugar
150g (5½ oz) soft light brown sugar
350g (12oz) plain flour
1 tablespoon ground cinnamon
2 teaspoons ground nutmeg
2 teaspoons bicarbonate of soda
40g (1½  oz) stem ginger
grated zest of 2 oranges
grated zest of 2 lemons
100g (3 ½ oz) walnuts, chopped
100g (3 ½ oz) desiccated coconut
200g (7oz) sultanas soaked in 50ml (2fl oz) rum for 1 hour
350g (12oz) carrots, peeled and grated
FOR THE SYRUP
150g (5 ½ oz) soft light brown
sugar
juice of 2 lemons
juice of 2 oranges
FOR THE CREAM CHEESE FROSTING
75g (2¾ oz) unsalted butter, slightly softened
450g (1lb) icing sugar
190g (6¾ oz) full fat cream cheese, chilled
grated zest of 1 orange
FOR THE WALNUT PRALINE
150g (5½ oz) golden caster sugar
100g (3½ oz) walnuts, roughly chopped and roasted (see
page 94 for how to roast nuts)
This is the recipe I created for the wedding of Pierce Brosnan and Keely Shaye Smith. It is wonderfully moist, with a delicious blend of carrots, fruit and spices. Because the cake is made with sunflower oil it is naturally dairy free and can be served chilled. I have decorated it here with a velvet soft cream cheese frosting and caramelized walnut praline for added flavour, texture, sweetness and crunch.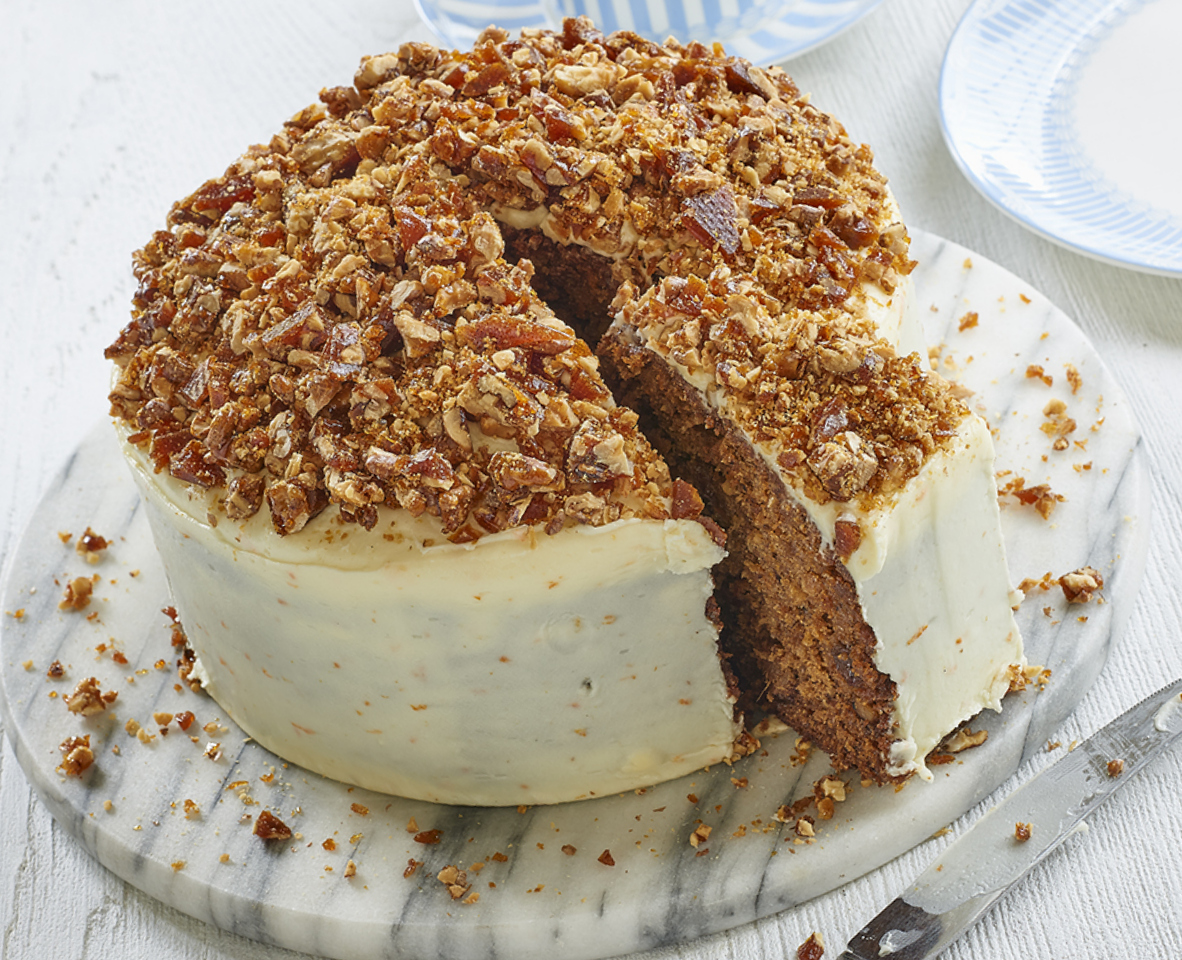 The How-To:
Preheat the oven to 150C/gas 2. Line the base and sides of a deep sided 20cm (8 inch) cake tin with non-stick baking parchment.
Blend together the eggs, oil and sugars until well mixed. In a separate bowl, sift the flour, spices and bicarbonate of soda together and stir into the oil mixture to create a smooth batter.
Add the remaining ingredients until well mixed and spoon into the prepared cake tin. Bake for 2 hours until well risen, golden brown and a knife inserted in the centre comes out clean.
As soon as the cake is in the oven, prepare the syrup. Measure the ingredients into a jug and stir until dissolved.
As soon as the cake is baked, place it on a wire rack, spike over the entire cake with a skewer and pour over all the syrup. Leave the cake to completely cool in the tin.
To make the cream cheese frosting, rub the butter into the icing sugar to resemble fine breadcrumbs. Add the chilled cream cheese and beat until smooth. Stir in the orange zest.
To make the praline, line a baking sheet with non-stick baking parchment. Put the sugar in a heavy-based pan over a medium heat until the sugar melts and turns a warm caramel colour. Add the roasted walnuts, stir until well coated, then transfer to the prepared baking sheet. Leave to cool, then blitz in a food processor or blender, or chop with a knife, into small bite-sized pieces.
Turn the cooled cake out of the tin and use a palette knife to surround the top and sides of the cake with the cream cheese frosting. Use a side scraper to professionally smooth the sides of the cake. Sprinkle the top with the walnut praline and refrigerate to set. Store for up to 7 days in an airtight container in the refrigerator. Serve at room temperature. Suitable for freezing.
VARIATION
Replace the orange zest with 1 tablespoon vanilla bean paste for a vanilla cream cheese frosting. Or use a dairy-free buttercream made from soya spread and icing sugar flavoured with fresh orange zest for a totally dairy-free cake.