Ginsters of Cornwall Reveal its New Moroccan Vegetable Pasty
It is National Vegetarian Week 14th – 20th May 2018 and Ginsters of Cornwall is using this opportunity to launch a new product, the Ginsters Moroccan Vegetable Pasty!
Like a lot of people, I am very happy to eat vegetarian meals even while out in restaurants. If the dish sounds good to me I will order it. I don't need meat in every meal, flavour is more important to me.
So, I am hugely excited to try the Ginsters Moroccan Vegetable Pasty. Ginsters has teamed up with Cornish head chef Chris Eden (who else better to design a new pasty!). It must have worked as Ginsters was awarded bronze in the British Pie Awards 2018 for the new Moroccan Vegetarian Pasty! Amazing news.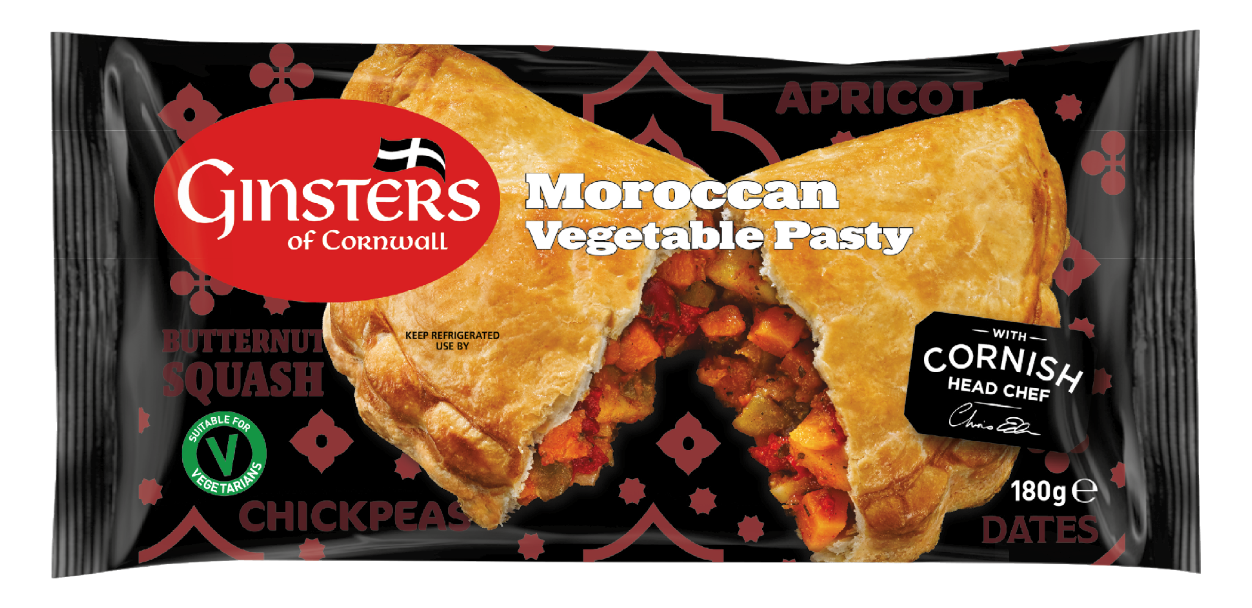 Evoking the wonderful aromas of a Moroccan souk, but with a Cornish twist, this pasty is bursting with butternut squash, chickpeas, roasted red piquanté peppers, with a hint of red harissa. And it's the contrast of rich spice with the sweetness of the tangy fruits, such as golden apricots and dates, that creates a perfectly balanced flavour combination. The heat of spice comes from the Moroccan chermoula paste containing aromatic cumin, paprika and cayenne pepper.
Chris Eden says that this new pasty creation goes amazingly well with something like fruity cous cous, so he was kind enough to share a recipe for that with us.
Moroccan Spiced Cous Cous recipe:
Ingredients:
150g Couscous
50g Ramiro peppers chopped into slices or normal Red pepper
50g Pomegranate seeds
25g Raisins
50g Dried Mango, diced
1 tblsp Mint, finely chopped
40g Olive Oil
25ml Balsamic Vinegar
Method:
1. Place cous cous in a bowl and pour 150ml of boiling water on top. Cover
with a plate and allow the water to be absorbed.
2. Flake up the granules with a fork and tumble in Ramiro peppers,
pomegranate, raisins, dried mango, mint, olive oil, Balsamic vinegar and a
teaspoon of sea salt.
3. Place into a serving dish and chill until needed.
The Ginsters Moroccan Vegetable Pasty by Ginsters of Cornwall is available now in selected Asda and Morrisons stores nationwide, with a RRP of £1.70.
Also, perfect for vegetarians, Ginsters has launched a new Cornish Cheddar and Caramelised Onion Pasty available now from selected retailers, with a RRP of £1.70.