BakingBar Top Chefs Interview – Dave McClelland
As part of the series of Baking Bar Top Chefs Interview – Dave McClelland. We had the opportunity to interview the inspirational Dave McClelland, Head Chef of The Still House about his experiences with cooking and what makes him tick as a chef.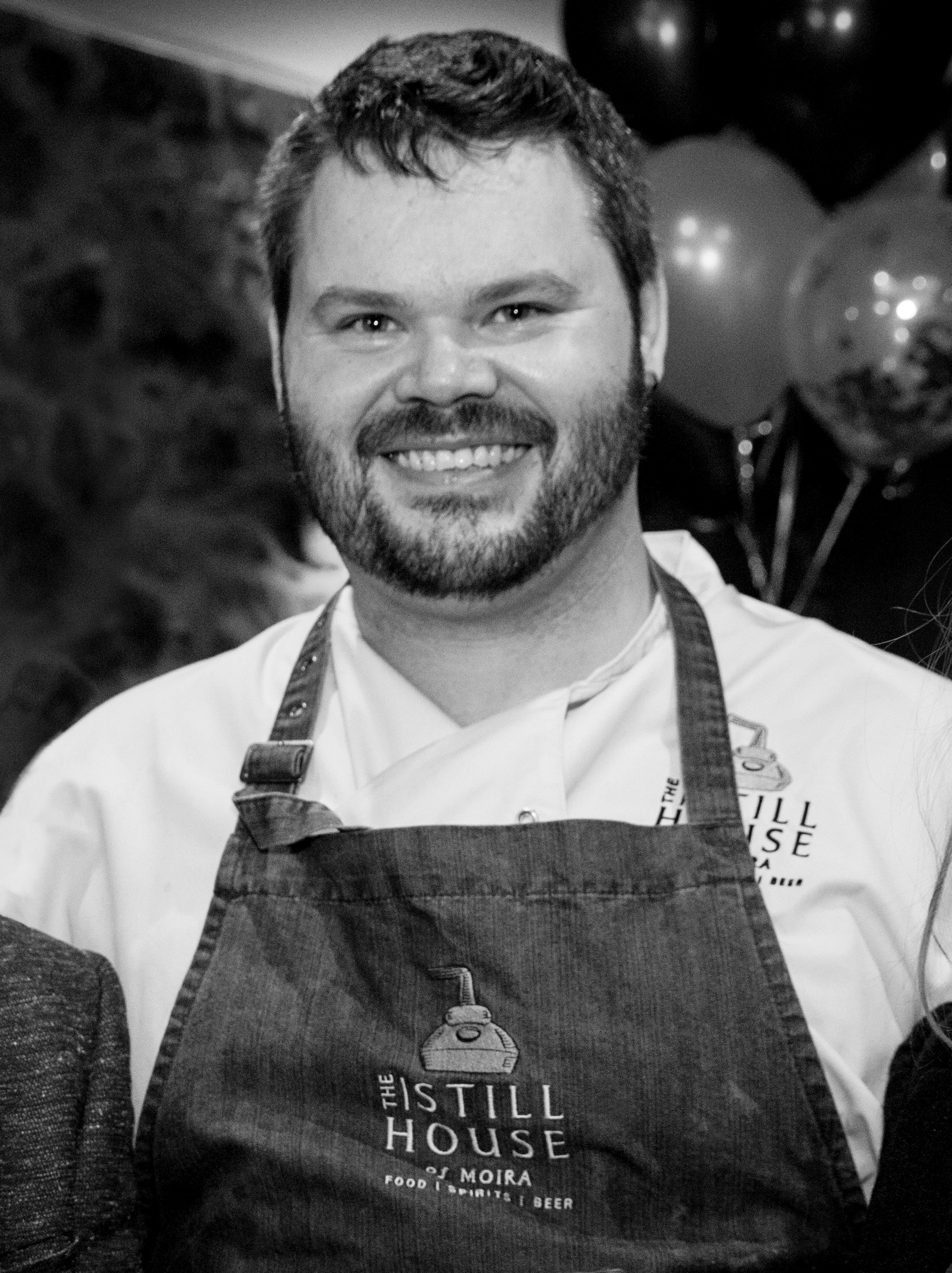 When and from whom did you learn about cooking? Do you have any early memories of something you enjoyed cooking?
I have so many fond memories of cooking with my grandmother. Growing up I spent most weekends with my grandparents in Ballinderry and it was those times with her where I developed my love of cooking. To earn some pocket money I would help shell peas and beans for her vegetable broth and would get paid 50p a bag. My grandmother's Guinness wheaten bread recipe is one I still use today and of our favourite concoctions nettle champ is still a firm favourite.
Where did it all begin? What was your first job in a professional kitchen and how do you think this helped get you where you are today?
I got my start in a professional kitchen working with Derek Patterson in The Plough, Hillsborough. As anyone will tell you, starting out in a working kitchen is incredibly tough, but under Derek I was constantly learning. The values he instilled in me still guide me in my professional life and help me manage my team today.
What is one of your favourite ingredients to use in your dishes and why?
It has to be the humble carrot. Its versatility is incomparable.  It can be used with spice and hold its own. Using all sorts of different cooking techniques can intensify the flavour of a carrot and it can be used in both sweet and savoury recipes.
What is your favourite dish to cook? Do you have a favourite that you like to eat yourself?
My favourite dish to cook depends on the mood I'm in and on the season. I wouldn't say that I have one particular favourite recipe to cook. But I do love taking an unfamiliar, unused ingredient and transforming it into something magical. My comfort food is good quality sausages, buttery champ and onion gravy, with a cold crisp ale and a football match.
What regional dish stands out to you and should represent your country? What do you think makes dishes in your region unique from others?
We've got so much produce that we are renowned for, from our fantastic proteins to our wonderful vegetables and our amazing apples. However, our Mourne Lamb with the shoulder braised down, the rack or rump with colcannon mash is unique to us as a region. Our Irish stew is something we are famed for, but refining it with seasonal vegetables cooked in a butter and stock emulsion and of course a sticky red currant sauce created with lamb bone stock and vegetable peelings is my personal favourite. Our produce makes us unique because of the climate, there's a reason why our meat is so sought after. From our farmers to butchers, from our fields to our small hold and don't forget the tasty booze too.
Have you ever cooked for any celebrities or famous faces?
When I lived in America I cooked in an event hosted my Michael J Fox. The night was to raise funds for Parkinson's disease and I met Muhammad Ali who performed a magic trick for the chefs in the cafeteria!
Also, when I lived in Australia, I was working in a private resort in Queensland and I cooked for the last President of the Soviet Union Mikhail Gorbachev.
Do you have any funny or embarrassing kitchen stories to tell?
We try to have as much fun and make sure that everyone works hard but still enjoys their day. Most days something funny happens, but one in particular stands out. When I first took over at The StillHouse of Moira, one Saturday the complex was fully booked when one oven decided to breakdown at 5pm. With the kitchen in full flow, private events, full restaurant and the bar, the second oven broke around 8pm. With no options left I rang the owner who scrambled round Belfast looking for an oven. We ended up cooking 90 meals in a household Ikea oven. Not funny at the time but thankfully we can look back and laugh.
Is there a celebrity chef who inspires you or has inspired you from the beginning of your career? Why does this person inspire you so much?
Michel Roux and Michel Roux Jr. They have a relaxed manner but are true professionals. They exude the love and passion they have for food.
Do you have any final advice for someone just starting to cook?
Passion, you need passion. And a thick skin – whatever happens take it on the chin and bounce back. You need to believe in yourself and your skill, but also always keep your sense of humour along the way.
I tell chefs to keep it simple, don't overcomplicate your food and know when to say enough. Let your produce shine through and know when there are enough elements on the dish.
Try to enjoy it, you're not going to go far if you don't love it and stay humble, you are only as good as your last meal.