BakingBar Top Chefs Interview – Antonio Vacca

As part of the series of Baking Bar Top Chefs Interview – Antonio Vacca. We had the opportunity to interview the inspirational Tony, Head Chef at Roka, Charlotte Street, London about his experiences with cooking and what makes him tick as a chef.
His instagram is constantly filled with his creations and food adventures. He isn't too hard on the eyes either!
When and from whom did you learn about cooking? Do you have any early memories of something you enjoyed cooking?
I always cooked at home with mum, and just loved being immersed in the kitchen, we shared flavours, recipes and this is where I feel creative, It's home and I don't ever want to leave the kitchen. Every Sunday we would spend the entire day chopping vegetables, picking herbs and preparing a big family meal. Today is not only a great memory but it's my full time passion/job.
Where did it all begin? What was your first job in a professional kitchen and how do you think this helped get you where you are today?
I did some part time job in New Zealand when I was 18 during an international exchange program however the real deal happened a year later whenI moved to Bratislava "Solvakia" where I met my ex Head Chef and friend Michael Konrad. He was always around, showing me new things, teaching, he initiated me into the world of hardcore cheffing.
What is one of your favourite ingredients to use in your dishes and why?
Unexpected ingredients, and combinations. You can't have a square mind. I like to come out of routine and use different ingredients and techniques, as long there is always anAsian/Japanese twist. It's very important for me to use organic ingredients, locally supplied by small producers, farmer etc because they knows how to handle high quality food and have the best products ever.
What is your favourite dish to cook? Do you have a favourite that you like to eat yourself?
Well this is a very hard question to answer. This year during a collaboration I did in March, I really loved creating and preparing a dish that reminds me my childhood.
"Growing up in Sardinia I would spend the summer with my dad on the south coast side.
He would take me spear fishing, we would spend hours in the deep blue waters, and coming out of it to the summer breeze where the skin is crisp with dry. The salt, sea aroma and the sunshine was a priceless thing."
Frozen sea water, Raw Mediterranean red prawn dusted with sea buckthorn and dried scallop roe powder, served with seaweed tapioca, oyster leaf and oyster emulsion.
What regional dish stands out to you and should represent your country? What do you think makes dishes in your region unique from others?
I come from Italy so I can certainly say pizza and pasta however Italy has huge varieties of dish and ingredients that really represent us all a round the world. I am specifically from Sardinia, which according to statistics is the place where people live the longest in the world.
Red wine, lots of vegetables, roasted meat and sheep/goat diary products make you live up to 100…Hopefully…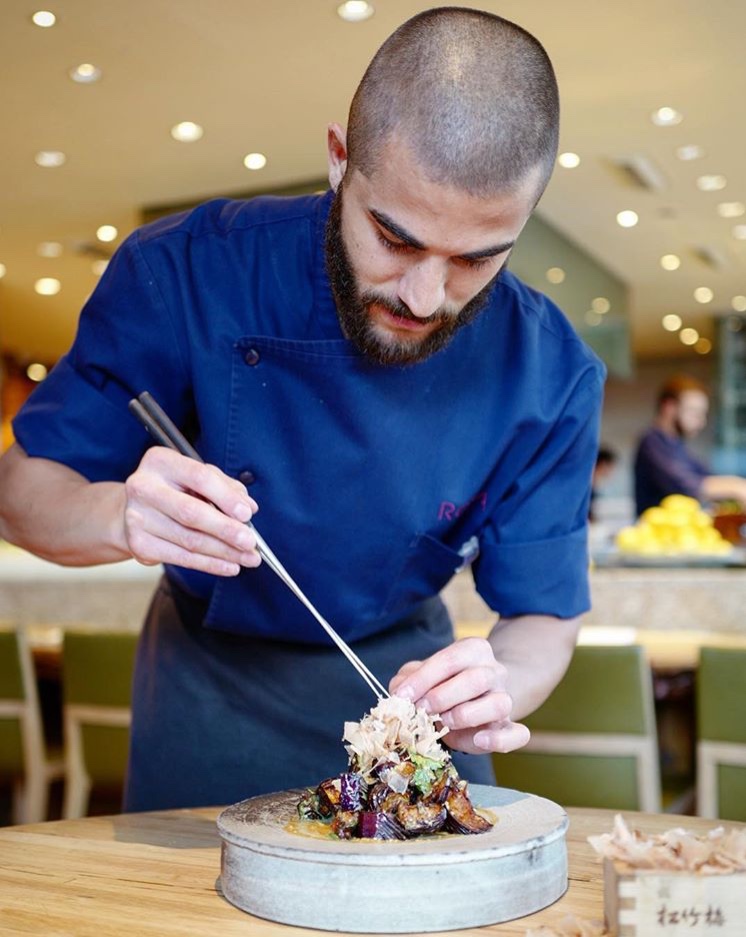 Have you ever cooked for any celebrities or famous faces?
I am not even sure anymore for how many celebrities I cooked.Working for more than 3 years at Nobu Berkley Street, 3 years at Roka and few more hot Michelin starred restaurants in London I really can't keep track of it.
Do you have any funny or embarrassing kitchen stories to tell?
I guess there are a lot of funny stories. I spend about 60hr a week in the kitchen so I see a lot of funny things happening. Personal career I believe I will never forget when during my first professional restaurant experience a tough chef where I used to work handle me for the very first time a loaded ISI Soda Syphon and asked me to clean it.
Not knowing what it was I obviously unscrewed it without taking the gas out…. The rest you can probably imagine it yourself.
I ended up cleaning the kitchen for a good 2hrs.
Also the very first time someone made me tried and smell wasabi.
Cried and cough for an hour.
But we all love it. It's part of our industry.
A great chef used to tell me all the time.
MAKE YOU OR BREAK YOU.
I wouldn't be where I am today if it wasn't for my determination and all the people I met during my culinary journey.
FYI I still play some of this pranks to make sure the tradition runs around.
Is there a celebrity chef who inspires you or has inspired you from the beginning of your career? Why does this person inspire you so much?
There are a lot of great famous and non-famous chefs around the planet. I have met incredible Chefs and people during this journey. Honestly I cannot wait for my next ten years of cooking. I always wonder in my head who I will meet next and which impact he/she will have in my career and cooking style.
Everyone is a source of knowledge and inspiration however I currently really look up to Alex Atala and Virgilio Martinez. They changed the entire perception of their country, food and culture, respect local products and farmers and create incredible food. A true example.
Do you have any final advice for someone just starting to cook? I feel I have to be brutally honest here. It's a very though industry.
Be hungry, be curious, be healthy and in a good physical shape to stand on your feet for long hours under stress and pressure.
Show up to work first and leave last.
Ask questions, stick around with the experienced people.
Though time will come and be ready for it, but make sure you don't give up or simply quit.
There are not short cut for this job, the only way is being immerse on it.
Buy good cooking books, understand your ingredients and the techniques you are currently using.
Research is very important to develop confidence and new ideas.
You will never regret any single second of it.