Coconut and Butternut Squash Soup with Caramelised Leeks
Warm up on this chilly winter day by whipping up McKinney's Catherine Fulvio Coconut and Butternut Squash Soup with Caramelised Leeks. This perfect lunch or dinner is a fragrant and aromatic mixture, and is sure to feel like a hug in a bowl.
Serves 4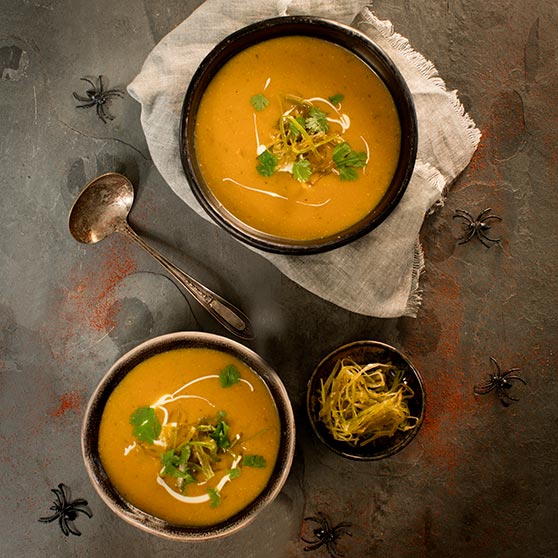 The Soup
1 medium butternut squash, peeled and chopped
2 onions, finely chopped
2 large potatoes, chopped
½ tsp ground cumin
½ tsp mild curry powder
½ red Chilli, finely sliced
800ml vegetable stock
400ml coconut milk
For the caramelised leek
1 tbsp butter
1 tbsp olive oil
1 leek, sliced in julienne 
4 tbsp McKinney's golden granulated sugar
Salt and freshly ground pepper
Cream, for garnishing
Coriander leaves, to garnish
To prepare the soup
Heat a saucepan with a little oil, add the butternut squash, onions and potatoes, cumin, curry powder and red Chilli, salt and pepper and sauté for about 4 minutes, stirring from time to time.
Pour in the stock and bring to the boil, reduce the heat and cook until the vegetables are soft. This will take about 15 minutes. 
Pour in the coconut milk and simmer for about 8 minutes. Check the seasoning, adding salt and freshly ground black pepper.
Blend until smooth.
To prepare the caramelised leeks
Heat the butter and oil in a saucepan and add the leek and Siúcra golden granulated sugar and cook on low for about 6 to 7 minutes until caramelised. Check the seasoning adding salt and freshly ground black pepper.
When ready to serve, ladle the soup into soup bowls, spoon on some cream, add the caramelised leeks to each bowl.
Sprinkle over coriander leaves to serve.
Recipe created by the wonderful Catherine Fulvio. You can find some more McKinney's Sugar recipes on their facebook page or on their parent website Nordzucker.