Lemon Coconut Strawberry Squares
McKinney's andCatherine Fulvio's recipe for LemonCoconut Strawberry Squares are bursting with flavour including subtle hints of lemon and fresh strawberries. Drizzled with a lemon glaze and topped with shredded coconut these squares are the perfect treat for any Afternoon Tea.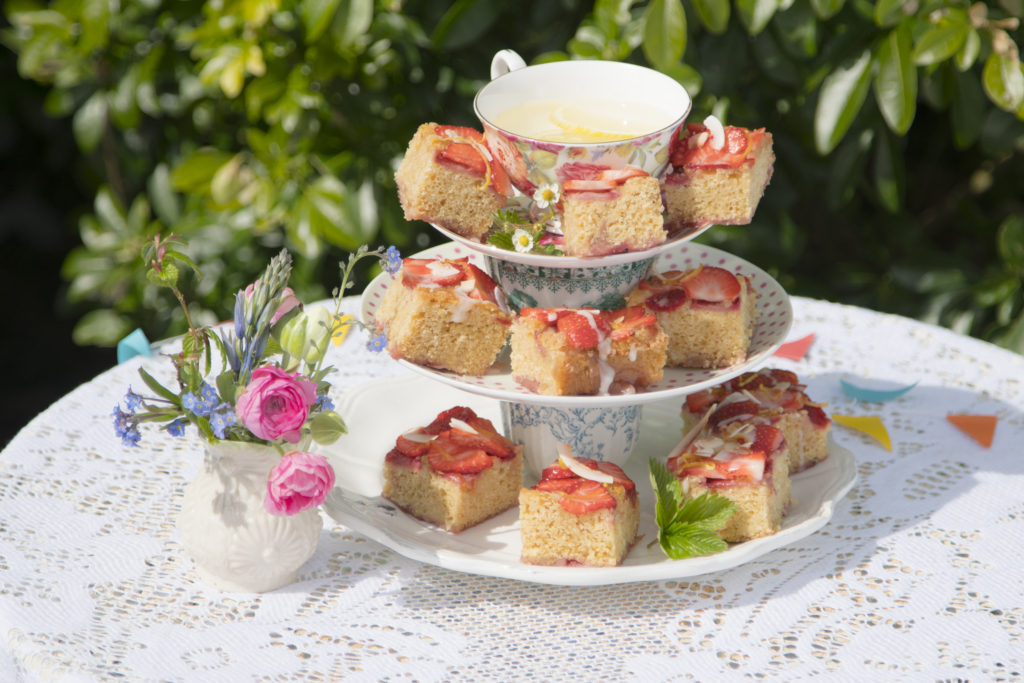 Makes 18 pieces
Ingredients

200g strawberries, hulled and sliced

For the squares
200g softened butter
200g McKinney'slight brown sugar
1 lemon, zestonly
2 eggs
4 tbsp desiccated coconut
300g self-raising flour
1 tsp vanilla extract
80ml milk

For the top
200g strawberries, hulled and sliced
2 lemons, zest only
100g granulated sugar
For the drizzle
100g McKinney's icing sugar
2 to 3 tbsp lemon juice
Toasted coconut flakes, to decorate
Method
To prepare the cake Preheat the oven to 180C/fan 160C/gas 4.  Line 18cm x 32cm rectangle tin with baking parchment. 
Arrange the strawberry slices on the base of the baking paper.
Cream together the butter and McKinney'sLight Brown Sugar together until light and fluffy.
Add the lemon zest and eggs and whisk after each addition.
Fold in the desiccated coconut, flour and vanilla extract.
Add enough milk to form a soft cake batter.
Spread the cake batter over the strawberries in the baking tin.
Arrange the strawberry halves on top.Sprinkle over the lemon zest and sugar over the top and bake for about 25 to 30minutes until cooked or when a skewer is inserted and it comes out clean.
Leave on a cooling rack to set before taking it out the tin.

To prepare the drizzle icing
Place the McKinney's Icing Sugar into a bowl and add just enough lemon juice to make a paste. 
Cut into squares. 
Drizzle the icing over and sprinkle over the coconut flakes
Recipe created by the wonderful Catherine Fulvio. You can find some more McKinney's Sugar recipes on their facebook page or on their parent website Nordzucker.