The Merchant Hotel's Gingerbread Men Recipe

We've been speaking to Santa's elves at the Merchant and they've shared with us their secret Gingerbread Men recipe! With it only being days from Christmas why not try your hand at these.
Christmas Eve at The Merchant Hotel
Christmas Eve is a truly magical time at The Merchant Hotel and our chefs prepare fresh batches of these seasonal favourites for our Festive Afternoon Tea stands. This year, as always, we will create a fresh batch for our younger guests on Christmas Eve when we are treated to a special visit from Santa and joined by the Wellington Memorial Silver Band in The Great Room.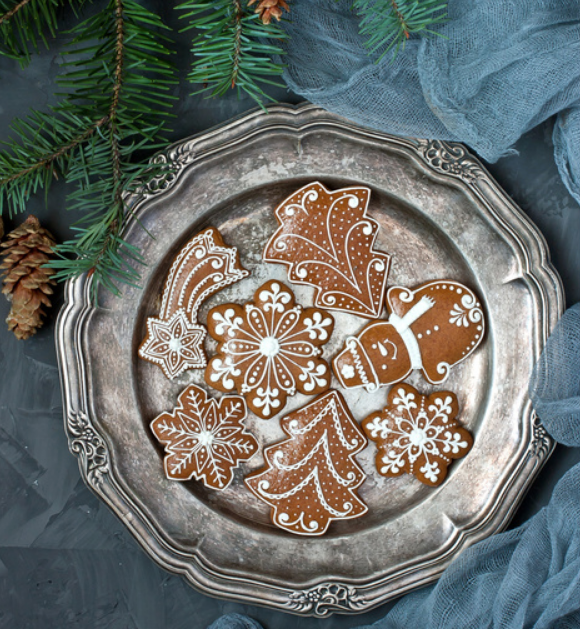 The Ingredients
For Gingerbread
115g unsalted butter
115g light brown sugar
1 egg, beaten
115g black treacle
400g self-raising flour
1 teaspoon ginger, ground
For the icing
50g butter
100g icing sugar
Liquid food colouring (red, green and black)
These are perfect for leaving out on Christmas Eve night as a festive gift for Santa Claus.
Add the butter and sugar together and stir until they make a cream mixture.
Add the beaten egg and the treacle and stir through until mixed.
Sift the flour into the mixture and add the ground ginger to form a dough.
Knead gently, cover in cling film and allow to rest for 30 minutes.
Preheat oven to 180°C.
Roll out the dough to 5mm in thickness and cut out free hand or using a gingerbread
man cutter. Place on a lined baking tray and bake in the oven for 8-10 minutes.
Now it's time to decorate! Add the butter and icing sugar and stir
until they make a light cream mixture that is pale in colour.
Divide the butter icing out into 4 different bowls and add each liquid food colouring to each bowl and stir well.
Pipe the black and white icing for the eyes and nose and mouth
and the green and red for the buttons of the gingerbread man.