It's February….how did that actually happen? February already! Not only that but its the 7th already when I'm writing this. Neills Flour, a long time supporter of us (you'll even find lots of our recipes on their website!) has launched Fibre February which is a campaign to get people to eat more fibre in their diet.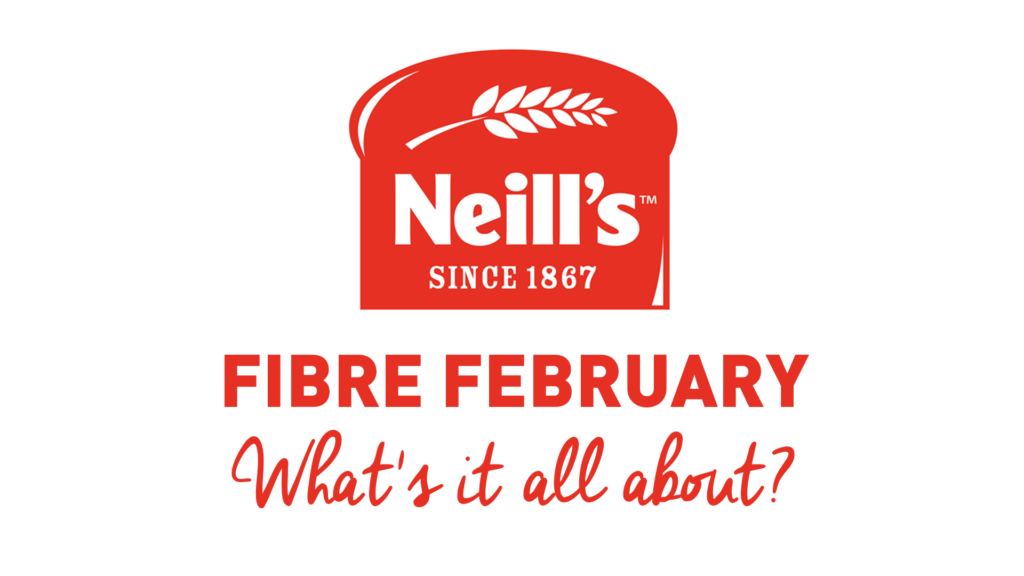 If you're like me, I thought I was eating enough of the stuff. I was having porridge in the morning. Eating wholewheat this and that when I could instead of the standard versions. But no……. naive me thought I was fine. Turns out I don't eat enough fibre which is the same as around 90% of people. How can we all be that unaware of this really important part of our diets?!
So before we shock you with the facts here are the important health benefits of fibre. Little naive me didn't know 4 out of the 5 ! How many did you know? Be honest!
– reducing the likelihood of heart attacks and strokes
– lowering the chances of life-long diseases such as type 2 diabetes and certain cancers
– keeping blood pressure and cholesterol levels down
– helping you maintain or lose weight – as fibre makes you feel fuller for longer
–          improving digestive health – reducing constipation, diarrhoea, heartburn and bloating
So how much should we be eating?
It is recommended that adults should eat 30g of fibre per day but research shows that, in the UK, only 4% of women* and 13% of men eat that amount.  On average, women consume about 17g per day, and men 21g per day.
Neills went out on the streets of Belfast in this video to see what the locals thought and to drop some bombshells as to how much fibre our favourite foods actually contain. For example a bowl of porridge in the morning is only about 4g of fibre!!! Watch for more big reveals….
So now that you're shocked and worrying about where you're going to get that next batch of fibre Ian Hunter Head Chef at Belfast Cookery school has shared with us a great recipe for Traditional Irish Stout Wheaten Bread which is just a little bit special!
Traditional Irish Stout Wheaten Bread
Ingredients
250g Neill's wholemeal flour
60g Neill's strong white flour
50g oatmeal
1 tsp dark brown sugar
1 tsp baking soda
1 tsp salt
4 tbsp treacle
30g soft butter
100ml Irish Stout
200ml milk
10g oats
10g pumpkin seeds for lining tin and sprinkling on top
Method
Preheat oven to 160oC
Sieve the flours, soda and salt into a bowl, add the oatmeal and sugar and mix well
Heat together the treacle and butter, when melted add the stout and milk. Stir well
Combine the dry and liquid mixes, the resulting dough will be quite wet. Pour into a pre greased  450g loaf tin dusted with oats and pumkins seeds, sprinkle remainder on top and bake for 1 hour
The loaf should sound a little hollow when tapped underneath, allow to cool before slicing.
Neills in the History Books!
I'm a bit of a history buff (big history buff!) so these few facts about Neills Flour fascinated me!!!!! Neill's Flour Mill was founded by James Neill in 1867, three years before the completion of Belfast Castle and 39 years before the nearby Belfast City Hall was built.  A 48 year-old Queen Victoria was 30 years into her reign as monarch and Andrew Johnson was the US President, following the assassination of his predecessor Abraham Lincoln just two years earlier.
More than 150 years later, Neill's Flour still operates from its original College Place North location and is Northern Ireland's market leading flour mill, producing a wide range of flour products for the bakery trade, specialising in traditional Irish products blended specifically to meet customer individual requirements.