Nest Thermostat E – The Review
If you're one of my regular readers you will already know that I have a 'smart' home and that i'm a bit techy, some would say geeky. I am incredibly lucky to work with some of the most amazing tech giants which allow me to test out new products in my own home and give us all a glimpse of the future. One thing I always keep telling people is that the future is already here. A lot of things which we dreamt about only a few years ago are all reality now! The day you could turn your lights or kettle on by voice control or from your phone, the day you can have a robot vacuum your home and the day you can control your heating from anywhere in the world, are all here.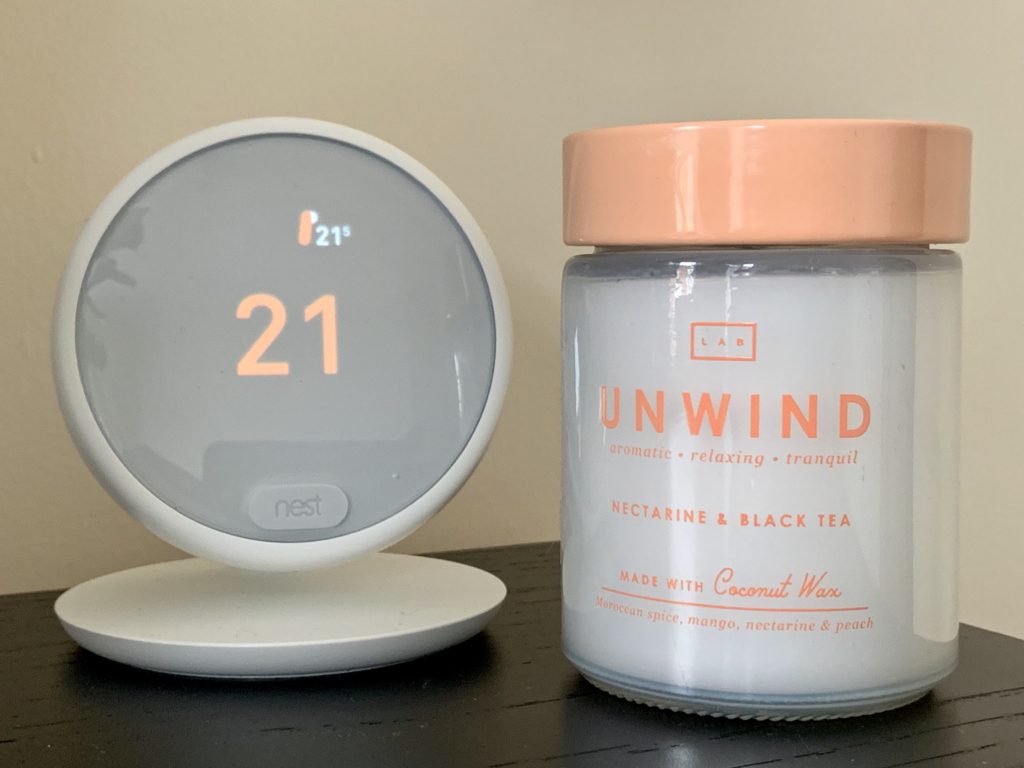 Last year Nest were very kind to have their Nest Smart Learning Thermostat installed in our home and we wrote a comprehensive review about this whole experience.
Because I live in a two zoned house (in other words I have two areas in the home controlled by two separate thermostats) Nest were very kind to once again send me their new generation of thermostat to have installed in the upstairs zone of my home. This is the Nest Thermostat E.
What's the E about?
Nest tell us that E actually stands for a few things.
Easy
It automatically turns down when you sleep and back up again in the morning or turns itself down when you leave the home. It's smart and can tell from either no motion detected in your home or your phone GPS location moving away from your home.
Everywhere
It can be controlled from anywhere. Via the Nest app on your phone you can manually adjust your heating from anywhere in the world! You can create or edit your heating schedule. We've all been there when we've had a hard day in the office, the weather is terrible on the way home, we get soaked through in the rain. Being able to turn the heating up on the way home is an absolute saviour in these cases.
Energy Saving
Everyone loves saving energy and energy costs money so by saving energy you're also saving money. Nest makes this super easy. Specifically using the methods listed above it is smart and will automatically turn the heating up and down according to what it learns from your schedule. By manually adjusting the thermostat for the first few days you 'teach' it. It learns you wake at 7am and turn the heating up to 20c every Monday to Friday. So once it establishes this it will start heating your home to 20c every Monday to Friday in time for it to reach 20c by the time you wake up at 7am. Therefore you always wake up to your specified comfortable temperature. It's rather magic!
Easy on the Eyes
The Nest Smart Learning Thermostat is a beautiful piece of engineering. It's metal casing, its smooth bezel and its beautiful screen. The Nest Thermostat E has a slightly different look. In fact a completely different look. The only similarity is the shape of the overall thermostat and the workings of the bezel. The Nest Thermostat E is white in colour with a glazed screen. It sits on a little stand of its own and blends in with your ornaments. The screen automatically turns on and off as you near it. So when it is off it looks like any other ordinary ornament. You can of course manually adjust the thermostat to change the temperature by turning the dial. I find I do not do this too often. Maybe because it is the upstairs thermostat I have a pretty set schedule of when I want it to turn on and off in the mornings and evenings and stick to that.
Easy to Install Yourself
This is probably the biggest difference in the Nest Smart Learning Thermostat and the Nest Thermostat E. The Nest Thermostat E can be installed yourself with just some simple wiring. It's not that technical and there are lots of guides to do this. As I was getting a boiler service done anyway I got my boiler engineer to hook this up for me while he was doing this. That and I'm not the hottest at DIY of any sort!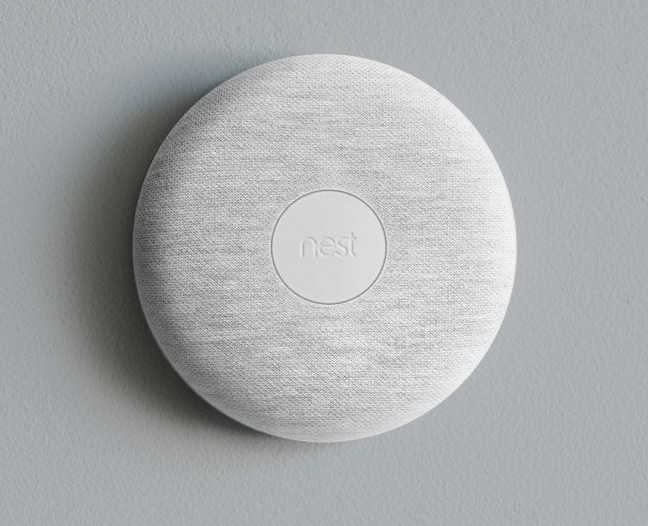 With the Nest Thermostat E there is another difference in the heatlink. With the original Nest Smart Learning Thermostat the thermostat goes on the wall and the heatlink (the bit that talks to the boiler) attaches physically to the boiler and sends the on/off signals to the boiler. With the Nest Thermostat E the heatlink actually attaches to the wall where the old thermostat use to be. It has a lovely material cover which blends into any interior and looks super stylish. This gets hard wired into the wires which use to connect the old thermostat and this is how it talks with your boiler. But the heatlink also serves another purpose, it actually detects the temperature itself too.
The Nest Thermostat E thermostat itself can then be plugged into a power socket in another room and it in turn also detects the temperature. So this gives you two temperature sensors therefore increasing accuracy and becoming even more efficient.
How I have it set up in my home
The setup in my home for the Nest Thermostat E is the heatlink is installed in the upstairs hallway. The thermostat is plugged into the bedroom and sits on my dressing table. This gives me two temperature sensor points, one in my hallway and one in my bedroom.
Earn your green leaves!
Another ingenious idea of Nest was to include the Eco Leaf on the device. This essentially adds a bit of gamification to using Nest. Anytime you turn the temperature down lower than it would normally be, a green leaf appears. You've just earned a Leaf. This means you're saving money and being eco friendly by turning your heating down. Each month Nest will let you know how many Leafs? Leaves? you have earned that particular month. It's quite cool trying to beat your current best.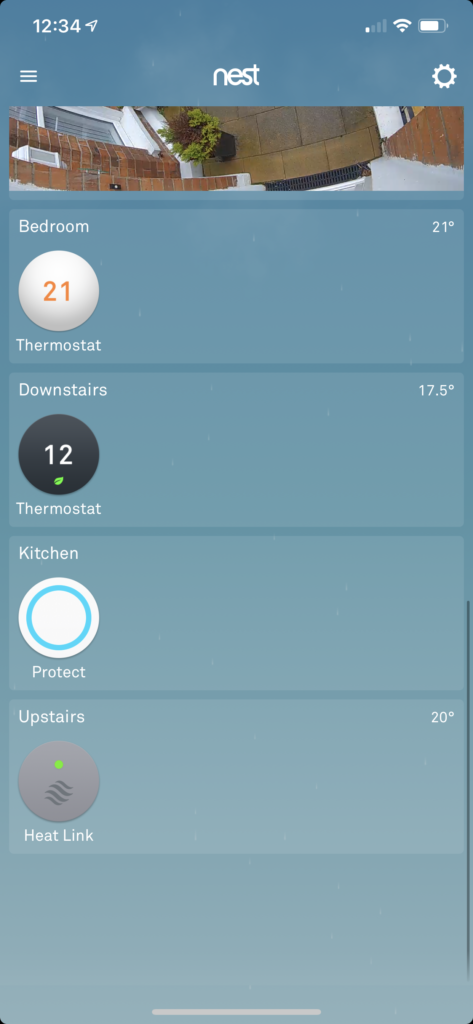 The App
I love the Nest app. I have an iPhone so the screen shots below are from this. But it is also available on other devices including via their website where you can log in. The app simply works well, in fact flawlessly. I have a few nest devices including Nest security cameras and the Nest smoke alarm and then the two Nest thermostats. All this appears in one simple view and they all work seamlessly together. They 'talk' to each other too. So if the Nest smoke alarm detects smoke or carbon monoxide it will shut the boiler off if it is running and it will send me the latest image from the security cameras. It's all a little mind blowing however it is the future and it is not meant to be scary, all of this is to help us have simpler lives. To be comfortable in our homes without having to think or worry if we remember to turn the heating on or off etc etc.