White Chocolate and Raspberry Cheesecake
We spoke to Viva! – the vegan campaigning charity about their new about their new Vegan magazine highlighting some of the benefits of veganism. Readers can order their FREE copy of Everyone's Going Vegan vivashop.org.uk/vegan-super-pack using the code VEGANFOOD
It's usually priced at £5 !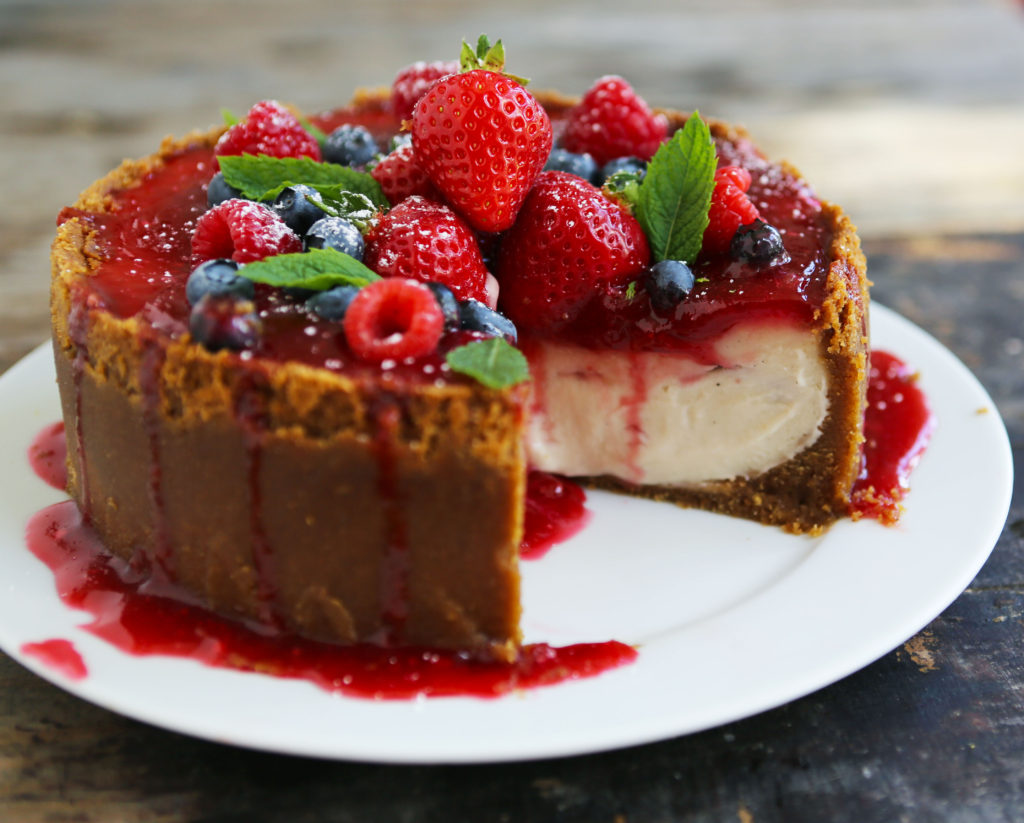 We worked with them to bring you this great White Chocolate and Raspberry Cheesecake which we think is just perfect for this summer. Recipe is courtesy of https://www.veganrecipeclub.org.uk/
Serves 8-10 | 2 hours (plus overnight setting time)
Base
400g vegan digestive biscuits (eg McVitie's Light, some of the supermarket 'free-from' and own brands are vegan, check the ingredients first)
170g/¾ cup vegan margarine/spread
2 tbsp coconut oil, melted
Cake
100g/1 cup ground almonds
500g/4¼ cups vegan cream cheese (eg Bute Island, Tofutti, Tesco, Sainsbury's, Violife)
1 x 400ml tin/1½ cups plus 1 tbsp of coconut milk
150g/¾ cup caster sugar
6 tbsp plain flour, sieved
4 tbsp cornflour
1 tbsp coconut oil, melted
150g/1 cup vegan white chocolate (eg IChoc, Organica, Sainsbury's free-from)
Pinch of salt
1-2 tsp vanilla paste or extract
1-2 tsp lemon juice (fresh or bottled)
100g/¾ cup raspberries (optional)
Topping
170g/1⅓ cups raspberries
2 tbsp raspberry jam
300g/2 cups icing sugar, sieved
Selection of mixed berries and fresh mint for decoration (optional)
Method
Base
Pre-heat the oven to 150˚C/300˚F/Gas Mark 2.
Grease a loose bottom cake tin (20cm diameter and 7cm deep) with vegan spread.
Blend the digestives until fine.
Gently melt the margarine and coconut oil in a small saucepan on a low heat until fully dissolved. Combine thoroughly with the blended digestives in a large mixing bowl.
Empty the mixture into the greased cake tin and evenly distribute along the bottom
and up the sides of the tin. Place in the fridge until you need it.
Cake
Thoroughly blend the ground almonds, cream cheese, coconut milk, sugar, flour,
cornflour, lemon juice, vanilla paste, melted coconut oil and salt.
Melt the white chocolate using a double boiler (a glass or ceramic bowl that fits on a
saucepan of simmering water but doesn't touch the bottom) and then pour immediately into the cake mix and blend.
Take the base out of the fridge and pour the cake mix straight onto the base. Give it a bit of a shake to make sure the mixture is evenly distributed.
If you would like to add raspberries to the cake mix, push them evenly into the mixture until they are fully submerged.
Fill a deep baking tray with water (around 1 inch). If you are using a cake tin with a loose bottom, make sure it is really securely covered with foil before placing it into the water.
Cover the top of the cake with foil (to avoid burning) then place the tray into the pre-heated oven and bake for 1 hour and 15-30 minutes (check after 1 hour 15)
When the cake is ready, take it out of the oven and leave it to cool for an hour before putting it into the fridge to set overnight.
Topping
Heat the raspberries and the jam on a low heat for 5 minutes until blended and
smooth. Squish the raspberries against the side of the pan with a wooden spoon if
they still remain whole.
Stir the sieved icing sugar into the pan and heat until fully dissolved.
Pass the sauce through a sieve and then pour it on the top of the cake until fully
covered, top with berries (optional) and set for another hour.
Serve as it is or with vegan ice cream. Enjoy!
Freeze any leftovers.