Sweet Tree by Browns is a family-owned chocolate and confectionary company.
What does Sweet Tree by Browns make and what is a sweet tree? The company name comes from their "sweet" or edible candy trees. These "sweet trees" may be made from gummy bears, toffees, licorice, Haribo candy, Jelly Babies, Wine Gum, fudge or a mix of candies. The candy "sweet tree" always consists of an edible top, stick and "soil" made from assorted candies. Even the center of the sweet tree is edible. It comes in a glass container that you can have decorated with the message of your choice or an edible chocolate smash pot. Small sweet trees are 35 centimeters tall.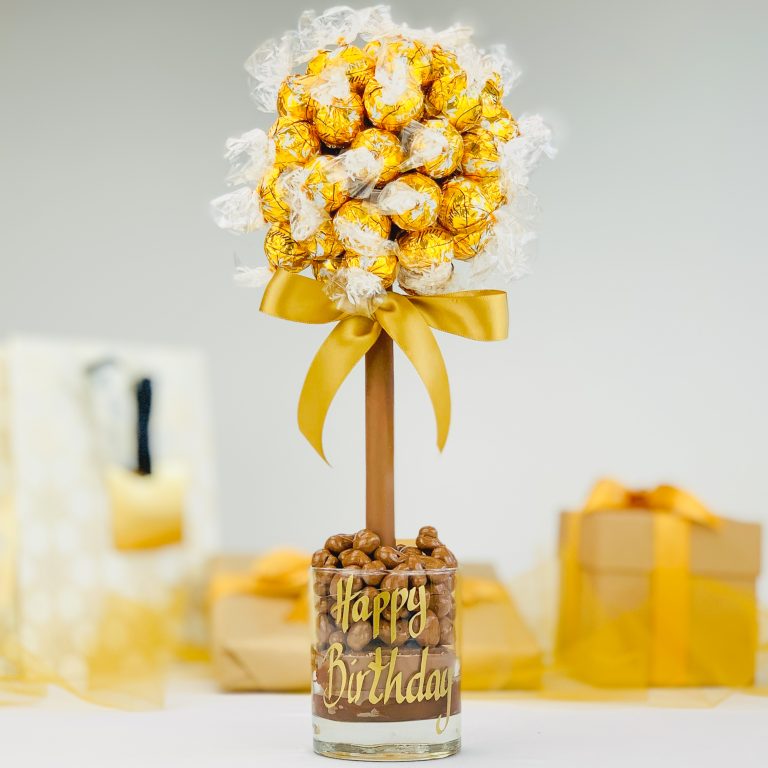 Sweet Tree by Browns also offers smash cups. The edible hollow cup can be labeled with an edible message for the gift recipient. The cup can be smashed to reveal the candies hiding inside. However, you don't have to do that right away. The smash cup contains an assortment of chocolates or other candies that you can enjoy first. A smaller version of this is the "smash pot". It too is made from chocolate and contains candies inside.
Sweet Tree makes a variety of edible gifts. They can make "heads" made out of licorice, chocolate orange, M&Ms and Maltesers. These are topped with a chocolate top hat and have a cute mustache on the front. Sweet Tree by Browns often offers personalized large chocolate hearts. These are popular wedding favors. The chocolate pots can be used to deliver sweetie pencils or another treat. You can also arrange for sweet trees with a heart-shaped canopy to give as a wedding present or simply give to the person you love.
Their Christmas selection is even more diverse. They craft small and large smash puds, chocolate ovals and domes that contain a number of candies inside. They also sell smash Christmas trees, a variation of their smash cups. The holiday season brings more variety in the candies used to make sweet trees. You may only see White Lindor, truffles and pink roses on their Christmas sweet trees.
Sweet Tree is constantly innovating. For example, they recently introduced a chocolate egg and beans. It resembles eggs on a plate, but it is made entirely out of Belgian chocolate. If you crack the egg, jelly beans come out. They also have a literal candy apple. The chocolate treat resembles a green apple, but it is made out of Belgian chocolate and chocolate orange. Sweet Tree also has an Easter menu. For example, they have an edible chocolate Easter bunny bum.
Note that Sweet Tree by Browns will consider custom requests such as chocolate treats assembled into a wedding cake or Halloween themed chocolate gifts. These are great gifts to give coworkers, subordinates and clients.
Their chocolate gifts are delivered wrapped in cellophane. Depending on the item, it may last for weeks as long as the packaging remains intact. Browns were kind enough to send us one of these to sample for ourselves! What a treat for January!