Ohelo Water Bottles and Tumblers
If you're like us and you're enjoying the good spell of weather we're having then you'll know the challenge of keeping drinks cool whether you're just in the house, working from home or out for a drive or walk. Picnics are the specific challenge! Ohelo have released a range of stylish water bottles and tumblers which not only look beautiful but are so incredibly well made and functional I think they're the best water bottles we've used!
Ohelo sent us one of each to road test to see what we thought and we've been doing that over the past couple of weeks. With working from home I was constantly having to return to the kitchen to refill my glass of water which has been quickly reaching luke warm temperatures sitting at my desk in this heat. I was longing for a good quality water bottle to keep by my side so that I always have a nice cool drink to enjoy. Enter the Ohelo Water bottle….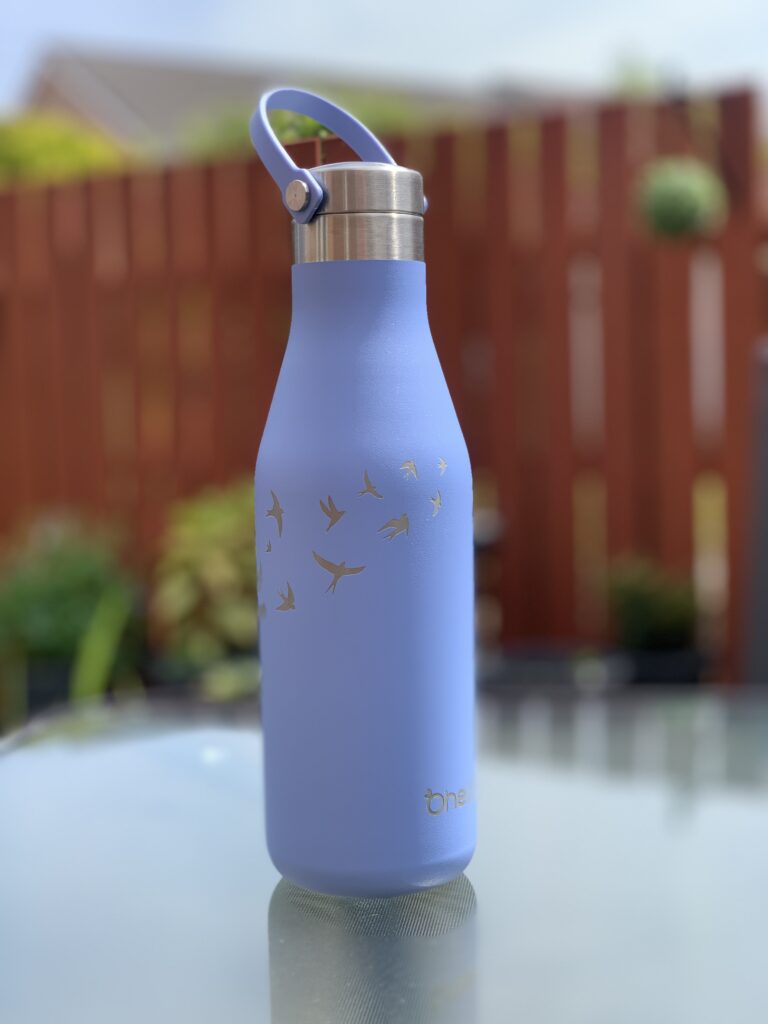 The Water Bottles
They are double walled vacuum insulated bottles and made from high quality 18/8 stainless steel. Hot for up to 12 hours, cold for up to 24 hours (we've tested it!!). The mouth is even wide enough for ice cubes which is great if you want an extra icy cold boost to the water before leaving the house for a walk or journey. The silicone handle which comes with the bottles is also great for this purpose when you leave the house and need to bring it with you.
The coating is a lead-free powder coating which gives it a wonderful texture which gives a good grip and just feels nice to hold. There are a few varieties of bottles and some such as the Bee, Blossoms or Swallows varieties all have laser etched details on them. This is great as it means the design wont fade! All of the designs are of course influenced by nature which we think is wonderful. Nothing garish just incredibly well designed. The colours are also great. We got Blue swallow and Yellow bee varieties with the blue being a nice soft blue and the yellow being super vibrant and representative of the intricate bee design on them.
The Tumbler
The Tumblers from Ohelo are something we haven't seen before especially ones which have matching water bottles so you can have a set. These are lovely 400ml tumblers so just perfect for your hot drinks OR cold! Hot for 6 cold for 12 hours. Again just like their flask companions they are Vacuum insulated, double walled and made from high grade 18/8 stainless steel. The big deal with these little beauties is their leakproof design. You can go from drinking to leak proof in one simple twist of the lid. Its genius and really well designed!
They come with an internal mesh filter which can be removed. But this makes them perfect for using as a tea strainer or even a milkshake or protein shake mixer! They are even coffee shop compliant so you can hand them over to the barista to get your coffee fix in your own mug. Bliss!
We got Blue swallow and Yellow bee varieties with the blue being a nice soft blue and the yellow being super vibrant and representative of the intricate bee design on them. Again having the lead free powder coating makes these lovely to hold. They feel so natural in your hand you won't want to put them down.
Ohelo's Vision is "Making beautiful reusables the new normal!" which we think is so important. Not only are the flasks and tumblers obviously reusable but they are recyclable too. Not only this but all the packaging they come in (paper and cardboard tubes) are all recyclable too. These are really wonderfully designed both for their use and their beauty and Ohelo should be commended on that. If you're looking for a flask or flask-tumbler look no further. You can read about how it all started on their website.