Mr Wolf Spices – The Review
This week we got a really exciting delivery. New Spices! But these are not any old plain spices but special blends of spices! They're from a company called Mr Wolf Spices created by George Bond, Raymond Watkins and Hamish Dow in Newcastle-Upon-Tyne.
We've all been there, making the same old food over and over again. It's nice and all…but it does get boring after a while. Sometimes we crave just the smallest changes in our meals yet get lost on what we can change. Spices are a great answer to this dilema but if you don't know what you're doing it can be a lot of trial and error to find new flavours you like.
This is where we love Mr Wolf Spices. They have taken literally years to perfect blends that work in a multitude of types of dishes. Working with professional chefs to test them and perfect the flavours. So they have created blends which we can simply lift out of our cupboards and add to our dishes without much thought. They worked with over 26 individual spices to create all these blends so it's a lot of work taken out of our hands.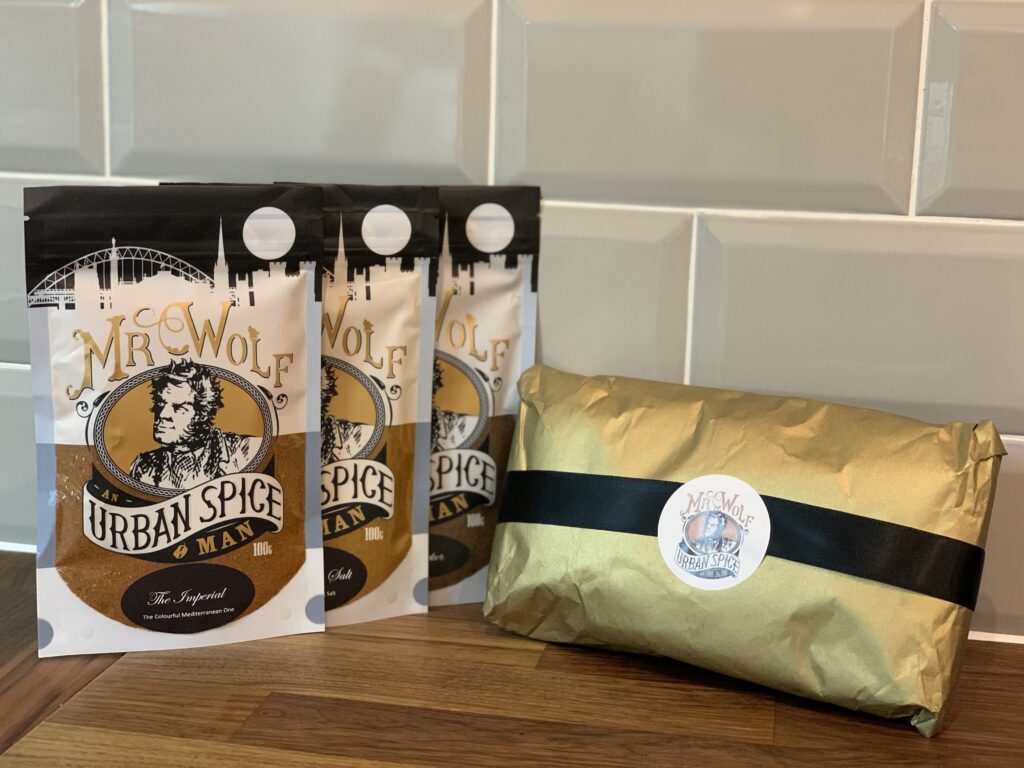 Whether its your favourite family recipe for Spaghetti Bolognese or Lasagne which just needs a little tweak to keep the family interested? That favourite casserole you've made a million times but it's just got a bit predictable? Let's take a look at some of their blends!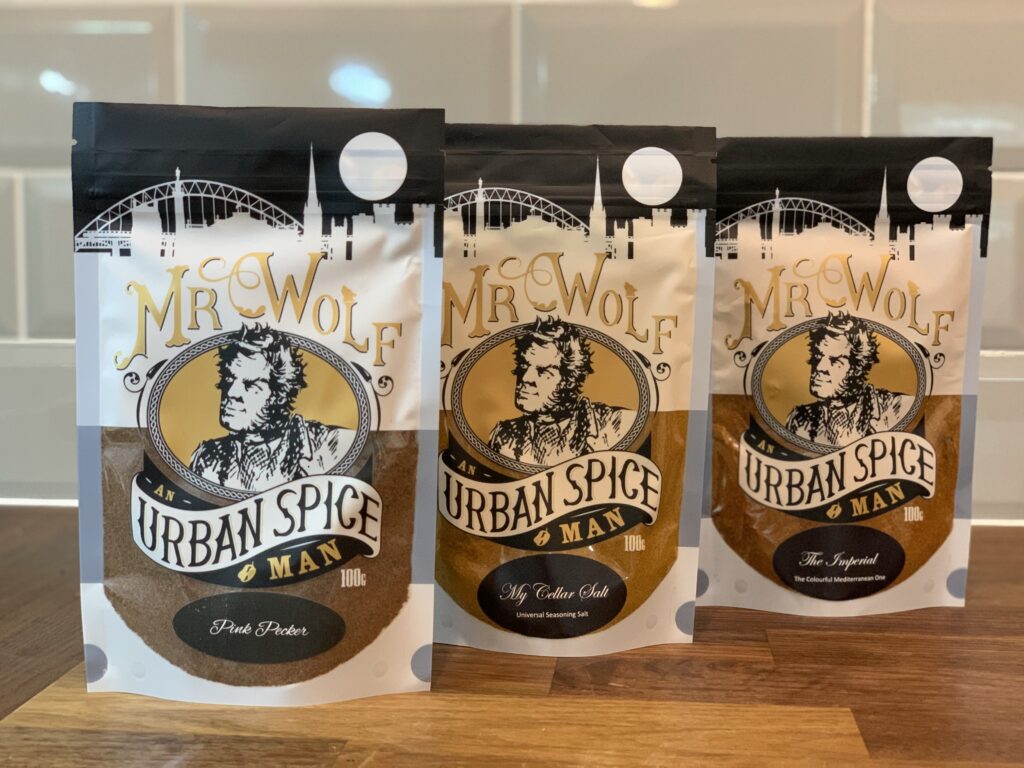 We'll start with this one as it is the very basis of a seasoning. It has become a go-to seasoning for us to add to….well just about anything to add some incredible flavour. It is an all-round seasoning and we've even added it to crisps and dips! It is a playful nod to a masala type flavouring. It is gluten free and suitable for vegetarians and vegans (in fact all of these ones are!).
So what's in this one?
Himalayan Rock Salt, Fenugreek, Fenugreek Leaf, Cumin, Turmeric, Sweet Paprika, Piquin Chilli, Garlic, Coriander.
This is one for you if you like a little bit of a kick. Described as the meaty, beefy, hearty one. Mr Wolf recommends using this one where you'd usually use black pepper or chilli to season dishes. I've added this to a stew for an extra kick of flavour and it was GOOD! Also as a rub on some pork chops allowed to marinade in the fridge overnight.
So what's in this one?
Pink Peppercorn, Green Peppercorn, Black Peppercorn, Aniseed, Cinnamon, Pequin Chilli, Allspice, Clove.
What a great name! Described as an exotic splash of flavour. This one has flavours originating in dishes from the Mediterranean and Middle East. This works great as a rub on chicken to be used in a stir fry. We've also added this one to sauces when we're batch making some general purpose tomato based sauces to freeze. To be used with pasta, bolognese and other dishes.
So what's in this one?
Paprika, Black Peppercorns whole, Fenugreek leaf, Thyme, Citrus powder, Black onion Seed, Pink Peppercorns whole, Cumin powder, Garlic powder, Nutmeg, Piquin chilli powder, Szechwan Pepper, Bay, Rosemary, Caraway seed.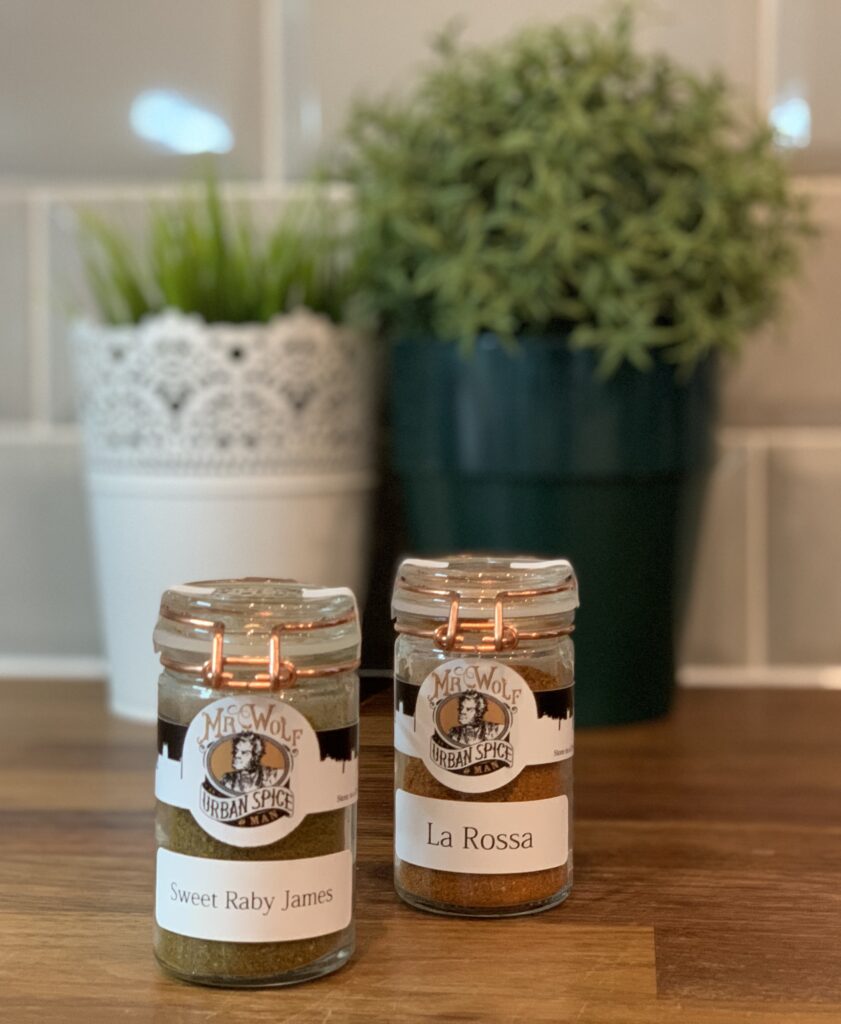 Described as the mild and gentle one. This is a carefully blended mix of subtle spices which just perfectly compliment already rich dishes and red meat. This works great on steak for us! I've also popped a bit of this in some soup when it is nearly cooked just to add another depth of flavour. It's all about making your food a little more interesting or different each time.
So what's in this one?
Pink Peppercorns, Cumin, Coriander, Coriander Leaf, Liquorice, Tamarind, Green Cardamom, Smoked Paprika, Chipotle, Black Cardamom, Guajillo Chilli.
Described as the zingy, spicy one. This is one for those rich tomatoey casseroles or paellas. We've added it into bolognese and pasta sauces too. It's rich red colour just enhances to look of some dishes too. Add this to a tomato based chicken casserole in a slow cooker and it's a good one!!
So what's in this one?
Paprika, Fennel, Oregano, Rosemary, Garlic, Bay, Cayenne Pepper.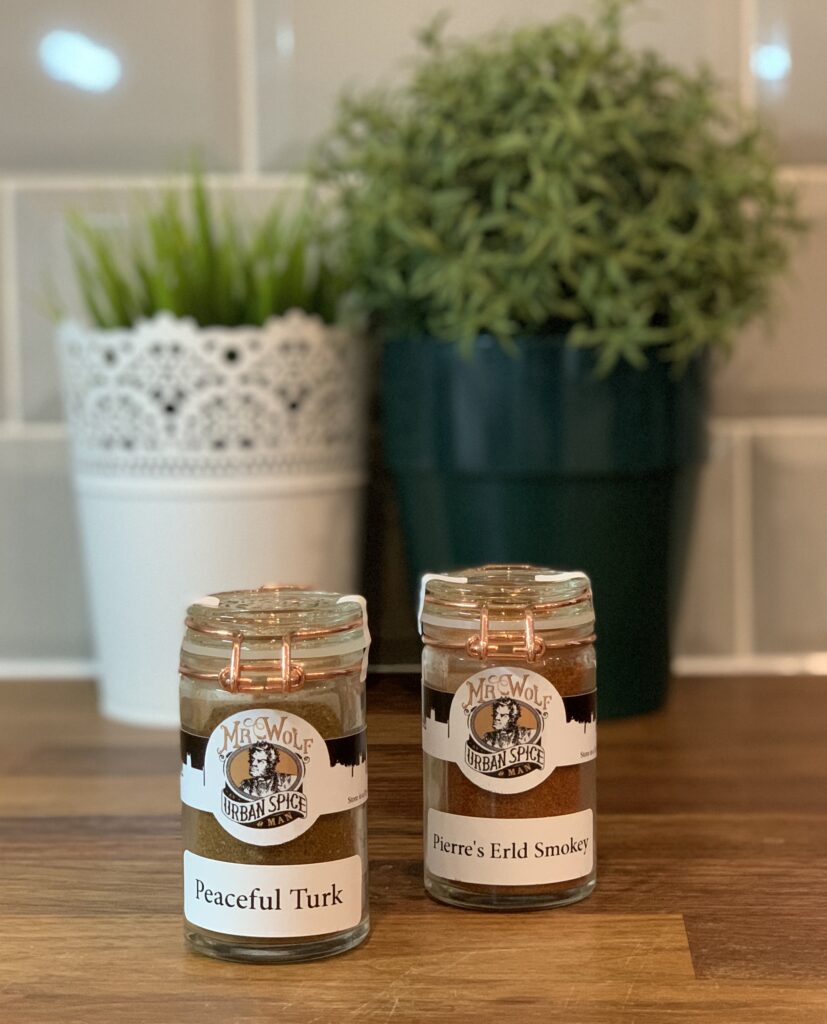 We love this name of this one. So this is another Middle Eastern influenced flavour combination with a hint of some Turkish influence (obviously! 🙂 ). Rich flavours and exotic heat which makes this one perfect for marinading chicken thighs or chicken wings work great. They also recommend this one for roasting vegetables which we haven't tried yet but sounds like a great idea.
So what's in this one?
Sweet Paprika, Hot Paprika, Dill Leaf, Mint Leaf, Cumin Powder, Sumac, Coriander, Coriander Leaf, Oregano, Cinnamon, Celery, Celery Seed,Onion Seed, Hibiscus Powder, Onion Seed powdered, Saffron.
Described as a subtle smokey blend. I love this one used to marinade chicken for fajitas or tortilla wraps. You can even stir fry some peppers and onions in it for the wraps too. The smokey flavour works great with this. I have also added this into soups for that extra depth of smokey flavour.
So what's in this one?
Paprika sweet, Smoked paprika, Black pepper, Green cardamoms, Black cardamoms, Tarragon, Piquin Chilli, Sundried tomatoes, Garlic powder, Rosemary, Ajwain seeds, Nutmeg.
So what we think..
So that's the lot and what a lot it is too! This is my favourite spice blend range at the moment as it encompasses all the combinations of flavours I currently enjoy. If you look at the ingredients for each of them you'll see the sheer number of spices in each of them. Why fill your cupboards with all of these when you can buy these already blended mixes. Experiment a bit, maybe even mix two of these blends yourself for that extra complex flavour. You're in control! Enjoy!