Chicken Rigatoni with Mushrooms, Spinach and Red Wine
Pasta dishes are some of our favourite of all time. They're so versatile and varied that you can never get fed up with them. With pasta being a cupboard essential these days most of us all have a good supply at hand. So we wanted to share with you a recipe in collaboration with HelloFresh for Chicken Rigatoni with Mushrooms, Spinach and Red Wine. Something to vary your meals this week. You'll be glad to hear its super simple too!
This dish is an example of one of the dishes which you can get through HelloFresh with all the ingredients delivered to your door ready to make that week. How smart is that. Alternatively HelloFresh are providing lots of recipes on their website which you can make yourself at home. Free! Just check out their recipe portal.
This makes for 2 people so scale up or down as necessary. This makes a great dish to freeze for lunches too!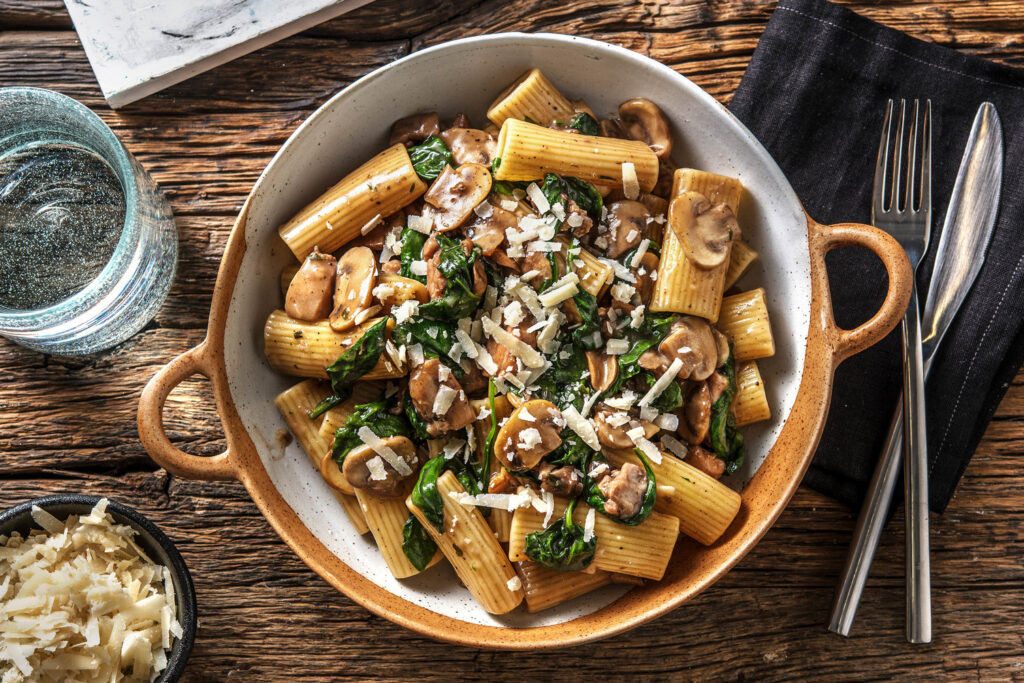 The Ingredients:
200 grams Wholewheat Rigatoni (standard is also fine!)
280 grams Diced Chicken Thigh (breast is also fine but thigh has more flavour)
1 Clove of Garlic
1 Pot of Red Wine Jus Paste (a dash of red wine is fine if you cannot get the paste which is essentially concentrate)
1 Bag of Baby Spinach
1 Punnet of Mushrooms
1 tbsp of Thyme
40g of Hard Italian Cheese
200ml Water
The How-To:
Fill and boil your kettle. Heat a large, deep frying on medium high heat with a drizzle of oil. Add the chicken, fry until golden, 5-6 mins. Tip: Do this in batches if necessary
Meanwhile, pour the boiling water into a large saucepan with a pinch of salt. Once boiling, add the pasta and cook until tender, 12 mins.
Once the chicken has browned, add the mushrooms to the pan. Season with salt and pepper. Fry until golden, 3-4 mins. Stir occasionally. Meanwhile, peel and grate the garlic (or use a garlic press).
Stir in the garlic and thyme, cook for 1 minute more. When the pasta has cooked, add the spinach to the colander and drain the pasta on top. TIP: The pasta water will wilt the spinach in the colander. Drizzle the pasta with oil to stop them sticking together.
Reduce the heat slightly and stir in red wine jus and water (see ingredients for amount). Bring to the boil and simmer for 3-4 mins until thickened slightly and the chicken is cooked through. IMPORTANT: The chicken is cooked when no longer pink in the middle. Remove from the heat.
Add the pasta and spinach to the sauce and toss together. Stir in half the hard Italian cheese. Taste and add salt and pepper if you feel it needs it. Serve in bowls, sprinkle over the remaining cheese and enjoy!