Garfield Eats – World's First Garfield's shaped pizza
Pizza is one of the most popular delicacies around the world. It becomes even more interesting when customized pizzas are designed to suit your every fantasy. Who remember's Garfield cartoon from their childhood?! I do, in fact he was one of my favourites!
Garfield Eats a premium eatery with locations in Toronto and Dubai. With a unique concept of the Garfield theme, Garfield Eats is catered for the adventurous, fun-loving consumers who are up for a tasty treat.
The Garfield shaped dough, which is the first of its kind, aims to give a fresh aesthetic to your pizza, shaping each slice differently. This offers a welcome alternative from the regularly circular-shaped pizzas available in the market and is a favourite for cartoon enthusiasts.
A walk into the pizzeria will guarantee you an outburst of orange theme, from the interior, the pizza sauce, the packaging and the gifts.
Garfield Eats has a unique business model which centres in mobile operations around an app available at the store with additional artificial voice. With digital menu boards, customers can order their favourite meal combo in minutes. After placing the order, customers are entertained by playing their favourite Garfield cartoon episode or reality as they wait for their order. They can also shop around for Garfield collectables available at the store. The store offers a platform for its customers to be entertained and engaged in the various amenities they have to offer, thus the principle of Entergaging!
The pizzeria offers various treats from pizza, lasagna, spaghetti, farm salads, flavoured cappuccino, smoothies and fresh juices.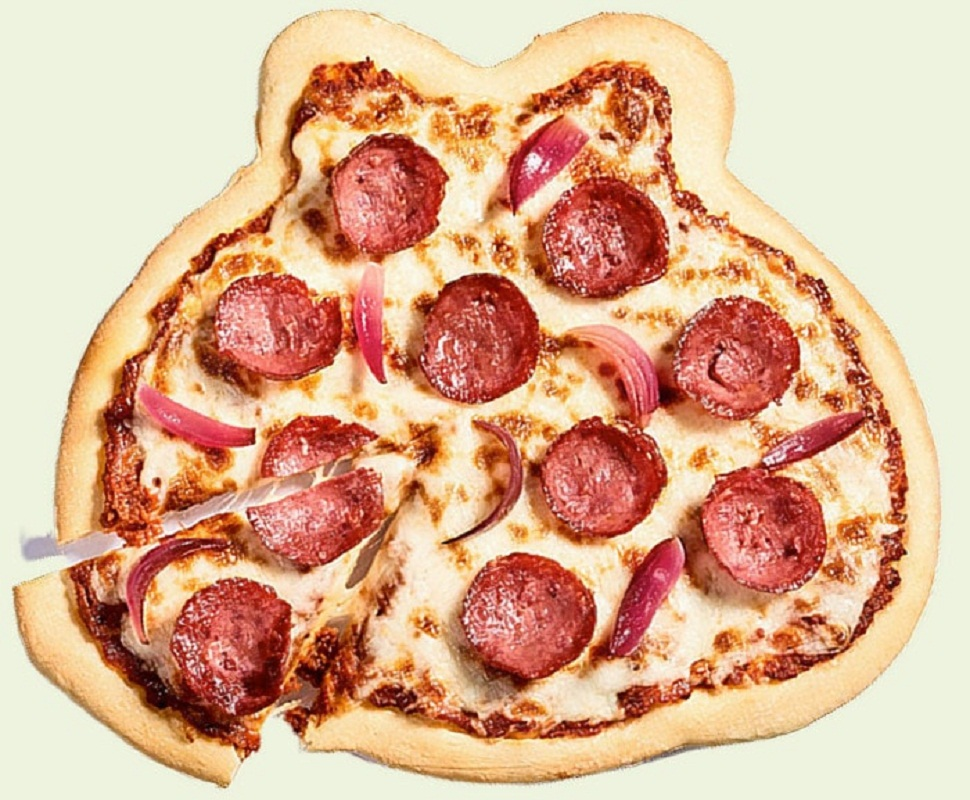 Pizzas
Garfield Pizza's are customized according to each taste. From meaty to vegetarian options, customers are sure to indulge in some tasty, crusty dough topped with organic and fresh farm produce.
Garfield Eats pizzas offer medium and large sizes, and also offer varieties of toppings and sauces to choose from.
The varieties of pizza available are:
A signature pizza from Garfield creator, Jim Davis, this pizza will tingle your taste buds with meaty loaded pepperoni, pineapples and Garfield barbeque sauce.
This pizza offers strips of rib eye slathered with Montreal steak spices, farm-fresh vegetables and sauce options.
Being 100% vegetarian, the Giardino pizza is topped with leafy green broccoli, bell peppers and avocado on top of yummy veggie and green tomato sauce. You can indulge in the Giardino pizza without feeling guilty and get rich antioxidants and vitamins.
This is the ultimate chicken pizza topped with marinated chicken strips, mixed bell peppers, onions, freshly sprinkled lemon thyme and the sauce of your choice.
This is an all-inclusive pizza boasting marinated ground beef, beef pepperoni, mixed bell peppers and caramelized onions topped with cheese. The secret ingredient to this pizza is the signature orange tomato sauce which adds a burst of flavour melding the ingredients together.
Lasagna
Garfield Eats specializes in its signature Big Cow Lasagna richly filled with premium cowboy cut minced beef and creamy béchamel sauce. This meal is filled with potassium, zinc and iron, and is perfect for muscle recovery and growth.
Kitty Kids options
There can be no Garfield Eats without a kid's option, making the kitty kids menu a delight to explore.
With pizza meals catered for kids, there is a wide range to choose from depending on their preference. These come in small sizes with the option of skinny fries, farm garden salad or fresh juice. The available options include the Kitty Kids Garnivore, Gherita, and Giardino, MTL Barbeque steak, Peroni and Roy's chicken pizza.
Garficcino
Garficcino is inspired by the famous Garfield coffee obsession, as seen in the cartoon. This coffee is made with 100% Arabica coffee blended with flavorful ingredients and served in fancy orange cups.
Garficcino coffee is served in different flavours, including:
Nothing is more satisfying than dark chocolate crushed in creamy espresso coffee. Topped with milky white foam, this delight is sure to change your mood in seconds and give you a sugar rush like never before.
This coffee blend is best if you want some soothing calm undertones of flavour in your system. Packed with minty goodness, this Peppermint Garficcino blends well with roasted espresso and skimmed milk.
With fresh pressed orange juice shots, this honey-infused coffee is packed with Vitamin C and perfect for dietary fibre.
Sometimes good old flavoured coffee hits your coffee craving just right. This classic blend of the espresso is the perfect start to your day.
This flavour comprises of skimmed milk blended with cinnamon powder and fresh pumpkin peel. This offers a burst of aromatic flavour kick-starting your day with cinnamon goodness.
Refreshing drinks
Garfield Eats has a variety of smoothies and fresh juices with fresh fruits from farm produce. You can be sure to indulge in watermelon, Mango, Peach, Kale and strawberry banana smoothies.
Apart from the above, Garfield Eats also offers a chance for its customers to collect points at the store by engaging in paid Garfield episodes to unlock Groupon offers. These points are redeemable at the store and can be used to purchase the various delicacies available. The restaurant's fast delivery service is efficient and reliable, with on call services available to customers at any given time.
Garfield Eats is sensitive to environmental issues and offers sustainable solutions through its packaging and servicing. For instance, their orange carton boxes can be recycled to plates, colouring books or storage boxes. Their fast and efficient delivery service is done with green electric scooters which lessen the emission of gases to the environment.
The store's excellent customer care service provides digital support and an opportunity to connect with friends in exploring the vast world of Garfield. Their prompt response to customer queries elevate the restaurant to one of the top notch themed eateries.
Hop onto the Garfield bandwagon and experience, customized service, delicious food and drinks, and an opportunity to collect redeemable points. You can be sure to have an engaging experience as you to wait to indulge on the filling Garfield shaped pizzas.