Top 20 Dish Ideas In Which You Can Use Honey
In collaboration with Fitability we look at some of the great uses of honey. Which if you're a regular reader of ours will know features in a good few of our recipes already! Honey is perhaps one of those ingredients out there that everyone likes. First, widely recognized for its medicinal purpose, it has been used for ages as a healthy ingredient that has a lot of healthy benefits. Not only that, but you will be surprised to hear just how many ways it can be used in our day to day cuisines. 
Therefore, today, we present to you 20 dishes where you can use honey and put a delicious new twist to the recipe altogether. Besides baking cakes such as the traditional Jewish honey cake, there are many things you can do with honey.
Without any further hesitation, let us dive right into this sweet delicacy!
Kale Salads
Honey is a wondrous thing that can bring around a delicate flavor in your salads. Especially in Kale salads, honey goes exceptionally well with the bitter crunch of the kale leaves.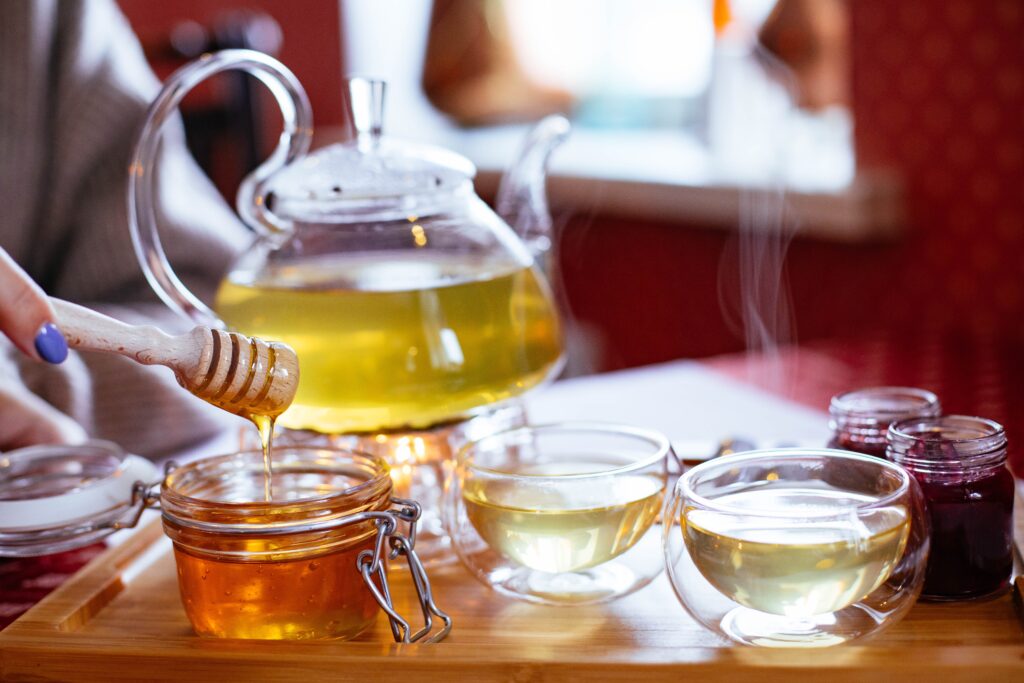 Summer Salads
This salad is your summer in a bowl, with cucumbers and melons and a dressing of honey, citrus juices, and mustard, making it refreshing and delicious all at the same time.
Honey glazed Almonds
Looking for a sweet snack that you can easily make and store? Try this easy-to-make snack simply by roasting almonds with honey. You can store it in a jar for later use. Since the shelf life of honey is long, this snack can be kept in your pantry for weeks and even months if stored properly.
Chilli infused Salad dressings
Want to bring about an exciting twist to salad dressings? Infuse honey with chili and get yourself ready for an experience of another world. You may use it in salads, in marinades, pour it over cheese, or gift it even!
Asian Chicken Wings
Honey does lovely things when you add it to your Asian Chicken Wings recipe. The result? You get beautiful, juicy, and crispy glazed chicken wings that will have you ask for more and more.
Honey-Grilled Shrimps
Want to impress your guests? Then this is the recipe we recommend you bring to the table. Here, honey is applied in three steps to the shrimps. It is added to the brine and is tossed along with the brine shrimps. Lastly, it is drizzled over the finished dish as the cherry on top of the cake.
Honey Lemon Chicken Thighs
Another chicken recipe that is taken to another level of deliciousness with the touch of honey. It is a must-try! You can also use it for drumsticks, such as this BBQ honey chicken drumsticks recipe.
Bee's Knees Cocktail
Fan of cocktails? We recommend that you try this. In case you didn't know, honeycombs make a fantastic treat. Add it to a cocktail, and voila! You have found your new favorite drink!
Honey Lemon Spritz
Did you know that honey could be found in different flavors? We recommend you use floral flavor honey here to bring out the freshness of this drink.
Honey-Ginger Bites
Another dish to impress your guests, this chicken bites recipe is perfect for, as you might have guessed, finishing in a bite. Do not forget to emphasize the sweet glaze brought in by the honey!
Glazed Salmon with Honey & Ginger
This dish is fancy yet takes so little to accomplish. Also, this recipe is a favorite among the kids. Give it a try and see your kids finish it within minutes.
Honey Beer Sauce Chicken
What makes honey chicken better? Beer! Add a full-flavored and inexpensive beer and see your chicken turn so much more flavorful!
Pork Tenderloin with Honey-Orange Sauce
Go fancy with this recipe of pork tenderloin with the orange marmalade and honey sauce, and you might as well be dining at 5-star!
Honey-Lemon Drop Cookies
These adorable cookies are perfect as gifts or small savory bites that can be used at any and every occasion!
Margarita Slush
Make yourself a quick refreshing margarita with cucumber, thyme, and honey! A perfect summer drink!
Honey Orange Rolls
If you have extra bread dough, then you must try this sweet treat! Perfect for dinner desserts, you can serve it warm and yet store it in airtight containers for eating later!
Lemon & Honey Dip
This dip is a total hit with strawberries—an easy choice for desserts that is perfect for a summer brunch.
Warmed Berries with Fresh Cheese & Honey
If you are a fan of desserts, then you must absolutely try this delicacy of
Grilled Peaches & Honey Cream
If you are a fan of desserts, then you must absolutely try this delicacy of grilled peaches. Add the honey cream, and you are in for a delicious treat!
Honey Whole-Grain Bread
Last but certainly not least, if you like making your own bread, we recommend you switch the sugar with honey. It will be healthier and tastier! We guarantee!