The EKO Mirage X Sensor Kitchen Bin Review
Before we start lets introduce EKO Home UK. EKO re-imagines your home with products designed with beauty and intelligence in their heart. Founded in 2016, EKO Home is a UK team based in Marlow, Buckinghamshire, with a vision to continuously innovate and redefine homeware. EKO Home were kind enough to send us one of their newest bins. The EKO Mirage X Sensor Kitchen Bin to road test in our busy kitchen.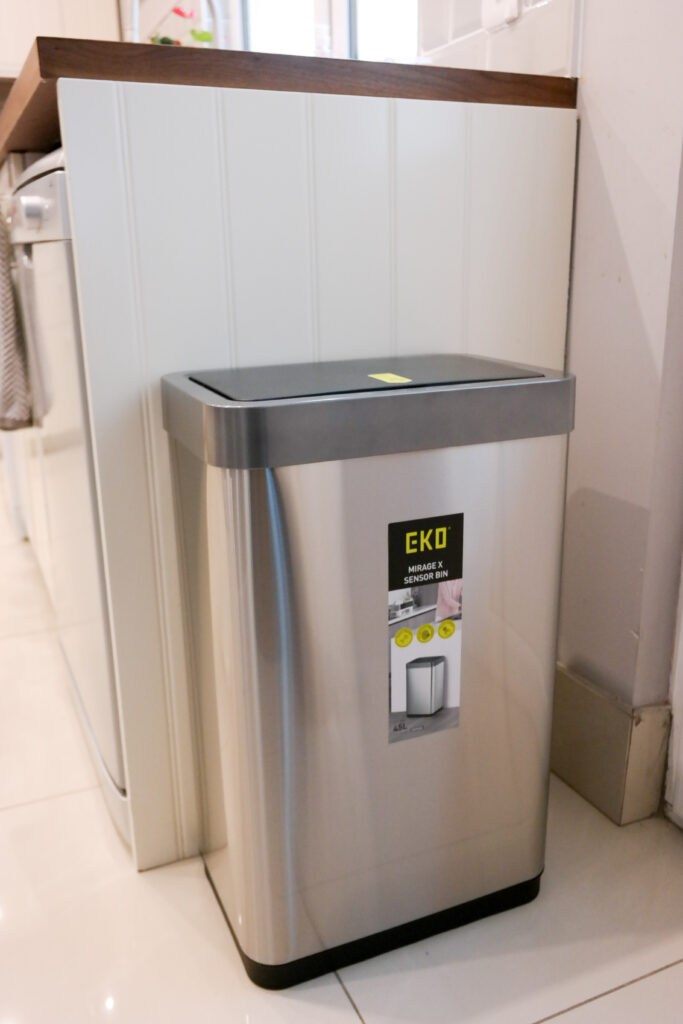 EKO Home has also given us a fantastic voucher code for you! Simply enter Baking10 on checkout to get £10 off this model!
I think at the moment, living through COVID and the ever increasing of washing our hands and being conscious of what we have touched this is the perfect opportunity to explore sensor bins. At the best of times our hands can be dirty or grimy in the kitchen environment (and i hate finger prints on things!) so it makes a lot of sense to look into investing into a sensor bin. So lets take a look at this one from EKO Home and see how it stands up to our rigorous testing.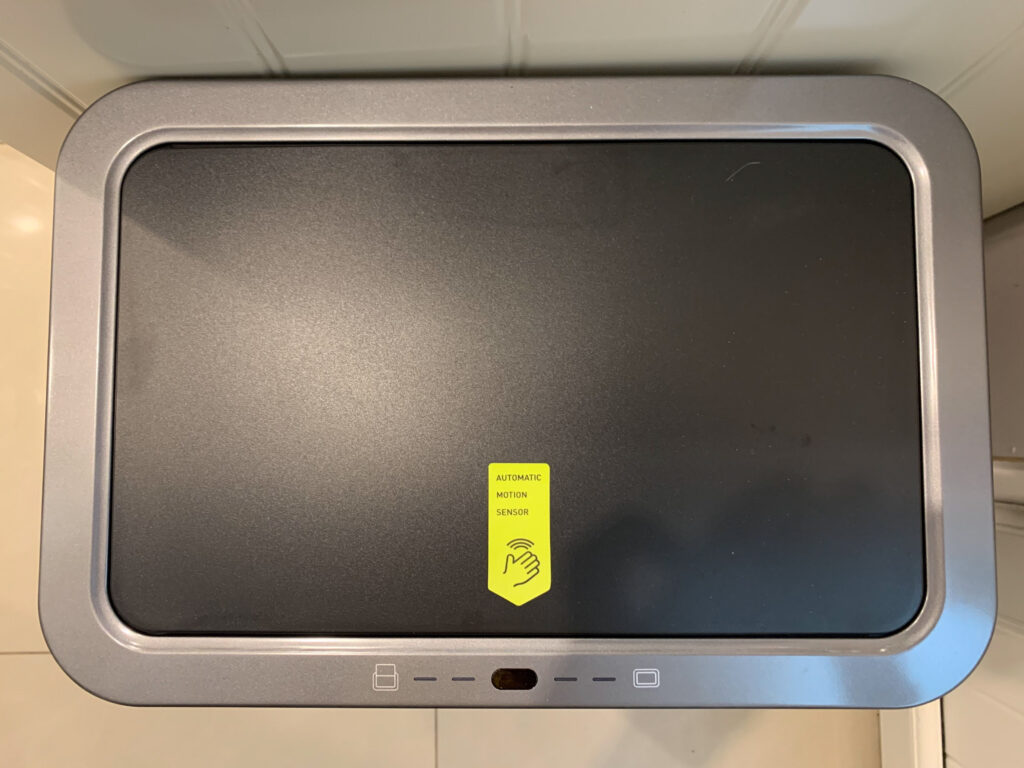 The Looks
OK OK Looks aren't everything but the kitchen is one of the most used rooms in my house and therefore you see everything in there quite a lot during the day. Any ugly appliances or utilities I keep hidden away in the kitchen. I like a tidy space plus its easier to keep clean! So looks are important for me in the kitchen. So when i unboxed the EKO Mirage X Sensor bin I was delighted to see its sleek elegant lines and design! It has a nice compact shape and the bag doesnt show from the outside of the bin (horray!!). It's made of high quality fingerprint resistant, brushed stainless steel to give a refined finish. I haven't felt the need to wipe any marks off it yet so that's an achievement!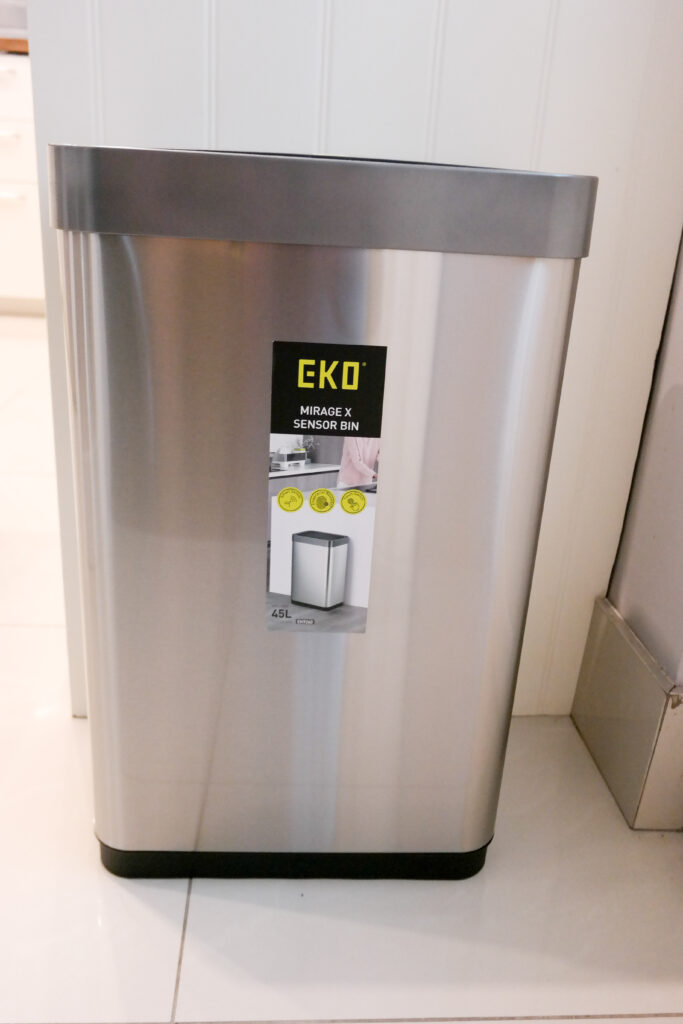 The Functionality
It's a bin. So as you'd expect it has a waste section. However unlike some bins it doesn't have an internal bucket so this gives far more space inside the bin. 45 litres of space to be exact and that's quite a lot for a conventional kitchen bin! Like I said above the lid design has been carefully engineered that along with the internal ring to hold the bag in place it hides any unsightly bag overflow. You get a couple of bags with the bin so you can put it straight to use but we're sure we'll be able to find some own brand bags which will easily fit.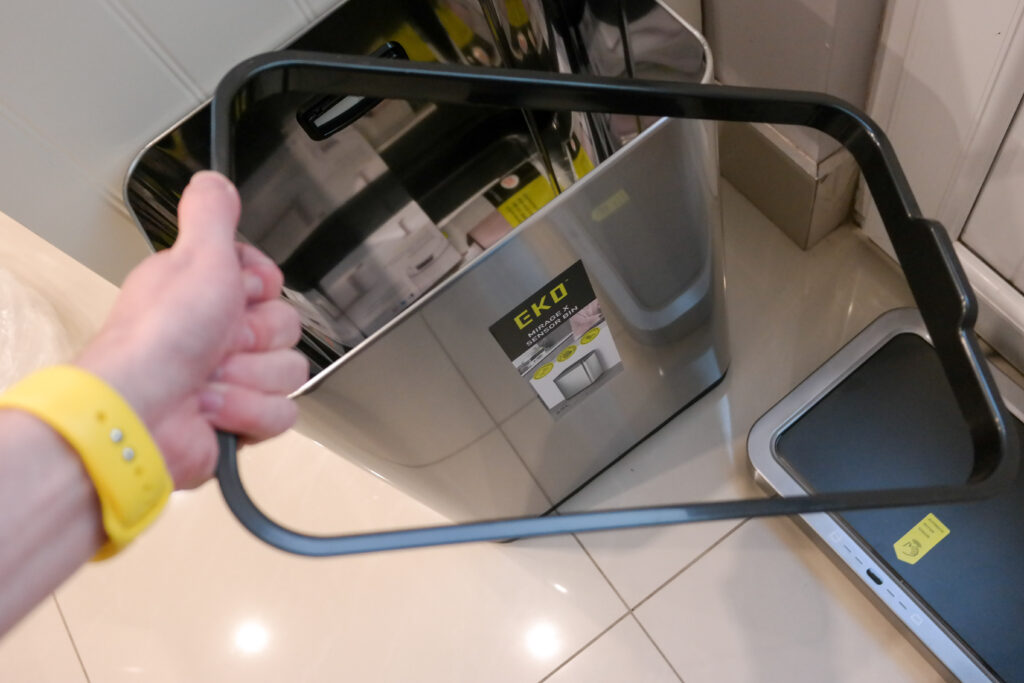 The Smart Functions
Don't worry. The bin isn't so smart that you can't open it without the magic wave of your hand. If you're that way inclined there is a manual button on top that you can press and the lid will stay open until you press the close button. Handy if you've got a larger job to put in the bin going back and forward to your kitchen benches. But obviously we're looking at the smart features here and that is of course the motion detecting lid. With just a wave of your hand the lid open quickly and some blue illumination lights on the lid begin a 5 second countdown so you know when it will close. Need a few extra seconds? Just wave your hand again and it will reset back to 5. To be honest 5 seconds is tons of time for normal uses as we haven't found ourselves using the manual button at all yet! There is also a little green LED on the screen which blinks occasionally so you know it's awaiting your actions. What we love too is that on the underside of the bin lid there is a switch which you can set to on or off. So if you are going away on holiday for example and don't want the batteries wasted (or the cat accidentally opening and closing the bin!) you can just turn it off! Smart!