Top Chefs Interviews – Niall McKenna. You may recognise Niall from the Great British Menu TV show series 5 airing in 2010 as the representative for Northern Ireland. Niall is a well recognised face in the restaurant circles not only in Northern Ireland but around the UK. Niall owns and actively manages all his restaurants, James Street South, Private Dining Room, Hadskis, Cast & Crew and even the James Street South Cookery School. All of the restaurants offer a unique and distinct dining experience. The one thing all restaurants have in common is the belief in great hospitality with food to match.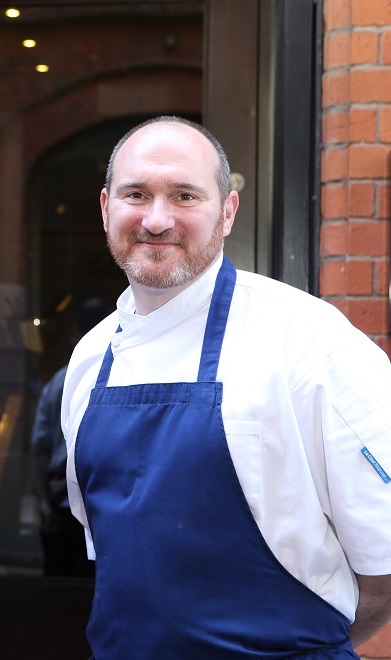 When and from whom did you learn about cooking? Do you have any early memories of something you enjoyed cooking?
I learned cooking from my granny. I really enjoyed baking with her. First great memory was cooking with the Scots on an open fire with a lovely leg of lamb.
Where did it all begin? What was your first job in a professional kitchen and how do you think this helped get you where you are today?
It all started in Strand Restaurant at the age of 15 and I just loved the atmosphere of a busy kitchen. It was great as memories of my first job drove me to get where I am today.
What is one of your favourite ingredients to use in your dishes and why?
My favourite ingredients are herb and in particular dill, parsley and tarragon. It is amazing how these herbs can flavour a dish but they can never be used as a garnish!.
What is your favourite dish to cook? Do you have a favourite that you like to eat yourself?
My Favourite dish to cook and eat would be the Sunday Roast with all the trimmings and all my family round me.
What regional dish stands out to you and should represent your region of the UK? What do you think makes dishes in your region unique from others?
Lough Neagh Eel is a fabulous product.
Have you ever cooked for any celebrities or famous faces?
Yes, Lady Diana, Prince Charles, Liam Nesson and Jamie Dornan to name a few!.
Do you have any funny or embarrassing kitchen stories to tell?
Not any that I can mention!
Is there a celebrity chef who inspires you or has inspired you from the beginning of your career? Why does this person inspire you so much?
It would have to Keith Floyd as he really loved what he did, enjoyed life to the fullest and was passionate about food and ingredients.
Do you have any final advice for someone just starting to cook?
Knowledge is key. Get yourself a notebook and record all the recipes as you go along. Be organised and thorough, know the menu and don't try to spoof it. Read cookbooks to learn all different methods and above all work hard.
Where you can find Niall
Website: JamesStreetSouth
Instagram: @Niallmckenna
Twitter: @jamesstsouth
Facebook: www.facebook.com/jamesstreetsouth