Devilishly Good Chocolate Pudding
This is truly an indulgent chocolate pudding. Although its extremely simple to make!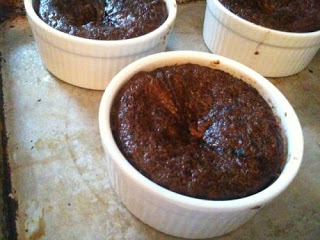 Ingredients:
125g butter
125g good dark chocolate
3/4 cup of sugar
3 eggs
3 tbsp flour
The How-To:
Microwave the chocolate and butter in a bowl on low heat, making sure not to burn the chocolate.
Add the 3/4 cup of sugar, 3 eggs and 3tbsp of flour and mix until well combined.
Pour into 4 buttered ramekins.
Cook for 10 mins in an oven at about 180c
Your Done! Enjoy your gooey chocolate treat!