**Revised Recipe** (20th Oct 2010)
This is a recipe which I have tweaked over the past few months to make it perfect. These cookies are so soft and oaty with a sugary syrup taste. Simple to make and always a winner!!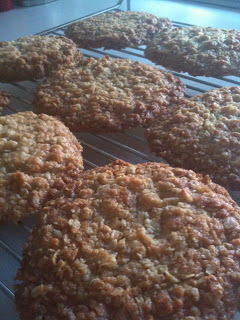 The ingredients which you will need are:
85g porridge oats
100g plain flour
65g desiccated coconut
100g caster sugar
115g butter
1tbsp golden syrup
1tsp bicarbonate of soda
The How To :
Pre heat oven to 180°C
Melt the butter in a pan and stir in the golden syrup.Mix until combined.
Add the bicarbonate of soda to 2 tbsp boiling water, then immediately stir into the golden syrup and butter mixture.
Put the oats, coconut, flour and sugar in a bowl. Make a well in the middle and pour in the butter and golden syrup mixture. Stir until everything is coated in the butter mixture.
Put dessert spoonfuls of the mixture on buttered baking sheets, leave about 2cm apart to allow room for spreading.
Bake for 8-10 mins until golden. We use the baking sheets to the left, they are non stick and the cookies just slide off.
They will be quite soft when they come out of the oven but the harden up a bit as they cool.
Transfer to a wire rack to cool.