BakingBar Christmas Gift Guide 2023
What a year 2023 has been! We want to end it on a high and I have put together what we think is my best Christmas Gift Guide to date. Each year I have the honour and privilege to test many products. The absolute highlights of these go into our annual Christmas Gift Guide. I personally recommend each of the products we list in this guide and wouldn't list them if I was not happy to use them myself. We hope you enjoy this years list, I think it is the best yet.
Disclaimer : Some of the links below may be affiliate links where we get a small percentage of a sale. We hugely appreciate where you purchase through our website as these tiny amounts help contribute to paying our fees and allowing us to grow and share more exciting recipes and posts with you.
The nations favourite chocolate, well at least we think so! Chocolate we all grew up with. Remember the giant selection boxes from Cadburys you use to get as a kid?! I'd still love to receive those from anyone. Well Cadbury's have some very special treats on their website you'll struggle to find in the shops and their Giant Selection Box is one of them! It includes not one but two of these giant selection boxes!! Containing the all the favourites from the likes of Dairy Milk Caramel, Fruit & Nut, Whole Nut, Dairy Milk Bar, Crunchie, Boost Bar, Twirl, Flake, Curly Wurly, Wispa, Picnic, Double Decker and a Selection Pack 89g which includes a Treatsize Curly Wurly, Freddo Bar, Buttons, Fudge and Chomp. And the boxes are huge!!
They also offer gifts such as their Cadbury Chunk Collection Tin which is bursting with 35 mixed chunks. Ive never seen tins like this in the shops!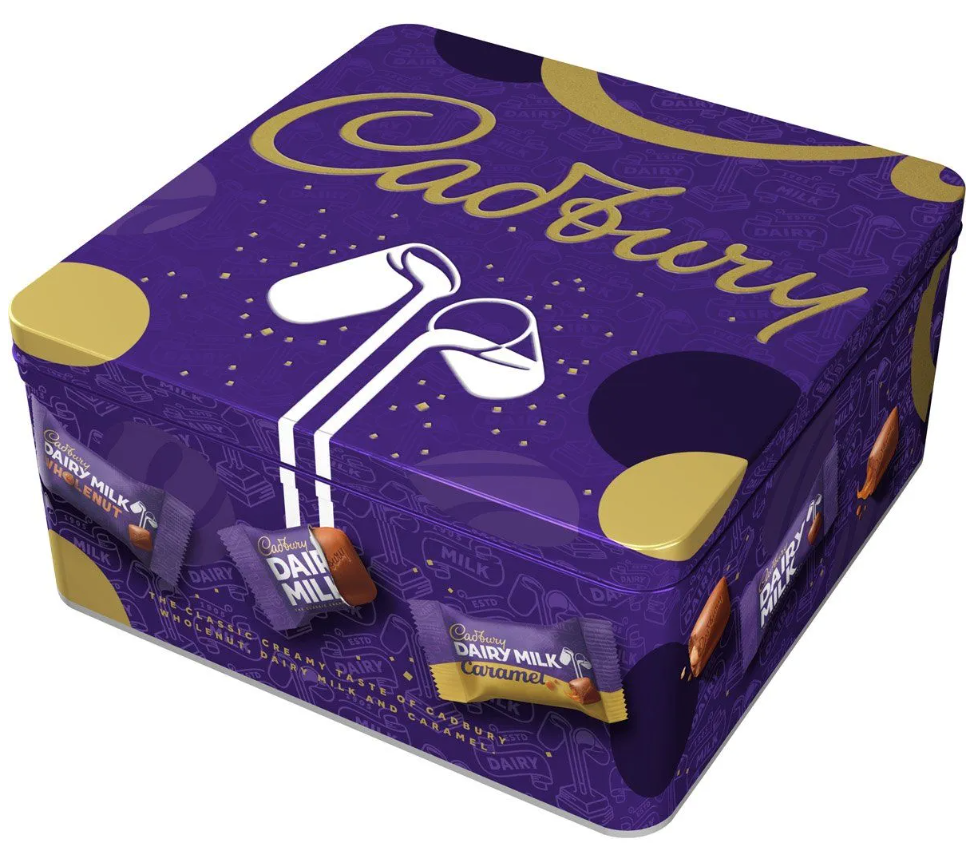 Cake or Death brownie boxes have become famous for their mouth-wateringly good brownies. You can almost taste them though the pictures! (If only right?!). Their brownie boxes are perfect for gifts as they come in letterbox sized boxes. I highly recommend you order one for the gift and one for yourself You know…….just so you can quality control them…..
Our favourite box is their best seller which is Biscoff, Salted Caramel and Sea Salt Brownies all in one box. Available in boxes of 6 or boxes of 10 where you save 22%.
BISCOFF BROWNIES – Our brownie laden with Lotus Biscoff spread and topped with Lotus Biscuit. Full of caramel with a hint of spice. Highly addictive.
SALTED CARAMEL BROWNIES – Our brownie is topped with a house-made golden brown, gooey caramel and sprinkled with Malden sea salt.
SEA SALT BROWNIES – Our secret-recipe rich dark chocolate brownie sprinkled with Maldon Sea Salt just before it goes in the oven.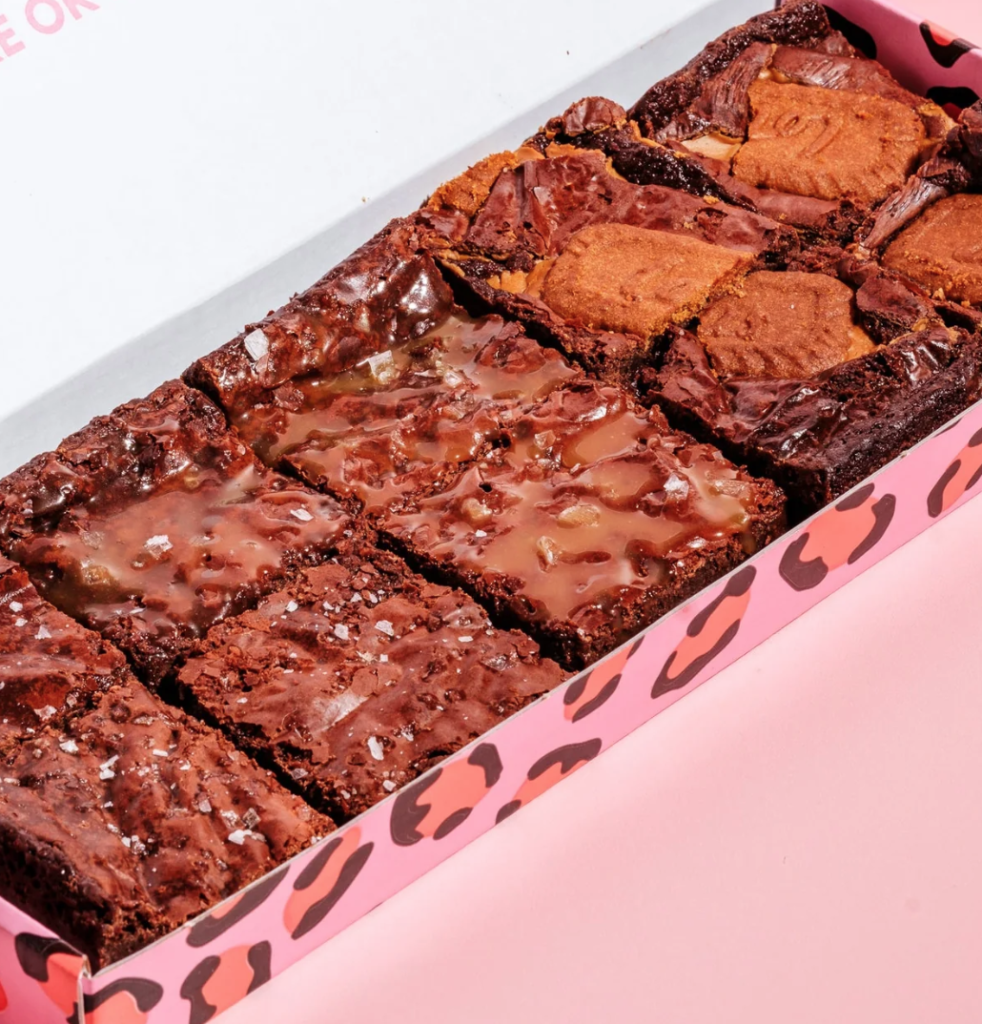 It wouldn't be 2023 if we didn't start our gift guide with an airfryer now would it? We have two airfryers as we use them that much and they are one thing I don't think we could live without now. We rarely use our oven now and it has saved us a small fortune too! So introducing to you the Vortx Dual Basket Air Fryer from Tower! With a large 7.6L total capacity it is the perfect size to be able to feed a family. Yet the two baskets mean you can use just one if you are just cooking for one. The two baskets also mean you can cook two different dishes or two different parts of the dish at the same time. No longer will you have to mix foods in the same basket and one ends up more cooked than the other! Powerful 2460W. Adjustable temperature 40 – 240 degrees mean you can cook almost anything you'd usually cook in the oven. It also has other functions too! Choose between Functions: Air Fry. Roast. Bake. Dehydrate. Defrost. Reheat. We can't recommend this airfryer enough for its wealth of functions, ease of use and it just looks great too!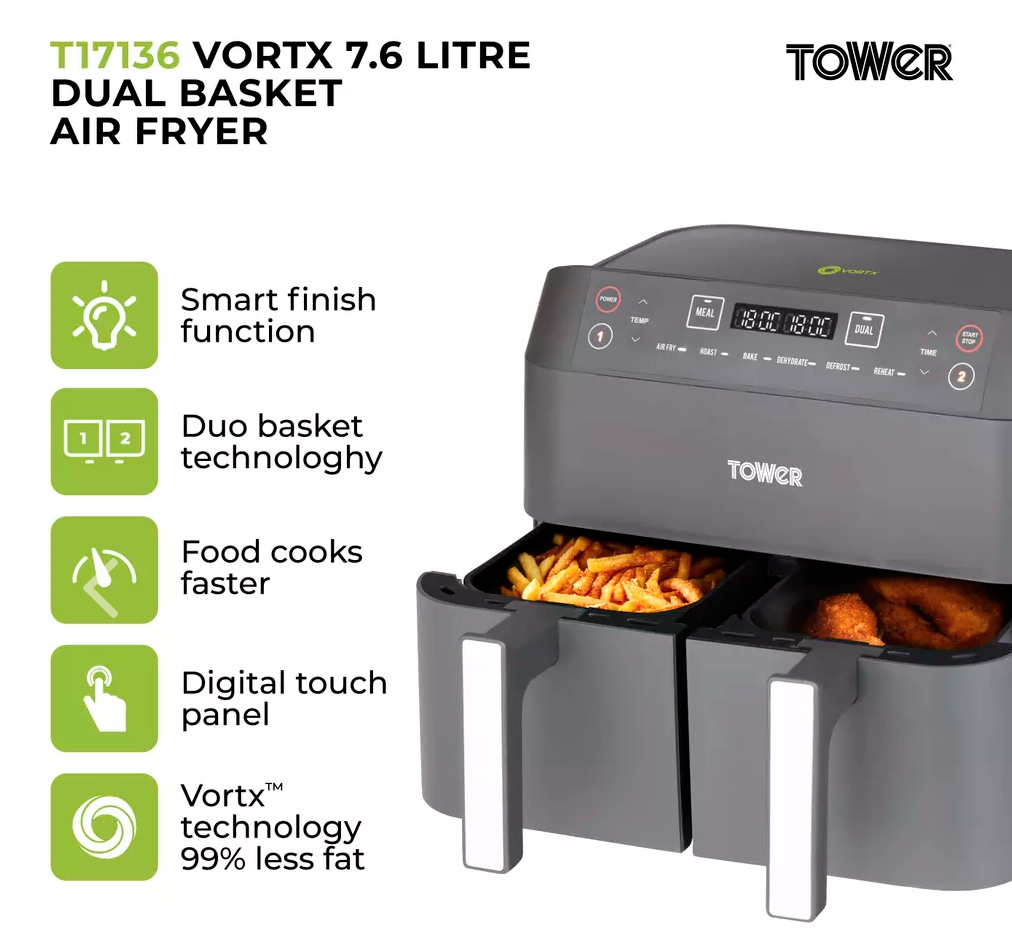 We are tea aficionados and drink many many cups per day so kettles are one of the most used appliances in our home. It's also really important that they look great as well as functioning well and we have found the perfect combination with VonShef's Cream & Wood Kettle & Toaster Set. With a Nordic-influenced design, their Fika Kettle & Toaster Set is perfect for adding practical style to your kitchen space. Featuring wood-effect accents and a clean matte cream finish, their kitchen set can fit seamlessly into any kitchen décor, subtly providing a touch of classic yet contemporary design. Boasting rapid boil technology, you'll have up to seven cups of piping hot water ready in no time whether its for tea, coffee or even your hot water bottles (we're a fan!)
Designed to sit elegantly alongside the Fika kettle, this cream toaster is a Nordic-inspired must-have in any kitchen. Featuring extra-wide 38mm slots, the toaster accommodates various bread types, from thick artisanal slices to fluffy crumpets. The design of the set means your kettle and toaster will no longer be something you'd want to hide away.
A random but important feature is both kettle and toaster feature wrap around cord storage underneath so you won't have to deal with excess unsightly power cords on your workbenches, a pet hate of mine!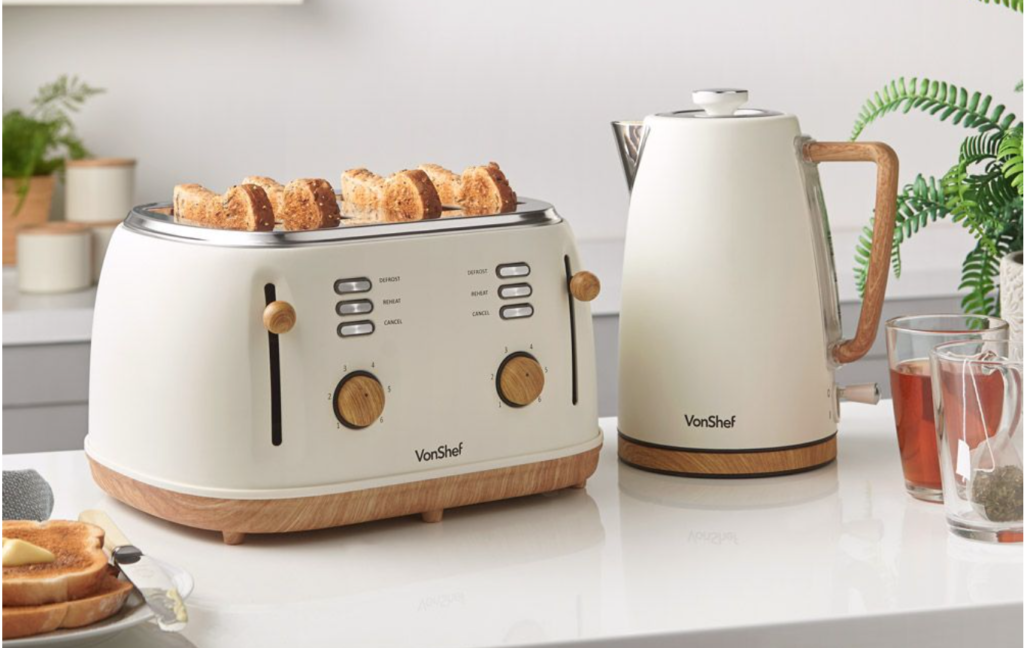 From Bunches this beautiful Christmas hamper Joybells is just delightful. Priding themselves in gifts or flowers and plants they also have a wonderful selection of unbeatable value Christmas Hampers which we just adore! This Joybells Christmas Hamper is delivered in a festive gift box, it is filled with sweet and savoury treats including mince pies, chocolate Christmas tree and ginger thins.
This hamper contains 8 items:
Grandma Wild's 4 Traditional Mince Pies
Thornton & France Christmas Tree 100g
Buiteman Cheddar Biscuits 75g
Reids Shortbread Reindeer Bites 150g
Cambrook Baked Sweet Chilli Peanuts & Cashews 45g
Anna's Ginger Thins 150g
Cartwright & Butler English Breakfast Tea in Carton 30g
Excelcium Choc & Plus Dark Chocolate with Raspberry 107g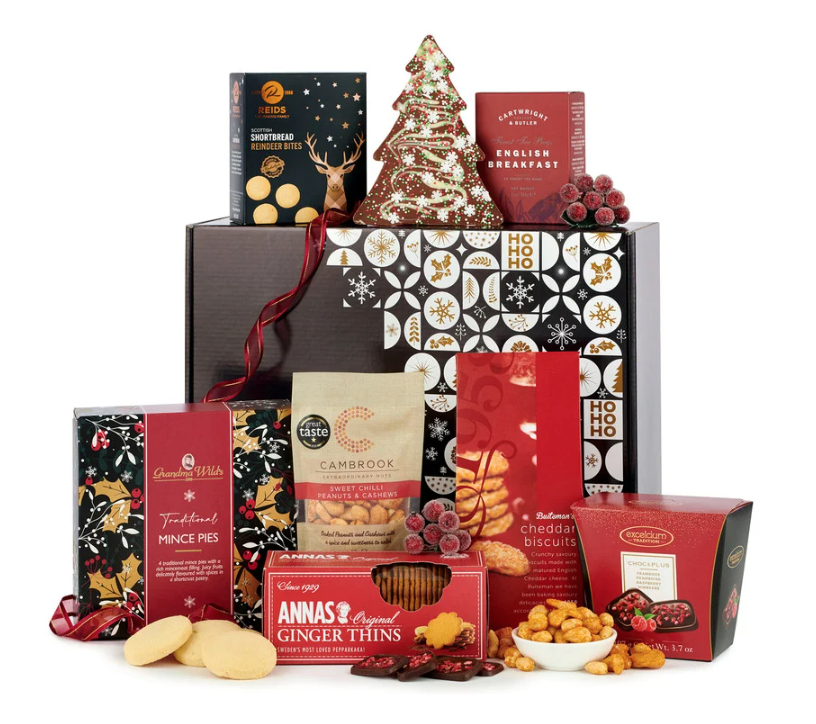 With the dark nights firmly upon us nothing is cosier than coming home, closing the curtains, lighting the fire if you've got one and crapping up in the comfiest fluffy throw. Founded in 1886, Magee 1886 is now 5 generations on and going from strength to strength. Located in Donegal Town in the North West of Ireland, founded originally built on the back of Donegal tweed, a hard wearing fabric Magee 1886 now specialises in many fabrics, patterns and designs. All built around sustainability the fabrics they use include wool, cashmere, flax and alpaca. The never ending beauty in the landscape of Donegal provides endless inspiration for their colour patterns and designs. Which is why we've chosen to feature this strikingly beautiful Fern Throw in Purple and Grey. Designed by their experienced in-house design team and woven at our mill in a soothing pairing of purple and grey, this 100% wool throw is further enhanced by unexpected flecks of colour, synonymous with Donegal Tweeds. Finished with thick tasselled fringing, this cosy statement throw will add pattern, texture and warmth to your interiors. Its huge size of 150 x 142cm will keep anyone cosy this winter!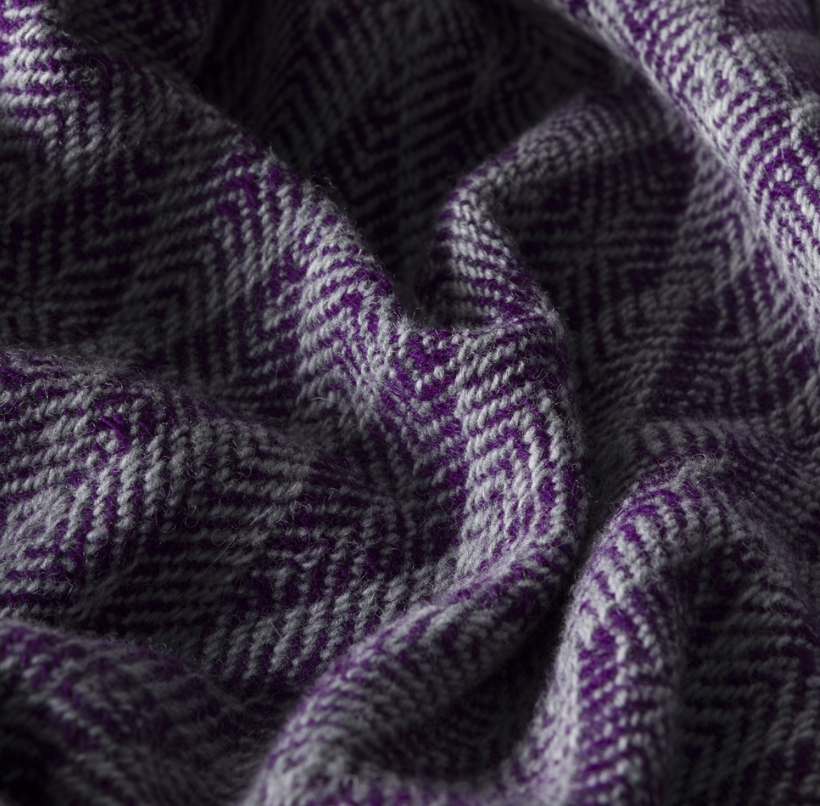 Naked? Yep Naked and it makes sense. They strip away all of the marketing and gimmicks that many companies use today. They sell products with only the purest ingredients. At Naked Nutrition, they strive to help you meet your nutrition and fitness goals by being transparent about what they sell. That way you know exactly what's going into your body, and what's more important than that? That's their mission statement. Pretty self explanatory right? So if you've got a gym bunny in your life who likes chocolate? Look no further than their utrerly delicious Vegan Chocolate Shake! Chocolate Naked Shake starts with our best-selling pea protein, adds MCT oil, and natural plant-based flavors. The result is a crave-worthy shake that delivers 20g of protein and only 4g of sugar. It's a winner!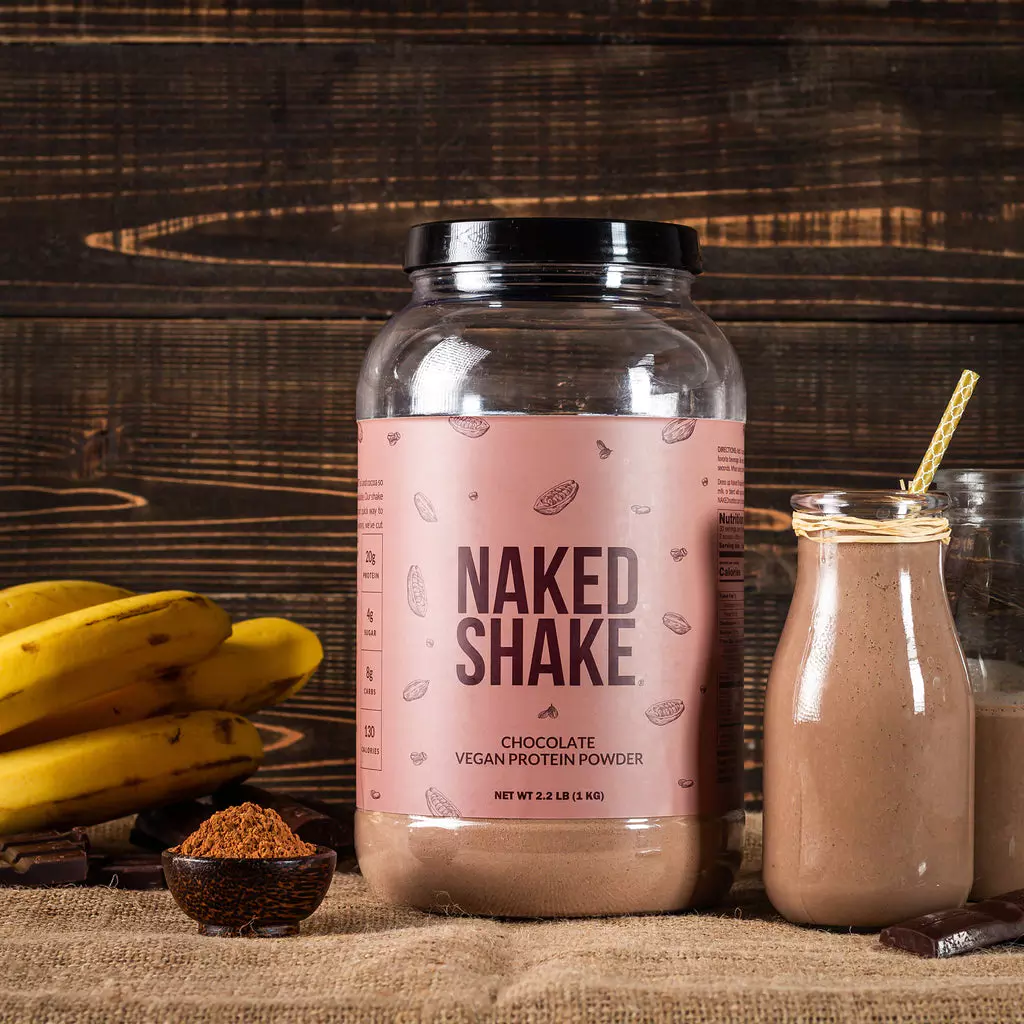 As you know we're massive fans of smart-home tech so when we trialled the Lorex 2K Wired Video Doorbell we knew we were on to a winner! A perfect gift for the technology lover with the bonus that is a great security feature for your home too. It is simple to replace an existing wired doorbell with this one with minimal setup.
Its sleek minimalist design really fits in with any existing door furniture and looks great. But looks aren't everything its what's in the inside what counts. The doorbell has 2K resolution which is more than 2× 1080p HD resolution so plenty of detail to see what is going on outside. It has 164 degrees angle of view which is wide angled so you can see someone no matter if they're standing to the left or right of the door. It has HDR technology built in which means the camera will automatically adjust the picture if lighting conditions change keeping an ultra clear image. Going back to our issue with answering the door in the dark the camera has built in colour night vision and low-light technology so you won't miss a thing even when your eyes would.
The doorbell even has a nightlight feature which you can schedule to turn on at certain times to illuminate your doorway or simply leave it on its motion detect setting which means if someone approaches the doorway is lit up. This we found was especially handy when coming home in the dark yourself!
When someone pushes your doorbell you will be notified on the app on your phone (no matter where you are as long as you have phone signal) and on any connected Google or Alexa devices. We have some of these upstairs too and we found this especially handy knowing someone is at the door!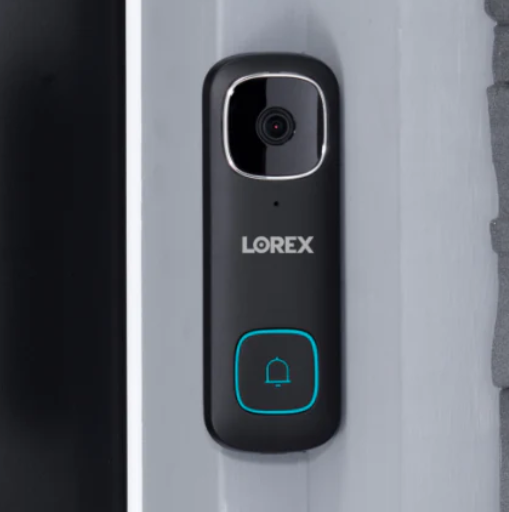 Keeping on the smart-home tech theme we have Simplisafe. We have worked with Simplisafe for nearly 2 years now and have it installed in our own home. We use it every day so can confidently confirm how good it is. Available as a build your own security system you can add or remove as many features and parts as you wish and at any time. We have gradually added on to our system as we realised we would like something extra. Choose from wireless outdoor cameras, window and door alarm sensors, moisture sensors to detect any leaks, panic buttons, indoor security cameras, smoke detectors and motion sensors all controlled from a central wireless panel in your home, via your smartphone or via a keyfob. You can read about the full system here. To add the additional security items it is as simple as pressing a button. Arm your house alarm in one simple step or schedule it to arm automatically. Check your cameras from anywhere in the world with internet connectivity via your phone for peace of mind. Keep an eye on pets with the indoor security cameras. When the alarm is triggered they they can call you via their central security centre and dispatch a guard to your home if nesessary. Simple to set up and simple to use. A great gift for your loved one who is passionate about smart-home tech. By buying them a home set up they can then add to it themselves at any time. Buy a gift of security for Christmas! A great place to start as a basic system is their Outdoor Wireless Security Camera and a few door and window sensors.
The below video will showcase the Outdoor Wireless Security Camera to you better than I can describe but essentially it is a 1080p HD video. A 140° ultra-wide field of view. Plus digital zoom and full colour vision at night, so nothing slips by undetected. The battery lasts 3-6 months depending on how you use the settings but its easily detached to recharge and you can buy spare batteries to have ready if you so wish. It just attaches magnetically so its easy to remove without any tools! Genius…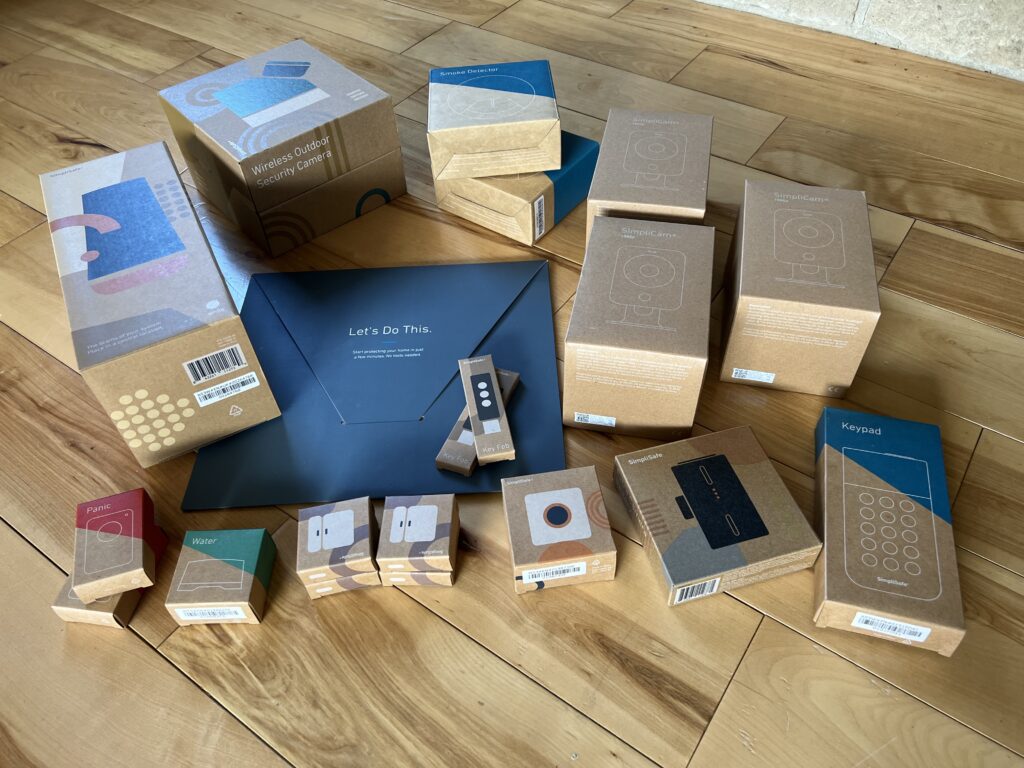 I own several Scaramanga leather bags, laptop bags, messanger bags, passport cover and even a pencil case and I have never came across better made leather accessories. We have featured their bags in several of our Christmas Gift Guides over the past few years with reason. It is with great excitement that we can introduce you to their newest bag in their range. The Shackleton!
Their Men's Shackleton Leather Backpack has been named after a personal hero of mine. Sir Ernest Shackleton, a famous Anglo-Irish explorer who led three expeditions to the Antarctic. A name synomonous with adventure I think it is a great name for this bag.
Like all the bags at Scaramanga it has been designed to be both stylish and functional. It has been designed with a large main compartment with lots of smaller pockets and padding to protect your tech making it ideal for work, shopping and holidays alike.
Handmade by their experts using their exclusive Hunter leather the bags have a natural finish which only get more beautiful with age and wear. The bag I have had the longest I believe looks the best now because of its natural ageing.
With adjustable shoulder straps you can comfortably adjust the bag to your exact needs. Beautifully lined, it compliments the distressed natural leather while remaining gender neutral so will suit anyones needs. Complete with antique brass hardware which really adds that special level of detail to the bags. I also think this ages wonderfully the more your hands use the buckles etc.
There is also a generous external pocket perfect for a purse or wallet and all smartphones. There are 2 additional front pockets, two open side pockets – big enough to hold most 500ml water bottles. Inside there's a padded laptop compartment. They have also included two pockets and a handy key clip. This will stop you from having to rummage in your small backpack to find your keys (always handy when you're in a rush!!). The bag can also be personalised for a loved one for a small extra fee.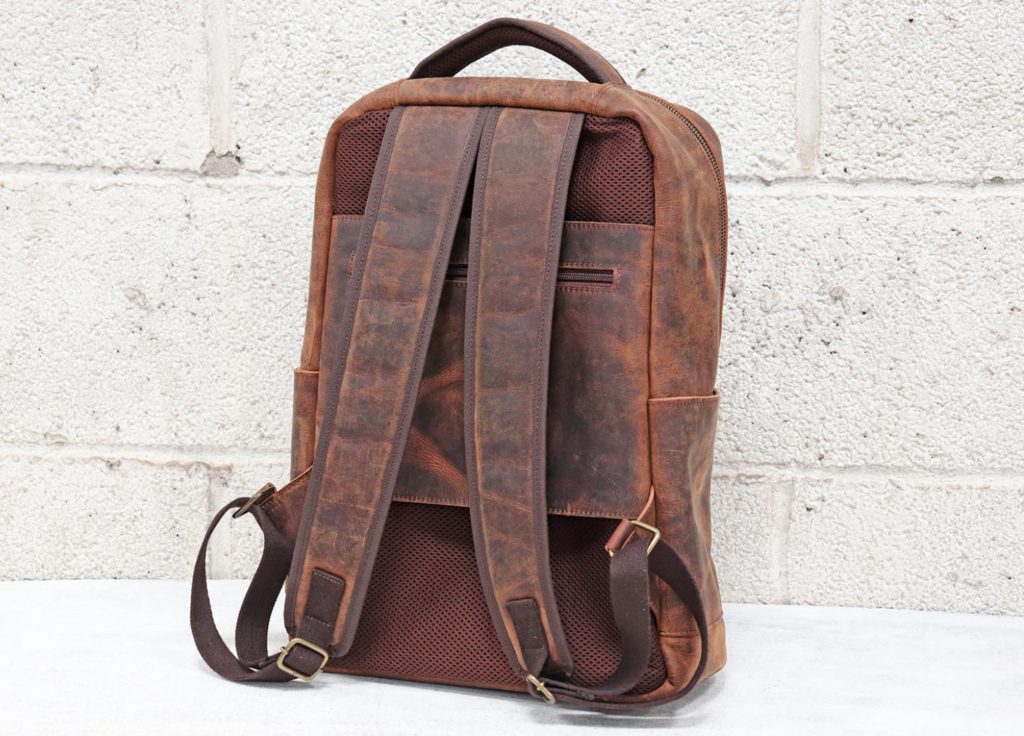 We are massive fans of candles. As soon as the dark nights start coming in the candles come out. We eat dinner with candles every night because why not… But most importantly we believe candles are one of the nicest gifts to give someone. They are beautifully packaged, smell great and most people love them. A gifted candle is always extra special to light. So this is where Candles Direct comes in. They are a great retailer of candles, wax melts and accessories. The best part is that they sell various brands all on one site so you don't need to worry about shopping around. They also run some great deals which you won't find on other sites.

Our favourite gift-able candle sets this year are the Large Jar and 12 Votives plus 9 Tea Lights from Yankee which includes Letters To Santa Large Jar Candle, Tree Farm Festival votive candles, Letters to Santa votive candles, Christmas Eve Cocoa votive candles, All Is Bright votive candles and some Twinkling Lights Tea Lights. That's some bundle!
The second bundle we love is 12 Votives and 9 Tea Lights set from Yankee which includes All is bright, Tree Farm Festival, Letters to Santa, Christmas Eve Cocoa votice candles, and Twinkling Lights Tea Lights x 9 all housed in 3 house shaped packaging which is great for gifting. Since these are boxed up in three boxes you can either give them all to one person or three separate gifts!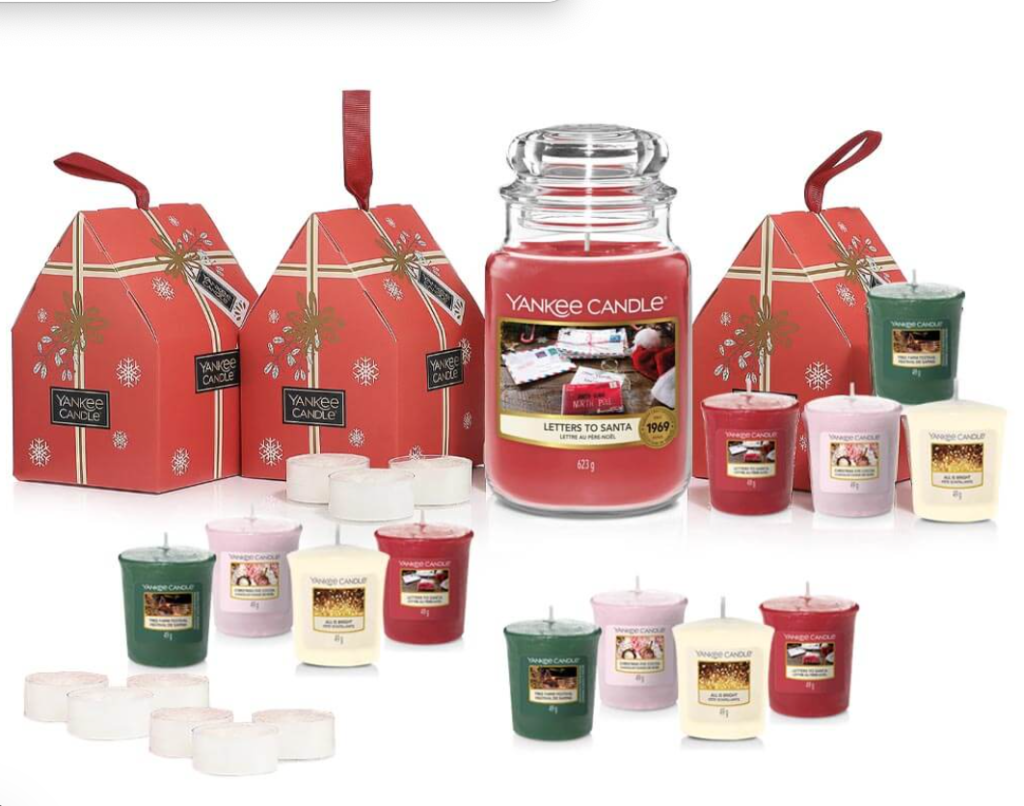 Carlos I belongs to the Osborne Group, one of the oldest and most prestigious producers of wine and spirits in Spain. Founded in 1772 by Thomas Osborne, the company has been producing, selecting, and improving a truly renowned and authentic product for more than two centuries. Now that is some history for any product to have!
Their brandy is created in El Puerto de Santa María, Cádiz, within the Jerez region. Their cellars are located in the heart of the town, a truly magical place. You can read all the curiosities of this facinating brandy on their website here.
40% Carlos I Brandy features rich flavours of vanilla, almonds and honey. Ready to be enjoyed neat, over ice, or in classic cocktails. It is just phenomenal. You can grab yourself a bottle here.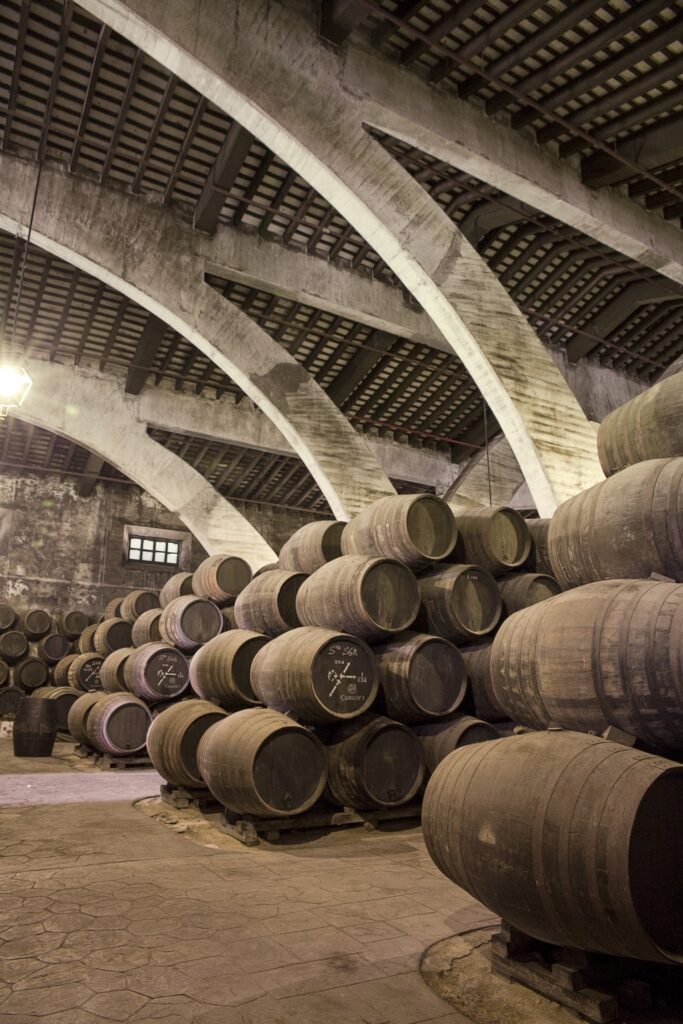 Alex Robson and Howard Raymond, following a sudden midnight revelation over a classic gin cocktail, decided together to create a spirit of high quality and rare elegance. It is a testament to the life and legacy of Paul Raymond, the first "King of Soho" and father of Howard. Always up for a challenge, Raymond was famous for his daring shows and for a time dominated the London entertainment scene, revolutionising the Soho district.
The bold and colorful design of the bottles is a tribute to the unique aesthetic of Soho, reflecting both the past and present of this vibrant and hedonistic London neighbourhood.
So let's take a look! The first gin on offer is the The King of Soho Dry London Gin which is made in the UK, five times distilled according to a unique recipe and is 42% TAV. Its tasting notes are clean and sweet nose, King of Soho opens with classic notes of pine highlighted by juniper berries, with a refreshing touch of grapefruit. Warm, peppery spice ends the journey with a pleasant nip and a smooth finish, in a classic style gin Quite the classic!!
The second gin is The King of Soho Variorum Gin and in our opinion is a work of art! Again made in the UK and five times distilled it is 37.5% TAV. It is a pink berry edition of the classic Soho Dry London Gin. It's tasting notes are Fresh strawberry and floral chamomile lead onto a wave of sweet juniper with a trace of citrus. The slightly sweet palate has a fruity burst up front, followed by a gentle vanilla spice, for a creamy, luxurious feel. The strawberries and cream give way to a subtle floral tone on the finish, with a pronounced taste of grapefruit. Can you see why it is our favourite??
There is also a fantastic vodka on offer! The King of Soho Copacetic Vodka. Which is made from English wheat, distilled in the UK in small batches it is 40% ABV.
Expertly distilled and Crystal-clear, this exceedingly fine spirit is both subtle and delicate, with a distinctive undercurrent of toasted crumpet enhanced with a touch of lemon zest and black pepper.Surprisingly rich and buttery in the mouth with a gentle delivery, the spirit lives up to its aromatic promise and adds an element of creaminess and some freshly cut apple to the offering.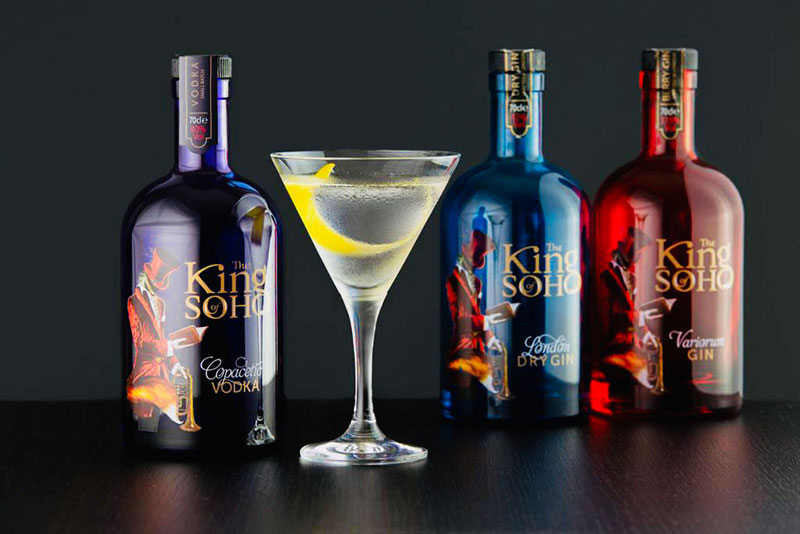 Circulon are one of the best and well known cookware manufacturers and there's good reason for this! Since inventing the world's first nonstick hard-anodized pan, they've pushed the limits of cookware for over 35 years. With various ranges on offer all providing certain specialities for cooking they all have something in common, quality!
The set which we have and use is the Total Non-Stick Saucepan, Frying Pan & Steamer Set which is 7 Pieces in total. They're durable, hard wearing and with fantastic heat distribution they are my favourite pans to cook in. They are induction hob compatible but work on all hobs. They have soft grip handles which I find extremely useful when moving pans around the hob AND they are even oven safe up to 180c if you want to finish something off in the oven. They are dishwasher safe too which is great but I prefer to handwash mine. Oh and did we mention they are covered by their lifetime guarantee? Circulon are that confident in their products. The set includes: 14cm and 16cm covered saucepans with lids, 20cm covered saucepot, 20cm steamer insert for saucepot, 25cm and 31cm frying pans, 26cm stirfry pan.
This is the perfect gift for either the budding cook or someone setting up their home for the first time. These should last them a lifetime!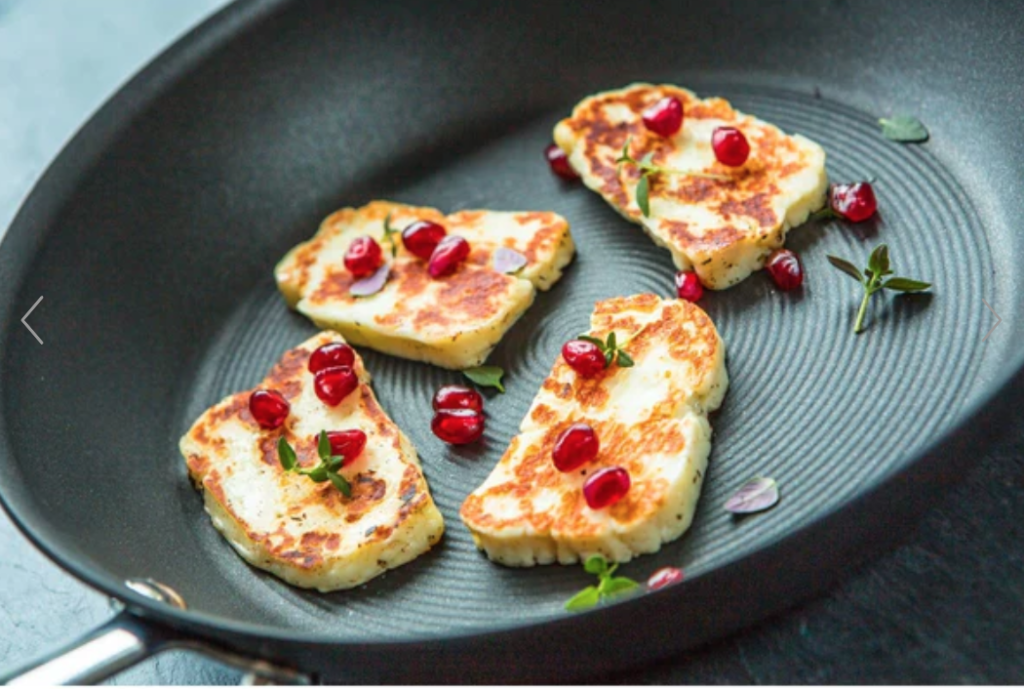 We love gin. I think a lot of people can say that and it obviously makes for a great gift too. But we absolutly LOVE gin with a story. So introducing to you to 57° SKYE earth + sea. Distilled on the Isle of Skye, a place of unspoilt natural beauty surrounded by the fertile waters of the Inner Hebrides. 57° SKYE earth + sea gin celebrates this unique location and its people.Making this gin unique it uses botanicals from the local area both from earth and sea. Beautiful in so many ways from cocktails to a splash of soda water, however you like it.
From the Earth: Juniper, Coriander, Angelica, Lemon Peel, Pomelo Peel, Heather Blossoms, Propino Malted Spring Barley, Rowan Berry, Yarrow, Hibiscus Blossoms, Ginger Root, Almond, Pink Pepper.
From the Sea: Dried Laminaria Digitata, Smoked Laminaria Digitata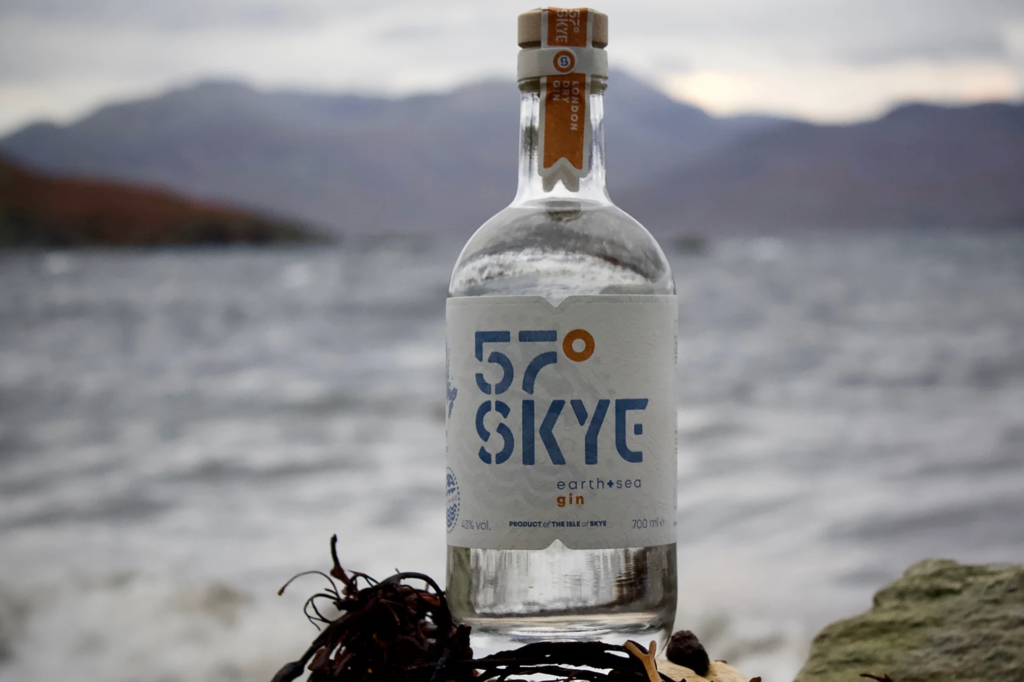 Another smart-home tech (or should we say smart-garden tech) entry into the gift guide. One of our favourite products we've came across this year. BirdBuddy….
Since moving out to the countryside there is a lot more wildlife around than there was in Belfast. From wild pheasants and rabbits to newts and frogs but most of all the variety of birds! The bird wildlife around our garden changes from season to season. It is currently Robin season it seems with a little Robin appearing at your side in the garden.
So what is BirdBuddy?! Essentially it is a smart bird feeder with built in camera and AI recognition technology. Let us explain!
Whether you're a wildlife expert or not this BirdBuddy bird feeder is a must have if you have lots of feathery visitors to your garden, even if you don't think you do they will most certainly be there. BirdBuddy means you'lll never miss a feathery friend again. The built in camera and special AI bird recognition software snaps a picture of the bird, identifies its species and logs it in your account using the 5mp camera or 720p live video stream. The app is fantastic and will deliver 'postcards' from the birds you miss telling you a little about them. You'll be able to see if you have some regular visitors and you might even spot some rare birds too!
We love this and it seems to keep on giving as you're constantly finding new birds and new photos. It's like a selfie bird feeder for birds. I wonder what they'd think?! It gets the thumbs up from us.
Made from recyclable plastic and designed for the birds safety the BirdBuddy is weather resistant and lightweight meaning you can fit it in lots of locations. We recommend moving it around if you're not getting as many bird visitors.
You can even upgrade your BirdBuddy with accessories such as a solar pannel, a perch extender if you're getting slightly bigger birds that need more space,
There's more. By using BirdBuddy you're helping both educate but also collect information about important bird migrations around the world. which helps experts better manage and protect them.
There is so much to say about BirdBuddy keen an eye out for our standalone review as we put it thorough its paces and show you some of our feathery friend visitors.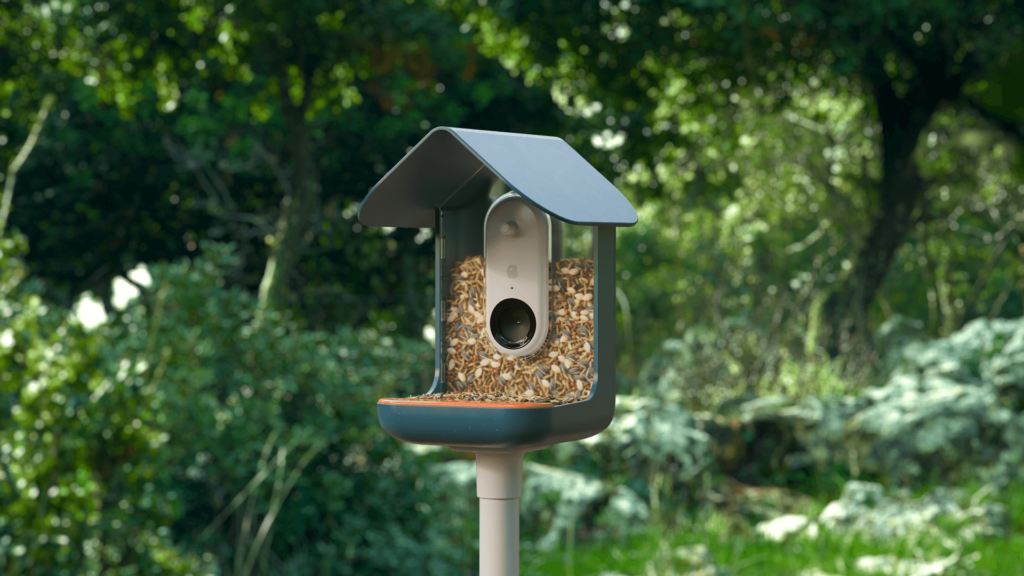 Belleek Pottery is located in the small quaint village of Belleek in County Fermanagh in Northern Ireland. A part of the country which we love and visit quite a lot. Established in 1857, Belleek Pottery holds a very special place in Ireland's cultural and commercial heritage. Producing more than 100,000 pieces of pottery annually, passing through 16 pairs of hands, Belleek has opened its doors by giving you the chance to buy their special pieces online.
This year they have released a wonderful lamp in the style of a church. Their Belleek Living Church Lamp which is just so Christmassy it makes me very excited to unpack things like this each Christmas. Which is why we're including and recommending it as a gift for someone. There is nothing better than giving someone a gift for a lifetime and that is what Belleek Pottery do. These pieces will be around long after we are and handed down generations which is just a beautiful thought. This wonderful lamp is expertly crafted with Christmas trees by the door and light glinting through the windows. In a dimly lit room is stands out and creates such a talking point. If a church isn't your thing they also do many other Christmas lights and lamps as well as other Christmas decorations. So take your pick!