Lorex 2K Wired Video Doorbell – Review
If you've followed a lot of our review posts before you'll know we're massive fans of smart tech, or any tech in fact which just makes our overcomplicated lives that little bit easier. We were delighted when Lorex asked us to test out their 2K Wired Video Doorbell so we'll share what we thought!
Before we begin, who are Lorex? At the time of writing this they have been around for 32 years, creating security systems designed to protect your home and business. As leaders in DIY (Do It Yourself) security, they continue to offer professional-grade solutions that enhance your lifestyle and safeguard what matters most. Sounds great! So lets dive in.
Especially in the winter months with dark nights beginning almost as soon as or before we even get home from work it can be unnerving opening your front door when you don't have a clear view of the visitor. This is especially the case for people living on their own or the elderly. Even during the summer with plenty of night lots of us have obstructed views of our front door so cannot see the visitor without opening the door. Thankfully video doorbells are the answer to that and now with the adaption of mobile phone apps or integration into Amazon Alexa you can view live video footage from the comfort of your sofa!

So let's have a look at some of the main features we love about the 2K Wired Video Doorbell from Lorex.
The Install
The doorbell comes with two different mounting attachments so depending on the angle of your front door there will be an option to make the doorbell fit perfectly. The doorbell is designed to fit in place of your current wired setup. If you don't have this an electrician can easily sort this for you. Easy Peasy!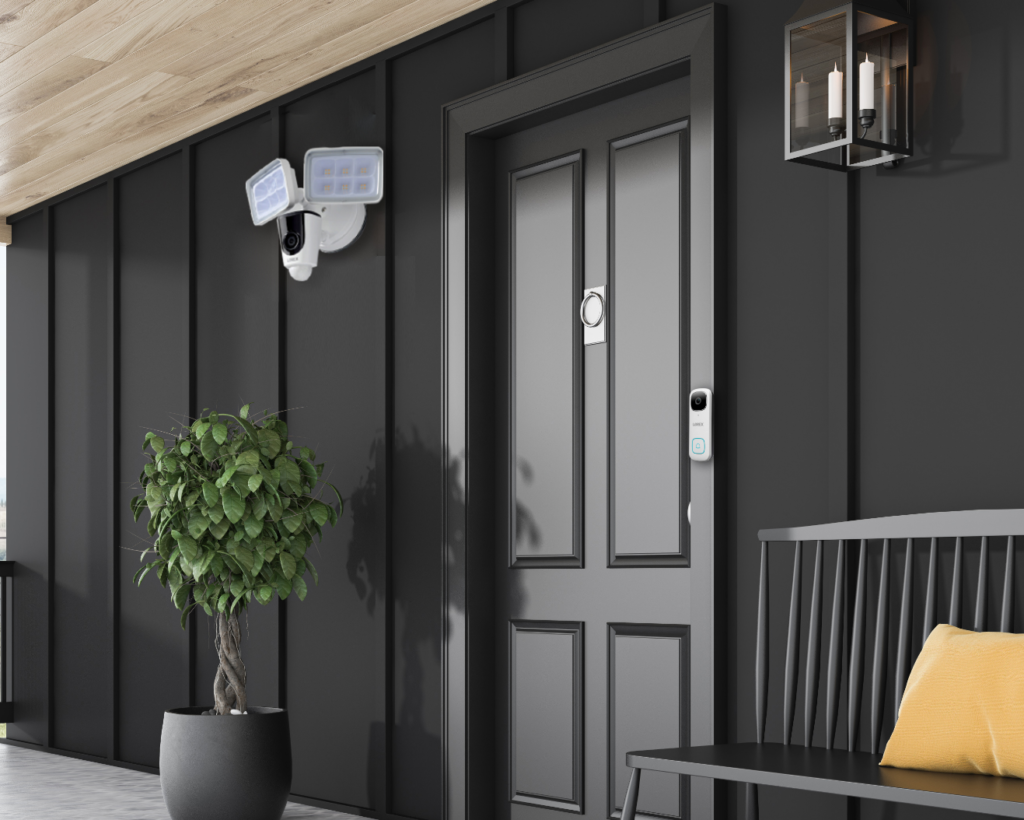 The Doorbell
It's what we all came here for, the doorbell itself. So its sleek minimalist design really fits in with any existing door furniture and looks great. But looks aren't everything its what's in the inside what counts. The doorbell has 2K resolution which is more than 2× 1080p HD resolution so plenty of detail to see what is going on outside. It has 164 degrees angle of view which is wide angled so you can see someone no matter if they're standing to the left or right of the door. It has HDR technology built in which means the camera will automatically adjust the picture if lighting conditions change keeping an ultra clear image. Going back to our issue with answering the door in the dark the camera has built in colour night vision and low-light technology so you won't miss a thing even when your eyes would.
The doorbell even has a nightlight feature which you can schedule to turn on at certain times to illuminate your doorway or simply leave it on its motion detect setting which means if someone approaches the doorway is lit up. This we found was especially handy when coming home in the dark yourself!
When someone pushes your doorbell you will be notified on the app on your phone (no matter where you are as long as you have phone signal) and on any connected Google or Alexa devices. We have some of these upstairs too and we found this especially handy knowing someone is at the door!

What Subscription Fees?
None. Yes No subscription fees with Lorex. The camera has built in memory (which you can upgrade to move storage if you wish) but it comes with a 32GB Micro SD memory card which is plenty of space to record footage. But we think the capability to upgrade this if you wish is a great feature which a lot of companies do not offer!
Pre-recorded Messages
Use 1 of 3 quick responses to greet visitors who ring your video doorbell. You can even record your own custom message to add your personal touch or speak directly through the video doorbell using 2-Way Talk. This we found incredibly useful especially if you want to remind a deliveryman to leave a parcel somewhere in particular.
So our overall opinion is fantastic. This is a brilliant all-rounder smart doorbell which is easy to use, easy to set up and works fantastically. We hope you enjoyed our overview of this so keep tuned for the next.