Our Weekend Getaway to Ballygally Castle Hotel
As you will have noticed from our social media pages I have taken a keen interest in ensuring a well balanced life which includes some little trips away to break up the ever increasingly busy life we all lead. I think it is so important to look after yourself in this way and to give yourself a break from your usual routine. Which is why I was delighted that the wonderful Hastings Hotels invited us to one of their beautiful hotels, and one of our favourites, Ballygally Castle Hotel located just outside of Larne on the picturesque coast road.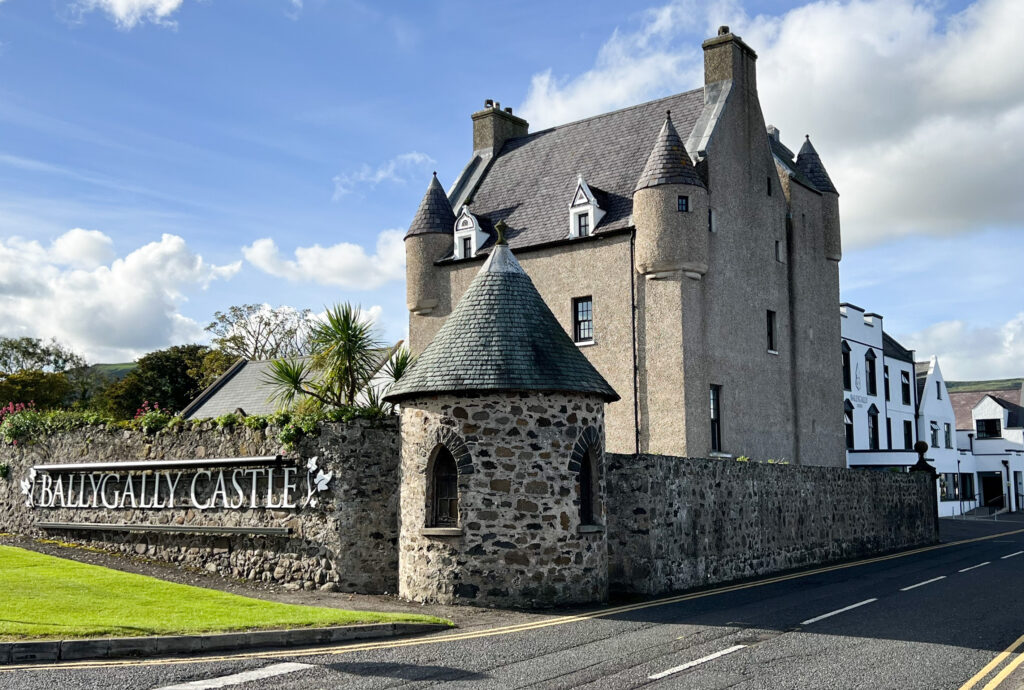 Ballygally Castle is steeped in history and folklore so before we get into the review lets delve into that. Good thing I am from the area and a bit of a history buff….
The castle is believed to be the only 16th century building still used as a residence in Northern Ireland. The castle was build in 1625 by Lord James Shaw and his wife Lady Isabella Shaw (Brisbane) of Scotland. Their daughter Margaret Shaw married my Great x 5 grandfather Captain John Houston of Ballyboley. That is my claim to fame connection to the castle!
Around 1760 the castle was then extended by Henry Shaw who married Miss Hamilton who brought all her sisters to live with them (can you imagine!). Flying forward in time the castle was eventually bought by an American textile millionaire Cyril Lord who then extended it further and opened it as a hotel. A little further down the line Howard Hastings of the Hastings Hotel Group purchased the hotel and refurbished it to how we see it today.
Then there are the ghosts………..if you believe in that sort of thing. But don't let that put you off, they are friendly enough and have attracted visitors from all over the world. The hotel has a room named 'The Ghost Room' which is in one of the towers. Don't worry it is not one of their bedrooms. But if you ask nicely you can visit it the room and travel back in time in the castle. The ghost is reputably that of Lady Isabella Shaw (my great x 6 grandmother). She didn't pay a visit when we stayed… You can read the full ghost story and the story of the ghost room here on Ballygally Castle Hotel's own website.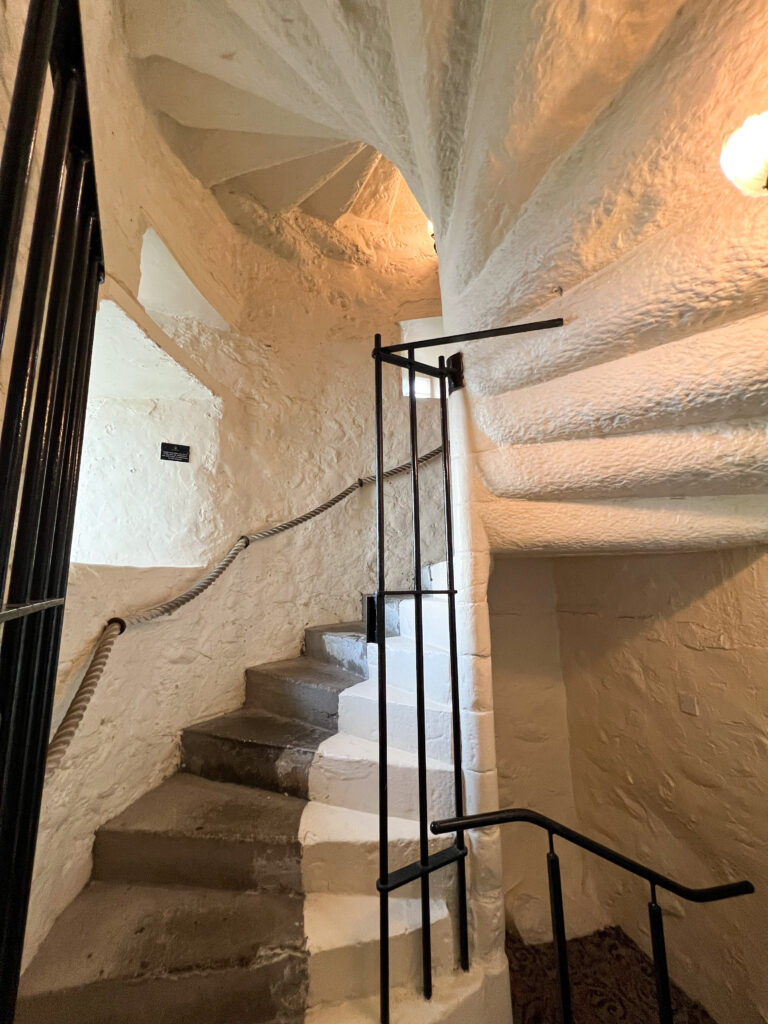 The Jewel in Hastings Crown
Enough about the past though, the hotel today is a far different place. A sanctuary on the coast. Affectionately known as the 'Jewel in the Hastings Crown' the Hastings Hotel Group purchased the hotel in 1966. And although Hastings have built and took ownership of other stunning hotels in Northern Ireland I firmly believe that Ballygally remains its jewel! The hotel has 54 bedrooms. The Garden Restaurant serves up a range of delicious bistro and table d'hote menus for dinner, featuring many dishes made using the finest local produce. For Sunday Lunch you'll get to dine in the magnificent Kintyre Ballroom. Traditional roasts, contemporary fayre and stunning views across the bay and beyond to Scotland. And that is just what we did this Sunday.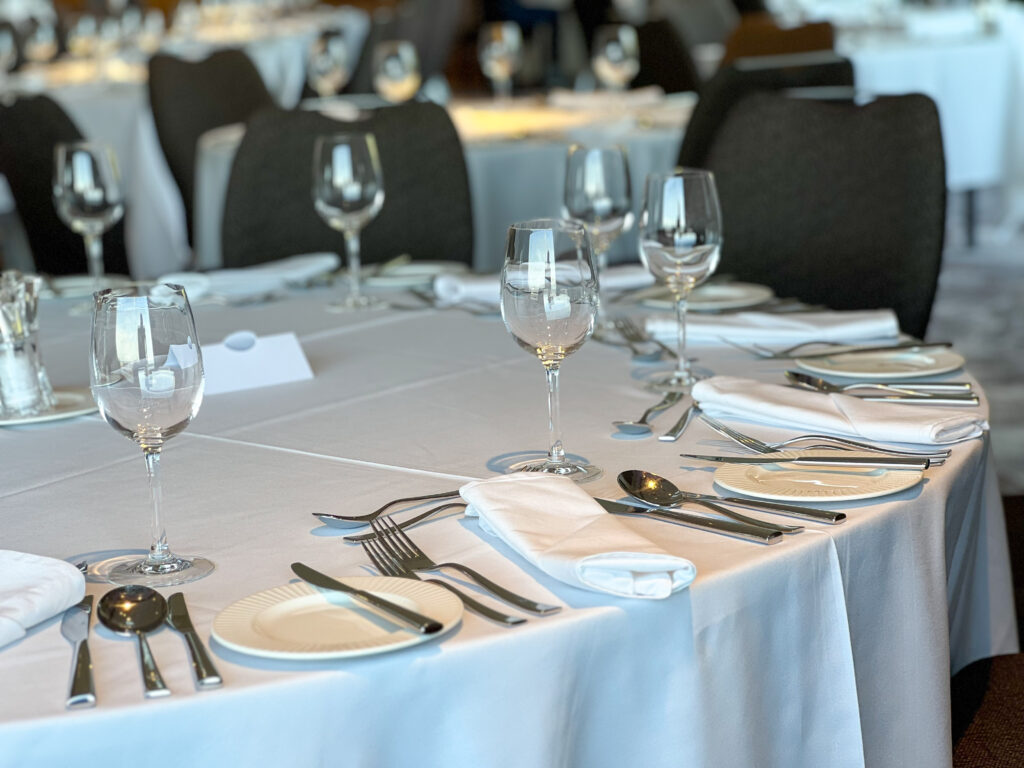 The Sunday Lunch Buffet
The Sunday Lunch Buffet has to be seen to be believed! Fit for a King or Queen of the castle the lunch is served as we have said above, in the Kintyre Ballroom which is the perfect location for much a banquet.
Upon entering the spacious ballroom you are presented firstly with the huge array of desserts. Displayed on a large table in the centre. It is hard to walk past without trying to choose what to finish off your meal with. Ultimately admitting defeat and opting for multiple desserts (because why not?!). But we'll get to those soon..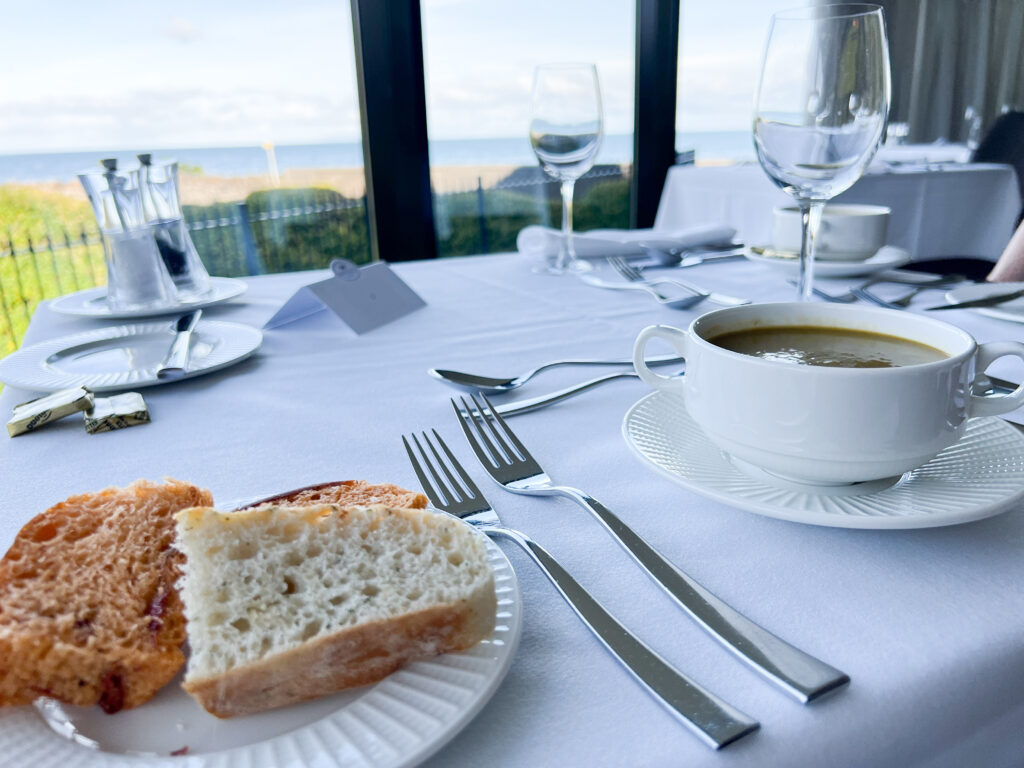 Tables are laid with beautiful white linen and if you're lucky enough to get a table facing the window you will have beautiful sea views while you enjoy dinner. Even being able to see Scotland on clear days!
For appetiser you'll find an array of hot and cold options including salads, pastas, soup and their especially good loaded potato wedges. I am one of those people who I firmly believe i could easily make a meal out of starters!
On to mains………This one is simple. It is Sunday so this equals a full roast dinner. Truly fit for a King or Queen the options are almost limitless. Choose from roast beef, roast turkey, roast ham (or in my case, all 3) with the usual accompaniments of an array of potatoes, vegetables and their delectably rich gravy! All meat is freshly carved in front of you by the chef so you can choose exactly what you want. It is self service for the accompaniments which I love. As some people like a few potatoes, some people love a lot etc. All I can say is I apologise for the amount of roast potatoes which may have went missing during my visit to Ballygally. But they were delicious. So sorry, not sorry.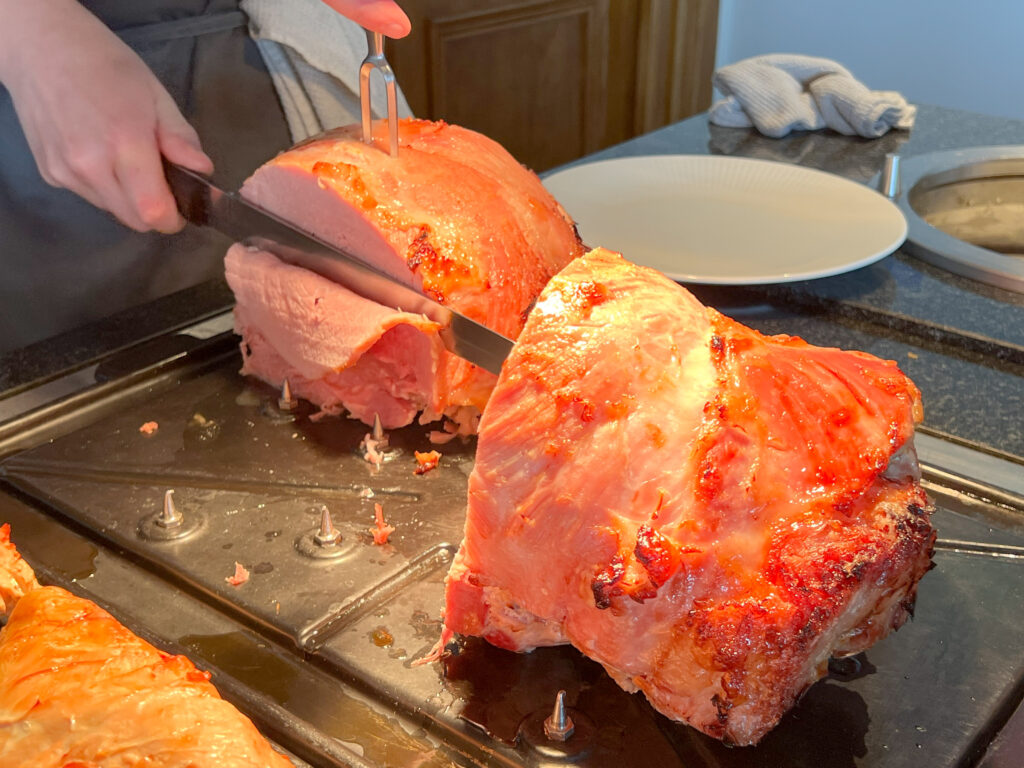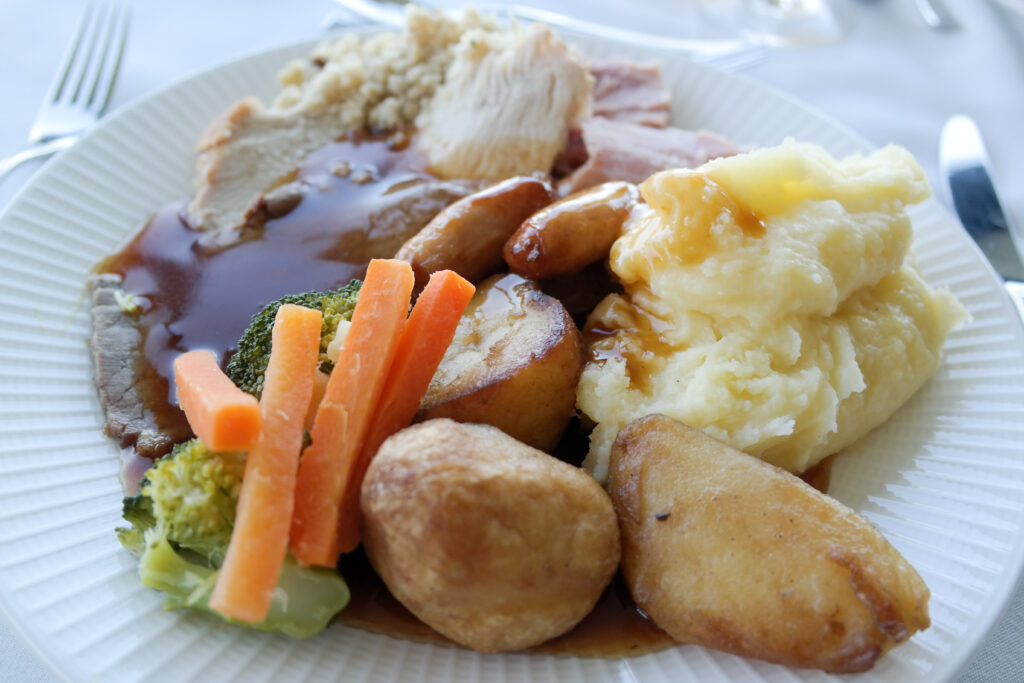 The bit you've all been waiting for, and the bit I spent the most time getting shots of……the desserts! The images tell all the story here so I wont keep you too long from admiring the photos. Choose from anything such as their delicious freshly baked apple crumble made from local ingredients to their chocolate fudge cake, zesty lemon cheesecake (delicious!!), raspberry and white chocolate cheesecake, carrot and passionfruit cake and many more. Some of these will vary during your visit but there are always tons of options to choose from.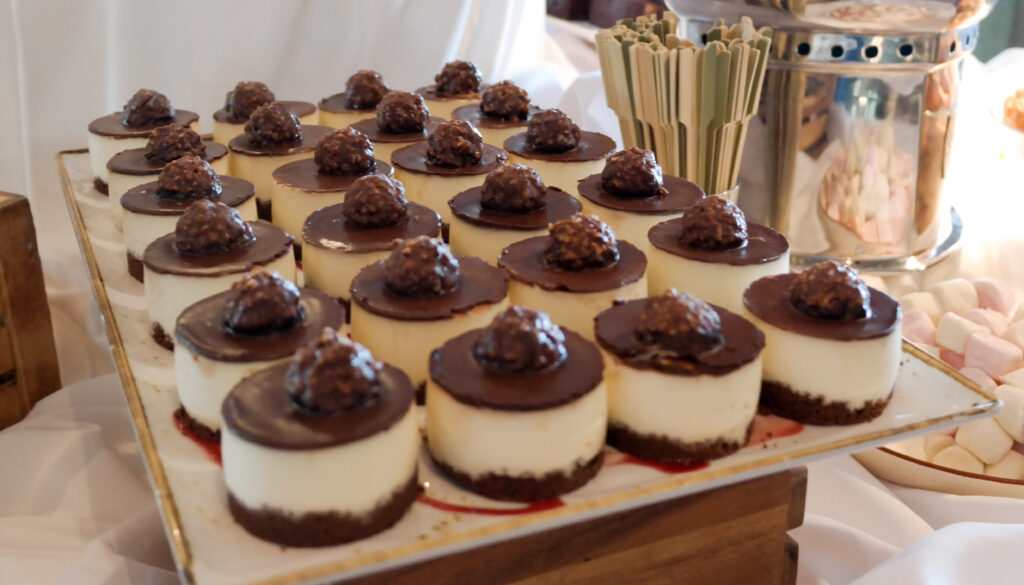 The Rooms
After that feed you'll definitely need a lie down and no better place for it than one of their beautiful sea-view rooms overlooking the Irish Sea across to Scotland. Watch people paddle boarding or boats leaving the nearby port or if it is a stormy day simply watch the waves crashing onto the beach with the window open. Each room is well appointed with everything you could need for your stay. You can check room rates and current offers on their website.