Our Weekend in the Walled City at The Everglades Hotel
Derry or Londonderry whatever you're inclined to call it (we'll let you google and read all about that) is a heartland of culture and history in Northern Ireland. A city surrounded by a wall. A very old wall at that. Built between 1613-1619 and it remains the last intact walled city on the Island of Ireland AND one of the finest walled cities in all of Europe. So it is well worth a visit!
We were kindly invited by Hastings Hotels to stay at their Everglades Hotel in the city and experience something we think is very special indeed. The Derry Girls Afternoon Tea.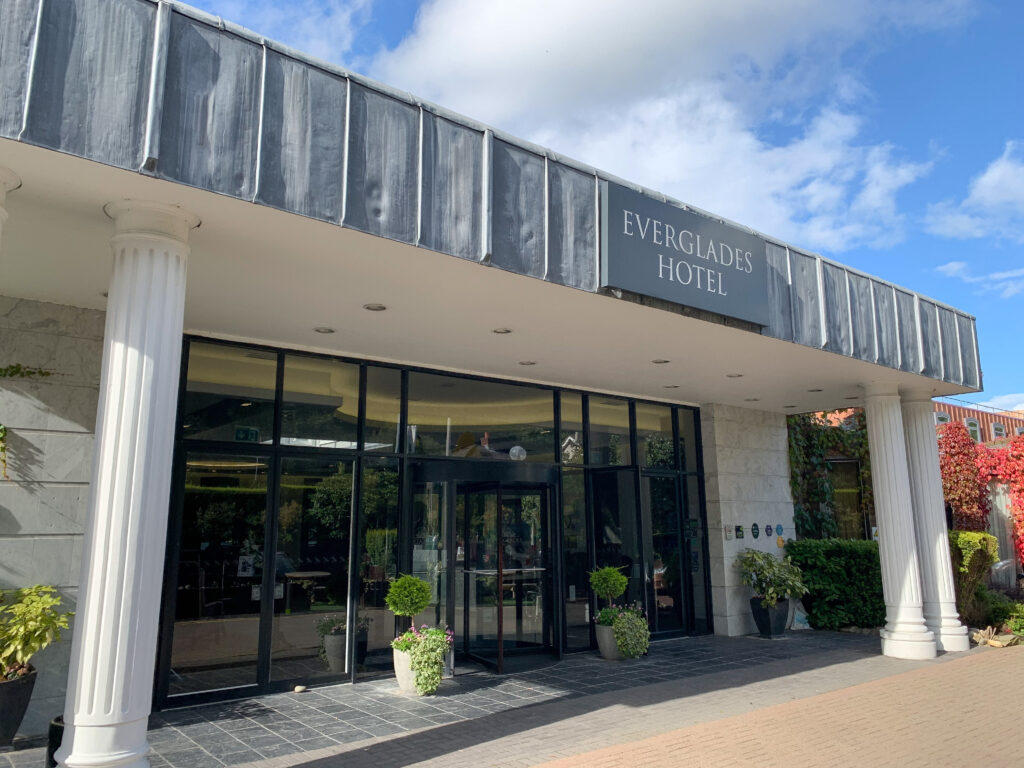 Derry Girls
We've all heard of the TV show Derry Girls. If you haven't it is your duty once you finish reading this post to go straight to Channel 4 or Netflix and watch a couple of episodes. You'll be hooked in no time and you can thank us later! We like to think we became Derry Girls during the weekend of our stay. Full embracing and exploring what we could of the former City of Culture. Derry obviously features heavily in the TV series and the hotel plays a special part too. It became home to the cast and crew during some of their filming in the city. What a laugh that would have been!
There is also The Everglades own blackboard in the library bar imitating the famous blackboard from the TV series (now in the Ulster Museum!).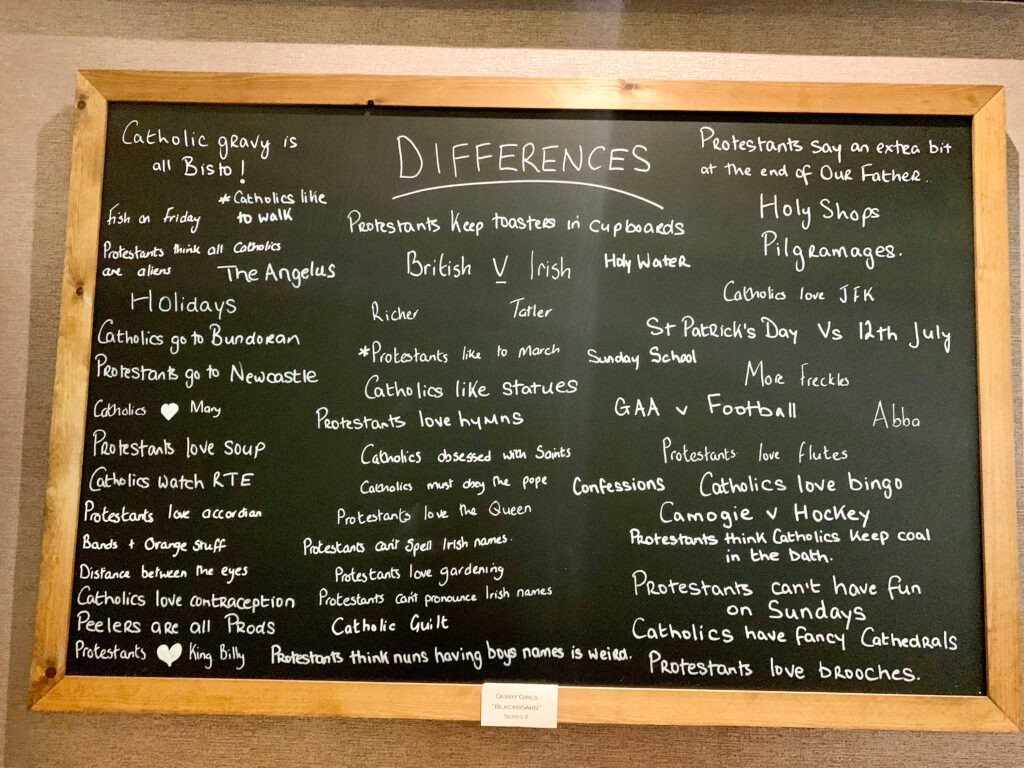 So much so that The Everglades Hotel has dedicated a special afternoon tea in honour of Derry Girls. Featuring some local specialities and favourites. I'm not afraid to say that we think it was better than some of the poshest afternoon teas I've had!
Our Stay
Before we look at the delicious afternoon tea let's look at where we were staying. The hotel offers a host of different rooms which are all beautiful but we were put in the Andrew Jackson Suite. The most stunning room in the whole hotel. Situated at the end of the long corridor on the second floor excitement grows as you get closer to the door. It really is special. We took a video and we'll let it do most of the talking!
The room is perfectly appointed with a living room area and a raised platform which houses the bed. Leading onto a beautiful bathroom with both a spacious shower and a bath, two sinks and this is where you'll also find your complimentary 'Wally' Duck. A signature of the Hastings Hotels brand is a rubber duck for each hotel. A great little novelty to collect. We'll come back to that later!
Like we said this is an afternoon tea with a special Derry twist. Special items which are known locally to 'Derry Girls' creating an unforgettable experience for all ages! So let's look at what's on the menu!
The Duck!! We know it's not the food but it's very special. Only at the Everglades Hotel you'll get your very own Michelle Duck styled on one of the Derry Girls! She now has pride of place by the side of my bath. I love it!! You'll also find a super large version of this duck now located above the front door of the hotel (It means THAT much to them!!)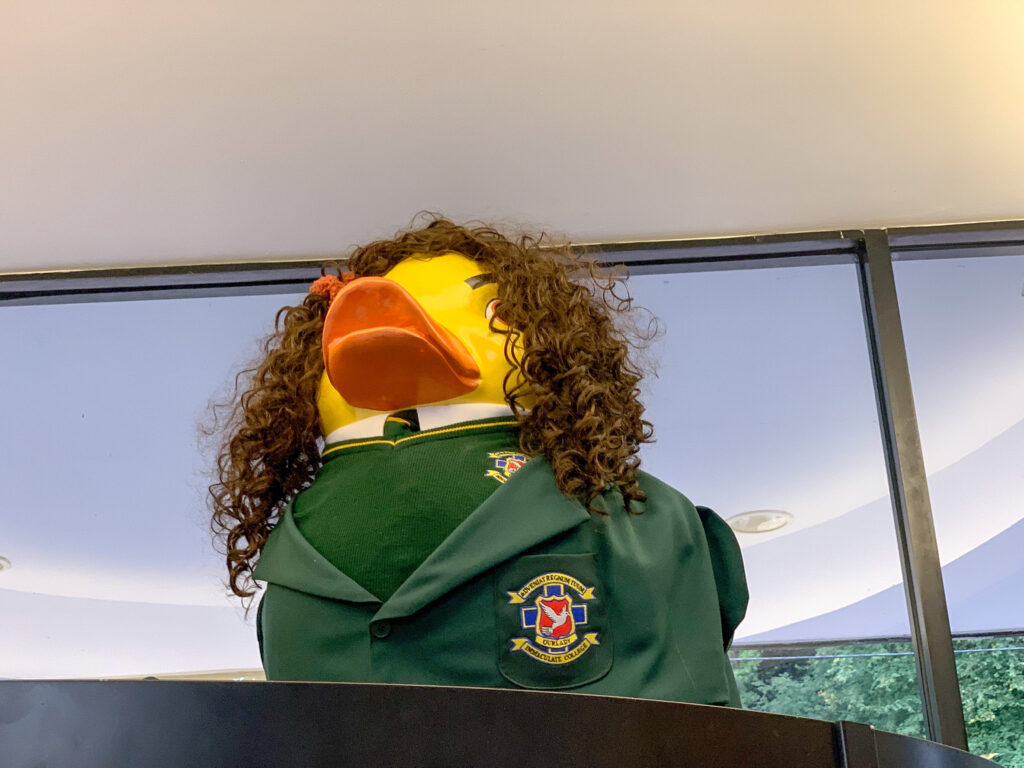 The afternoon tea is presented the same as any other. Teapots, cake stands and everything you've come to love about afternoon teas. It is first I would like to make mention of our very special waiter Fin. Fin has been with the hotel over 10 years and served us not only for our afternoon tea but also our dinner in the lounge bar and throughout our stay. Our whole stay wouldn't have been the same without him and we're told he's a hit with most of the guests. What an asset to the hotel he is!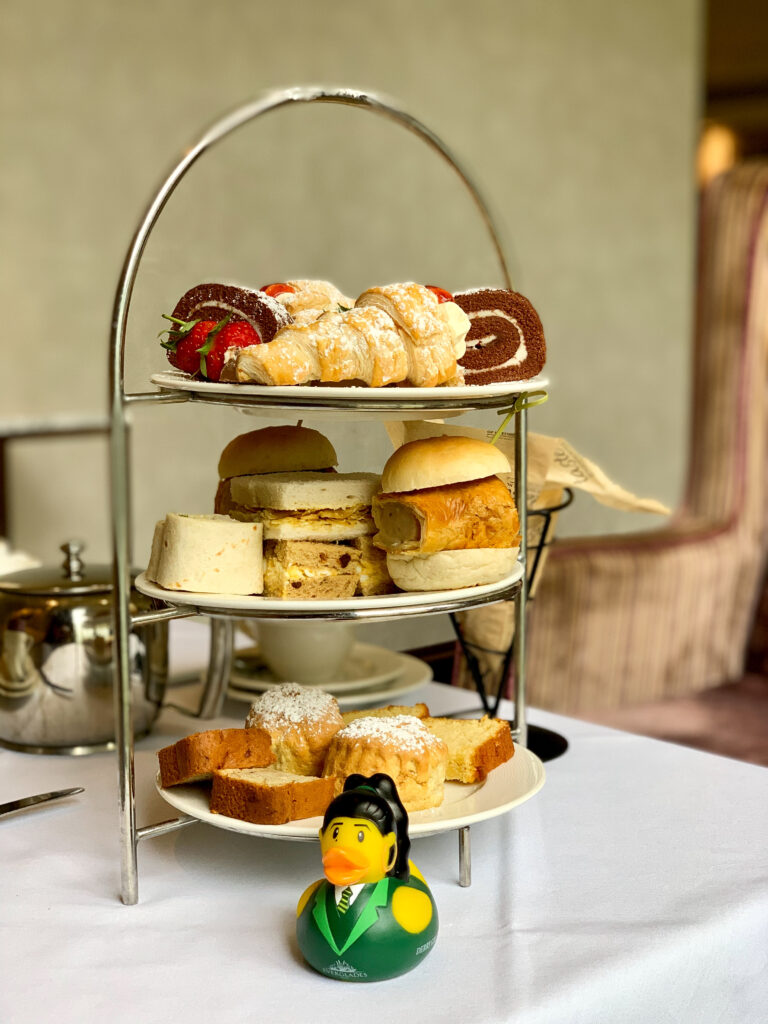 We'll start with the savoury foods on offer:
The Sausage Roll Bap – It is what it says it is. It is a sausage roll in a bread bap (roll). It's a derry speciality so finds its place on this special menu. Don't knock it until you try it. It was first on our hit list when the plates arrived.
The Tayto Crisp Sandwich – Again this is what it says it is. It is a cheese and onion crisp sandwich. Another Northern Ireland speciality made with the (we think WORLD famous) locally made crisps. They're sent all over the world from Northern Ireland!
A 'Poke' of Chips – A 'Poke' is a cone of chips in Northern Irish and this is served on the side of the afternoon tea. It pays homage to Season 2 Episode 2 where there is the 'chippy incident' with some flaming shots. We won't ruin it but it is a great homage to this episode!
On to the sweet stuff:
The Cream Horn – This is another homage to an episode where Granda Joe shares a cream horn with his flossy. Wait let's back up here. Let's start with the Cream Horn. This is a pasty horn shaped dessert filled with fresh cream and usually with a centre of jam or strawberry sauce. A flossy is a 'bit on the side' or from the urban dictionary "a girlfriend, esp. one who is older than her partner." You'll get it when you watch the episode 🙂
A selection of traybakes which would make Ma Mary proud! And of course some scones, banana bread and madeira cake. All local favourites!
The afternoon tea is finished off beautifully with a Derry Girls inspired cocktail. A perfect end to a perfect experience!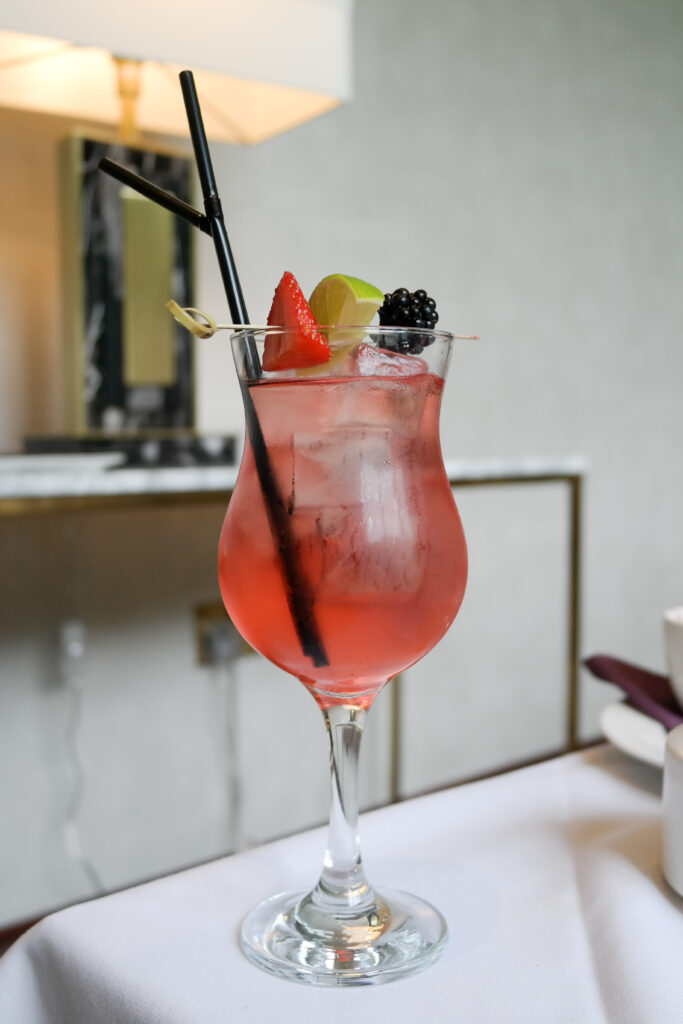 Breakfast
The next morning we were treated to a great Hastings breakfast as always. We always look forward to breakfasts at Hastings Hotels as they're always careful to use as many locally sourced ingredients as possible to fit in with their food provenance message. Simply magnificent