Traditional Scottish Shortbread
Traditional Scottish Shortbread is a recipe which has always been in my family. I hope the below recipe tastes as good to you as it does to me. Simple to make and well worth the effort.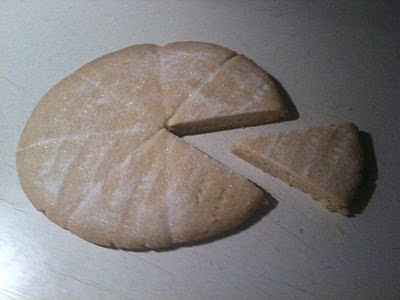 Ingredients :
100g Butter
150g Plain Flour
50g Caster Sugar
Preheat oven to 150C
Rub the flour and butter together using your hands. You can use a food processor however I prefer doing it by hand. Continue until everything comes together.
Add the sugar and work this through the mixture. Knead until you can form it into a ball.
Place this ball of mixture onto a piece of grease proof paper on a baking tray. Flatten to form a disc about half an inch thick.
Use a knife to mark the disc into triangles. Do not cut all the way through. Prick each triangle 3 times with a fork.
Bake in oven for 30 mins. They should be a light golden colour.
Take out, Sprinkle with a little caster sugar and leave to cool.
If you want to be a bit more creative with your shortbread you can use one of these pans!
Nordic Ware Snowflake Shortbread Pan
Brown Bag Thistle Shortbread Cookie Pan
Nordic Ware Cast-Iron Aluminum 9-by-9-Inch English Shortbread Pan
Danesco Shortbread Mould – Flowers – Round
Your done!