Double Chocolate Fudge Cake
This is a brilliant cake for a party as you can get a lot of servings out of it and most importantly everyone loves it!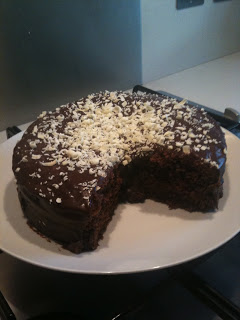 The Ingredients:
Cake:
170g NEILL'S® Self Raising Flour
170g Butter
170g Light Soft Brown Sugar
3 Eggs
1 Tbsp Coco Powder
1Tsp Baking Powder
Filling & Topping:
170g Tin of Evaporated Milk
125g Dark Choc Chips / Finely chopped chocolate.
125g Light Soft Brown Sugar
50g Butter
1 tsp Vanilla Extract/Essence
Approx 10g Grated White Chocolate
The How-To:
Preheat oven to 170c
Grease two cake tins and line the bottom of each with a circle of grease proof paper.
First of all we need to make the two cake halves.
Cream the butter and sugar together until smooth.
Add the eggs one at a time and ensure they are well combined.
In a separate bowl sieve the flour, baking powder and coco powder together.
Now add this flour mixture slowly into the butter mixture stirring together until well combined.
Divide this mixture between the two cake tins and bake in the centre of the oven for 30 mins
(To double check the cake is cooked in the centre insert a skewer, it should come out clean.)
Leave the cake to cool for 10 mins before gently turning out onto a wire rack and allow to completely cool.
We now need to make the filling and topping.
Add the tin of condensed milk into a small saucepan and add the brown sugar.
Stir this together over a moderate heat until the sugar dissolves.
Bring to the boil and then turn heat to lowest setting and allow to simmer for 6 mins, try not to stir to much but make sure it doesn't burn. Constantly watch the saucepan as the sugar can boil up suddenly!!
After the 6 mins are up remove from all heat and slowly whisk in the dark chocolate pieces, they should dissolve.
Now whisk in the butter followed by the vanilla.
Set the mixture aside and allow to cool. When cool cover in clingfilm and place in the fridge for 1hr.
Remove from fridge and stir to loosen up.
Spread half this mixture on the bottom half of the cake, set the top half on top and then use the rest of the topping to cover the top and sides of the cake.
You can serve straight away or put in the fridge for the fudge to set more firm.
You're Done!