Mary Berry's Baking Bible – Book Review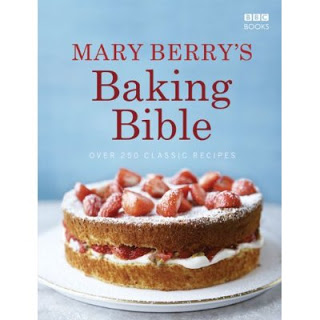 This book is described as "the only baking cookbook you'll ever need". As much as we would all love this to be the case I don't believe it is. However this book has a huge wealth of recipes and tips and we should all have a copy on our kitchen shelf. Whether it be to refer to for specific baking tasks or to follow a recipe from start to finish.
Containing 400 pages and covering 250 "foolproof" recipes this book is certainly worth its value of £13.37 sold by Amazon.co.uk or $34.16 sold by Amazon.com.
This is certainly not a flimsy recipe book by any means, perfect for the rough and tumble of a busy kitchen.
Consisting of full colour pictures the recipes are easy to follow and very comprehensive. I find that coloured pictures as essential to any modern day recipe books to ensure that your finished item somewhat resembles what it's meant to, in both colour and shape. My only criticism is that there aren't more of the pictures, as I do like to see at least one picture for every recipe.
It is worth noting that this book is a compilation of several others of Mary's books (including Ultimate Cakes, Simple Cakes and Puddings & Desserts). So by purchasing this book you are getting the best recipes in my opinion from all her previous books listed above.
Basically this recipe book is an all-round essential book for your kitchen shelf. You will discover plenty which you didn't even know existed.