Fed up with shop bought cereals? Not sure exactly whats in them? Then why not just make you own! Its simple.
By making your own cereal you know exactly what goes into it and can easily omit or add anything you wish.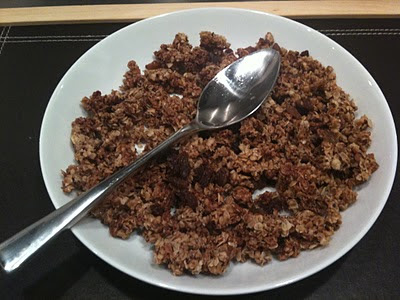 The Ingredients:
2tbsp Olive Oil
2tbsp Honey
320g Oats
75g Butter
50g Dark Brown Sugar
1tsp Vanilla Extract/Essence
1tsp Ground Cinnamon (optional)
70g Raisins (optional)
70g Chopped Almonds (Optional)
The How-To:
In a large pan heat the oil on a medium heat. Add the oats to the pan and continuously stir for aprox 5 mins. Be very careful to keep stirring and if there is any sign of burning remove from the heat.
Pour the hot oats onto a baking sheet and set aside to cool.
In the same pan you just used add the butter and brown sugar, vanilla and cinnamon.
Gently warm this over a low heat until bubbles form.
Return the oats to the pan and make sure everything is mixed together well.
Continue to cook on a low heat for aprox 5 mins.
Pour back onto the baking sheet and place in the oven for 3 mins at 150c.
Remove from oven and allow to cool. If it has clumped together too much simply crumble up.
Simply stir any additions into the mix once cool. Such as raisins, almonds or whatever else you like!
You're Done!