Such a simple but effective flavour – Mint Chocolate. This simple chocolate cupcake recipe is quick, easy and makes perfect cupcakes every time!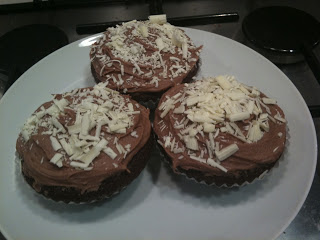 Cupcake :
75g Coco Powder
300g Caster Sugar
2 Eggs
250ml Milk
175g NEILL'S®Flour
2 tsp baking powder
0.25tsp bicarbonate soda
1tsp peppermint extract
40g Butter
0.25tsp Salt
Frosting:
325g Icing Sugar
50ml Milk
60g Butter
1tsp Vanilla extract or essence.
2tbsp Coco Powder
Grated White Chocolate for topping (optional)
The How-To:
Preheat oven to 180c.
Cream the butter and sugar together.
Add the eggs one at a time ensuring each is combined before adding the next.
Stir in the peppermint extract.
In a separate bowl sieve all the dry ingredients together.
Add the dry ingredients to the wet mix alternating with the milk until all ingredients are combined well.
Place the mixture into bun cases, it will seem quite thin but they cook perfect. 3/4 fill the cupcake cases.
Bake in the oven for 15 mins.
Remove and allow to completely cool before frosting.
Making the frosting:
Cream the butter until smooth.
Slowly add the icing sugar and coco powder alternating with the milk.
You're Done!