Red Vanilla Sparkle Cupcakes
These cupcakes are incredibly simple to bake and decorate. This recipe makes around 24 frosted cupcakes.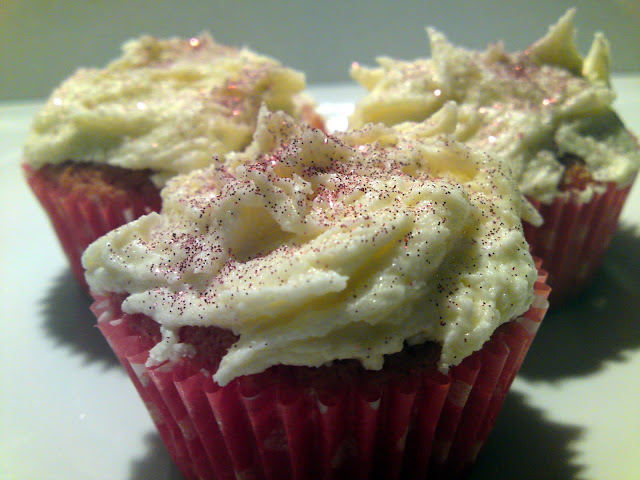 Ingredients:
Cupcake:
300g Butter
300g Caster Sugar
5 Eggs, beaten
2 tsp Vanilla Extract
300 g NEILL'S®self-raising flour
2 tsp Red Food Colouring
Frosting:
450g of Icing Sugar
110g of Butter
0.5tsp Salt
3tbsp Milk
2tsp Vanilla
The How-To :
Preheat oven to 180 C
Cream the butter and sugar until light and smooth
Beat in the eggs one at a time
Now stir in the vanilla extract and food colouring
Sieve the flour and slowly add this to the mix. (Do not over stir)
Evenly divide mixture between 24 cupcake cases and place in the centre of the oven for aprox 20 mins.
Now to make the frosting.
Cream the softened butter in a bowl for aprox 5 mins until light and creamy.
In a separate dish mix the salt and the vanilla together.
Mix the salt and vanilla mixture into the creamed butter.
Turn your electric whisk onto the lowest setting and slowly add the icing sugar. The key here is to add it slowly. Making sure each addition is fully combined before adding the next. Continue until all the sugar is added.
Now combine the 3tbsp of Milk a tsp at a time. (you may not need all the milk. Add 1tsp at a time until you reach a smooth spreadable consistency.
Finally whip the frosting for aprox 2 mins on high speed until light and fluffy.
For a quicker method of frosting rather than piping the icing use a palette knife and simply spread on.
Decorate with sprinkles or edible glitter.
You're Done!