With the current popularity of The Great British Bake Off many people are dusting off their aprons and giving baking a whirl! Professional baking classes are as popular as they've ever been, not just in the UK, but in cities such as Delhi, India too. Delhi is well known for it's exquisite cuisine and if you're really keen on learning some baking skills, Truffle Nation has hands-on baking classes in delhi too! Some are even going a step further and starting up baking businesses! There are also classes available to help with this, for example when you learn baking with Saavor you can also gain qualifications in business skills. With the current rating for the Great British Bake Off sky rocketing any viewing numbers reportedly topping 10 million on the bread baking episode, the nation has truly went baking mad. And we're loving it!!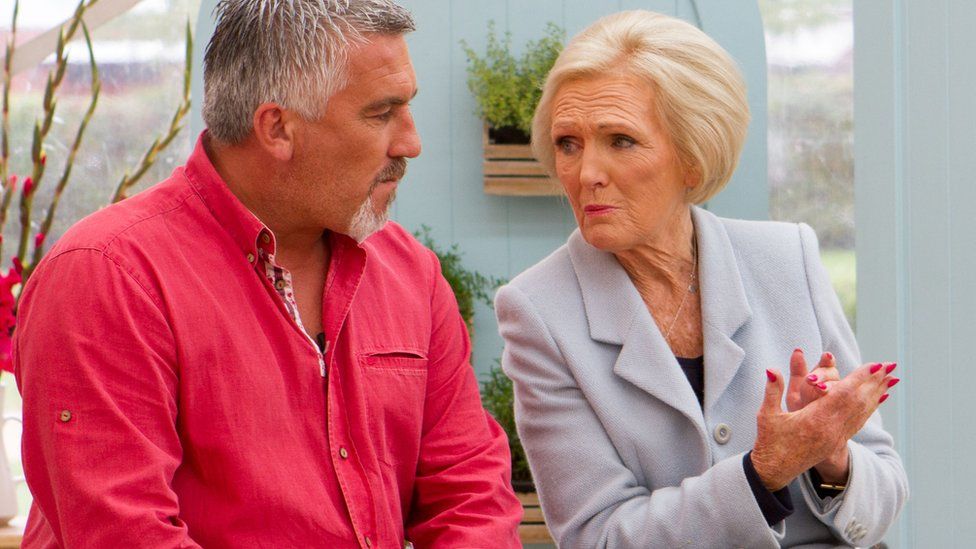 One of our key objective always has and always will be to make baking as simple as possible. Why make something overcomplicated for no reason. We believe the key to this is having the right instructions and of course the right equipment for the job.
The Mixer
Lets start with the basics, the mixer. Its true that a lot of recipes don't necessarily 'need' a mixer in order to make them. But they do make your life a hell of a lot easier, especially if you're wanting to bake and experiment more. They are a huge investment for your kitchen. We use the Sage Appliances Scraper Mixer Pro and absolutely swear by it. It's not the cheapest mixer on the block but in our opinion it is completely worth every penny. It's uniquely designed mixer blade 'the scraper' is the mixers most useful and unique feature. This mixer attachment scrapes the bowl as it mixes the ingredients, it is perfectly engineered to ensure everything gets perfectly combined. It is clear that Heston Blumenthal's team put a lot of time, research and development into this product, as they do with all the Sage Appliances range. (We also have the Smart Toast toaster, honestly if there is a perfectly designed toaster, this is it!). One of our other favourite features of the mixer is the extra slow mixing option called 'folding'. Very few mixers have this setting, none that we have ever used. This is a lot slower than the normal '1' or 'low' setting which usually appears. Perfect for lightly folding in any ingredients in cake baking etc.
The Baking Equipment
We were looking everywhere for a good essentials pack of baking equipment and finally found the Andrew James Budding Baker 8 Piece Bakeware Package. This collection of equipment is absolutely perfect to kick start your baking hobby. Included in the selection is: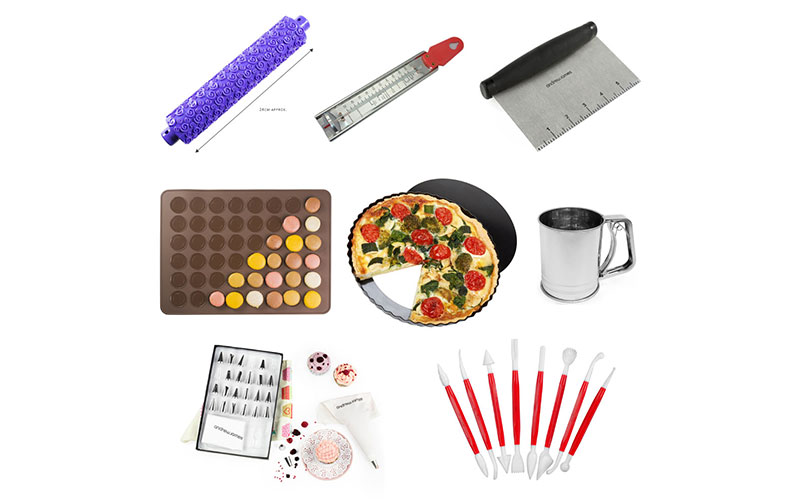 A Flour Sifter – Perfect for not only flour but also icing sugar when you're wanting to give your cakes or biscuits a light even dusting.
A Dough Cutter – This is a handy kitchen accessory to have in your drawer. We'd consider this an essential piece of kit if you're wanting to work with bread, pastry or biscuit dough. The measurements down the side are handy too. You'd be surprised at how many times you look for a ruler or tape measure in the kitchen.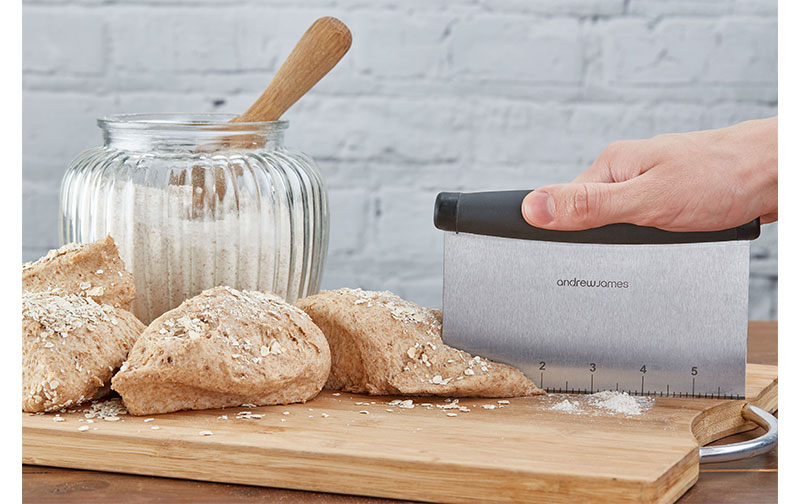 Also included is a Jam / Sugar Thermometer – This is a basic piece of kit which has changed very little in decades, if not longer. We prefer these versions to the electronic ones as you can easily leave this thermometer in the pan and monitor the temperature rise or fall without worrying about burning electronics or wires.
Pastry / Quiche Tin – This is a super addition to the pack if you're interested in trying your hand at pastry making. This tin is also great for tarts. You'll be creating sweet and savoury delights in no time. You could use this for one of our recipes for Bakewell Tart or even Lemon Tart.
Silicone Macaron Mat – Andrew James has also included a silicone macaron mat, ever wondered how those professional bakers create perfectly round and equally sized macarons? Many of them use these mats.
Decorating Tools – If you're wanting to polish your decorating skills the included icing piping set with cotton piping bag and 24 nozzles is absolutely perfect. Master all 24 different nozzles using the countless different methods, swirls, flowers, roping and loads more. Likewise the included 8 piece sugarcraft tools set is is perfect if you're wanting to practice your sugarcraft skills. There are hundreds of guides to both piping and sugarcraft on YouTube, its an absolute wealth of information.
Spiral Design Rolling Pin – Also included is a spiral designed rolling pin which is a perfect and stylish way to finish off a cake. Simply roll out some sugarpaste or icing and roll over this rolling pin which leaves an intricate spiral pattern. Add the sugarpaste or icing on to your cake and smooth our, hey-presto, you have a wonderfully finished cake.
Scales
Scales are, needless to say absolutely essential for baking. Most recipes you need to treat like chemistry, accuracy can be everything in some recipes like Victoria Sponge or Macarons. We have always used Salter scales. This is probably as my mother and grandmothers have always used these scales so I have grown up to trust them and their accuracy. Also their range of designs is becoming ever increasingly popular as people start to take pride in displaying their baking equipment on their worktops instead of hiding them away. Our current version is the Salter Heston Blumenthal Dual Platform Precision Scales. These scales come with two measuring platforms. A standard one measuring in 1g increments and a much smaller platform measuring in 0.1g increments for those smaller amounts of ingredients sometimes required. They also have a great addition of aquatronic technology allowing you to also measure liquids in ml and fl. oz. Oh and they come in a great storage box where ours often stays when not on display. A lot of people don't know how easily damaged scales can be so investing in a good pair and treating them carefully they'll last you a lifetime.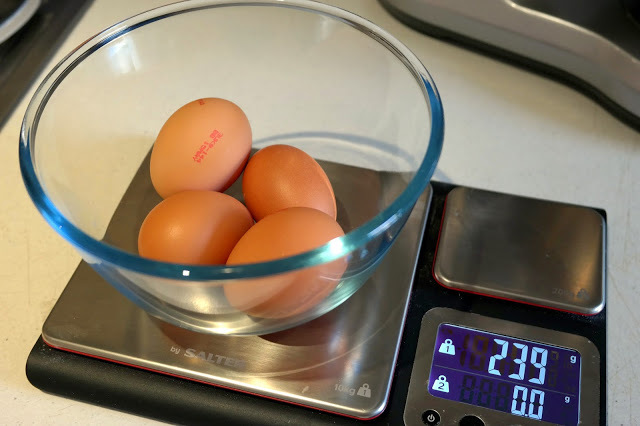 So that's some of the basics which we recommend you starting off with. We know everyone has their favourite brands and tools to use in their own kitchen so this is just an insight into what we use. We'll be adding to this list gradually as obviously we have a lot more equipment than we have listed. In fact, probably too much. Is there such a thing as too much?
We'd love to hear what everyone else's 'essentials' are? So please comment below.
So go and Get Your Bake On!