A few days ago BakingBar went a bit Italian in the kitchen and made pizza. We received hundreds of requests to post the recipe for the delicious pizza which we made. So here it is, and it really couldn't be much simpler. You'll never want frozen store bought pizza again once you start making your own! So here is BakingBar's Simple Pizza Recipe. The most hassle of making pizza yourself is making the pizza dough base, but the secret is it really isn't that much hassle at all.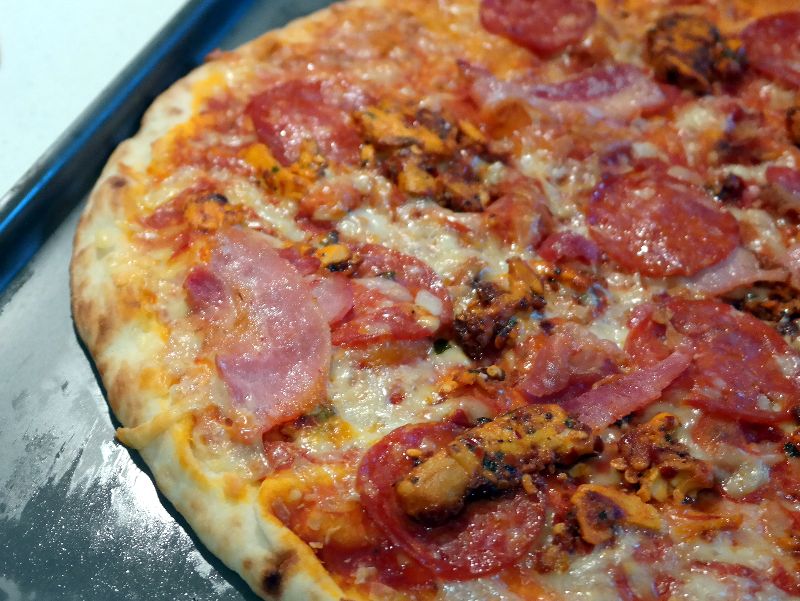 The Ingredients:
350ml Luke Warm Water
2.25tsp Active Yeast
0.5tsp Dark Brown Sugar
1tsp Salt
2tbsp Olive Oil
425g NEILL'S® Plain Flour
Suggested Toppings:
Tomato Puree
Cheddar Cheese
Fresh Mozzarella
Peperoni
Marinaded Chicken
Roasted Peppers and Onions
Herbs
Chilli Flakes
Garlic / Onion Powder
The How-To:
In a bowl mix the yeast, sugar and water together. Mix well with a spoon to ensure the yeast is well mixed in. Allow this to sit for 10 mins for the yeast to activate. You'll know as it will go creamy.
After the 10 mins stir in the salt and oil.
Mix in three quarters of the flour and mix well until the mixture comes together in a dough. It will be quite sticky so don't worry.
Turn it out onto a well-floured surface and knead in the rest of the flour. The trick is to keep your hands well-floured to stop the dough sticking to them. Knead the dough for 10 mins.
Well oil a large bowl and place the dough in it. Cover with a clean cloth and put in a warm draught free area. Leave it for 1 hour.
The dough will approximately double in size.
Turn the dough out onto a floured surface and punch it down.
Allow to rest for 5 mins before cutting in half. Each half will make one pizza base. Place one back into the bowl to use later.
Form the dough into a tight round ball.
Flour a piece of baking paper, this is one of the easiest methods to transfer the base to the pizza pan once its ready to bake.
Place the ball of pizza dough on the floured baking paper, start flattening it with your hand and pressing it out using your fingers. It really isn't necessary to throw the pizza like you see in pizzerias if you can't. This makes it ultra-thin. But you can still make a fantastic pizza by just pressing it
down and stretching it out. Top tip here is not to wear any rings or jewellery
as you risk tearing a hole in the dough.
To make a truly fantastic pizza you'll want to buy a pizza stone. 
The stone makes the base so much more crispy and delicious. If you don't have one you can simply use a baking tray but we highly recommend you eventually investing in a pizza stone, they aren't expensive and last for years.
Pre-heat the oven to 220c and if using a pizza stone place this in the oven now for 10 mins to pre-heat it too.
Now you can start creating the pizza. The traditional pizza sauce is tomato puree mixed with a teaspoon of herbs and sometimes garlic if you wish. Spread this on the base leaving about an inch around the edge so a crust forms. If you prefer a smaller crust then spread the sauce further to the edge.
Start adding whatever toppings you wish on top of the pizza sauce. We have made some suggestions above. You can completely add whatever you wish. Experiment, you might find you like something you never thought you would.
Once you have finished decorating the pizza, gently and slowly slide it from the baking paper onto the pizza stone / baking tray. If using a pizza stone be careful not to dough the stone as it will be very hot.
Bake in the bottom shelf of the oven for 15-20 mins. Keep an eye on it so it doesn't start to burn as all ovens vary slightly.
You're Done! Enjoy your pizza!