Tequila Rose Mini Layer Cakes
Us adults deserve a cake just for us sometimes. We teamed up with Tequila Rose to share this recipe with you. I'm always the first person to jump on the strawberry creams in any box of chocolates which is why I love Tequila Rose Strawberry Cream liqueur so much. In moderation of course! It's such a great flavour. Which is also why it works great in this recipe.
This recipe was written by no other than Ruth Clemens, Great British Bake Off runner up!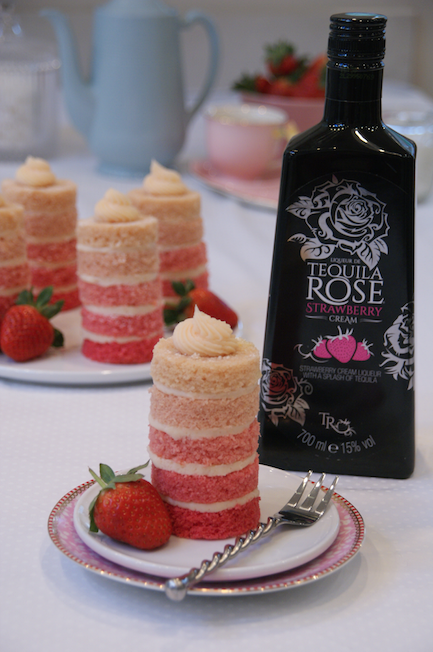 Ingredients:
Cake
400g butter or baking spread
400g caster sugar
2 tsp vanilla extract
8 eggs, large
400g self raising flour
Pink food colouring
Tequila Rose Buttercream
125g butter, softened
250g icing sugar, sifted
2 tbsps Tequila Rose
Oven Temp: 160c (fan)/180c/Gas Mark 4
Makes: 6 x mini layer cakes
Freezing: Cake is suitable for freezing
Bake Time: 20 minutes
Method:
You will need to bake 5 cakes (one for each coloured layer) from the cake mixture in 8" cake tins. It is unlikely you will have 5 tins the same size and will need to bake the cakes in stages. The cake mixture is happy to wait in a mixing bowl until a tin is free.
Prepare the tins, greasing them well.
Cream together the butter, or baking spread if using, with the caster sugar until light and fluffy.
Beat in the vanilla extract followed by the eggs one at a time beating well after each.
Fold in the flour until the cake mixture is an even consistency.
Divide the cake mixture into 5 equal portions in small bowls. Colour each portion a shade of pink with food colouring working from light to dark.
Place one portion of coloured cake mixture into a prepared tin, roughly level with the back of a spoon and bake in the oven for 20 minutes until lightly golden and springy to the touch. Repeat with each coloured portion.
Release the cakes from the tins and allow to cool fully on a wire rack.
Prepare the Tequila Rose buttercream. Beat together the softened butter and icing sugar until well combined, add the Tequila Rose and beat well again.
Take the cooled cakes and trim the top crust off each. Using a 2 ¼" round cutter cut out 6 circles from each shade of cake.
Assemble the cakes spreading each layer of cake with a little Tequila Rose Buttercream, stack up the layers working from dark to light.
Add a swirl of buttercream to the top of each layer cake and serve.