BakingBar Top Chefs Interview – Lee Westcott
As part of the series of Baking Bar Top Chefs Interview – Lee Westcott – We had the opportunity to interview the wonderful Lee Westcott about his experiences with cooking and what makes him tick.
Lee is the owner and head chef of The Typing Room which is located in the Town Hall Hotel in East London's Bethnal Green.
You can find Lee on Instagram and Twitter. You can also find the Typing Room on Twitter.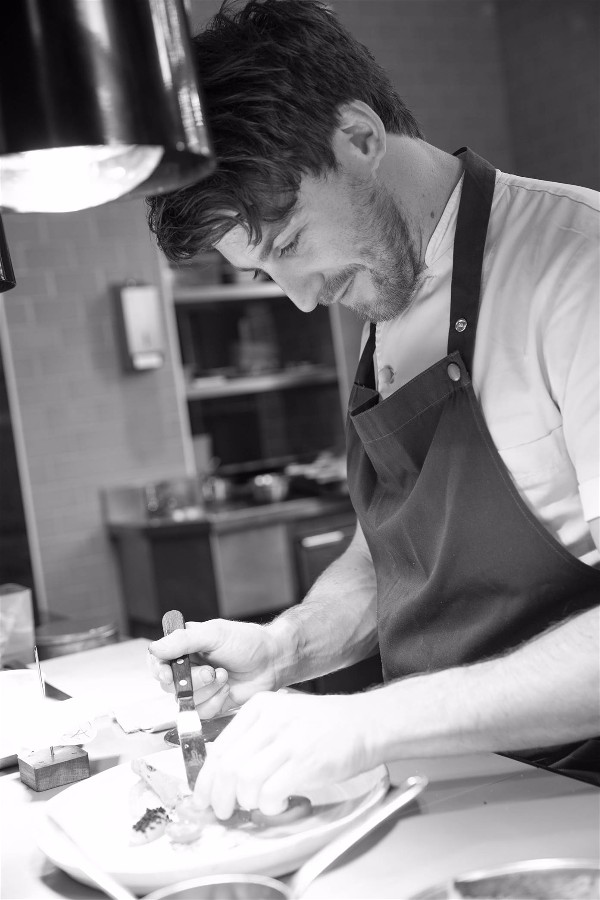 When and from whom did you learn about cooking?
I've learnt about cooking from a selection of incredible individuals. But one who naturally always springs to mind when I'm asked this question is always Tom Aikens. Maybe because I worked alongside him for 4 solid years or because being around his energy was infectious. Or maybe it was a mix of the two. I think a mix of the two.
Where did it all begin?
Do you have any early memories of something you enjoyed cooking?
I was never someone who grew up around food. It's not something I should have fallen into naturally, so I don't have many childhood memories of anything I enjoyed cooking. Just that my beautiful Nan used to overcook every vegetable that she ever fed us. That I remember. 
What was your first job in a professional kitchen and how do you think this helped get you where you are today?
My very first job in cooking was in a local pub around where I'm from. As most do, I started washing plates, pots and pans. This allowed me to enjoy the pace and excitement of the kitchen without the stress. But quickly enough I wanted more; I wanted to cook. I think this job helped me to work out that cooking excited me, realising I enjoyed the adrenaline that this industry gave me.
What is one of your favourite ingredients to use in your dishes and why?
Salt. For me it brings out flavours in food that you never knew existed. I'm not just talking about using salt to season food, more of using it to do more than it's expected to. Fermentation is something I've got heavily into and salt is so versatile that it can bring so much to the table when it comes to fermentation, something that we are experimenting more and more with in the restaurant.
What is your favourite dish to cook?
This sounds like I rehearse this question when I give this answer, but it's the same every time. The cauliflower dish we have on at the Typing Room is the one dish that's never changed and that's for a good reason: because I still love it. I love cooking it, plating it & eating it. So that's my favourite dish to cook.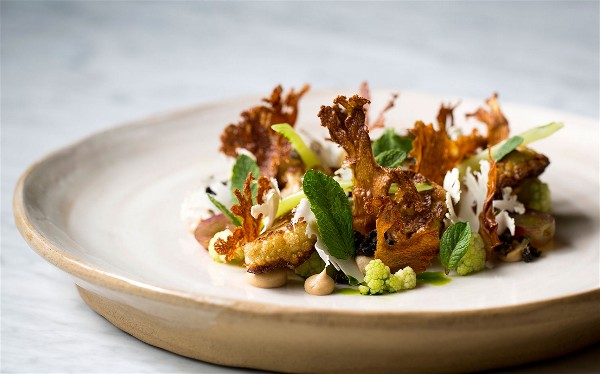 What regional dish stands out to you and should represent your country?
Coming from Hertfordshire there isn't a stand out dish that I can think of, but for me the Lancashire Hotpot was a familiar favourite within my household and it strongly represents our country. I believe regional ingredients make our dishes unique to each other.
Have you ever cooked for any celebrities or famous faces?
We have indeed. Not naming any names, as I don't think that's right… But they range from chefs to musicians, comedians and politicians. But it's all the same for us.
Do you have any funny or embarrassing kitchen stories to tell?
Yes I do. But I can't tell you these.
Is there a celebrity chef who inspires you or has inspired you from the beginning of your career?
I think I'd have to say Jamie Oliver. Or Jason Atherton. I actually can't choose. They both have an eye for business and what the majority of people want. This is a skill that many don't have.
Do you have any final advice for someone just starting to cook?
Get your teeth stuck into something you enjoy and believe in. Run with it and get your head down. And remember its not a job, it's a lifestyle.