Impress friends and family with your brilliant baking this Halloween and recreate this spooktacular Halloween inspired Pumpkin Patch Cake by McKinney's & Catherine Fulvio. This scarily delicious cake is perfect for your little ones 'fright-night' party this Halloween. In just a few easy-to-follow steps, you and the little ones can recreate this master piece during the midterm break.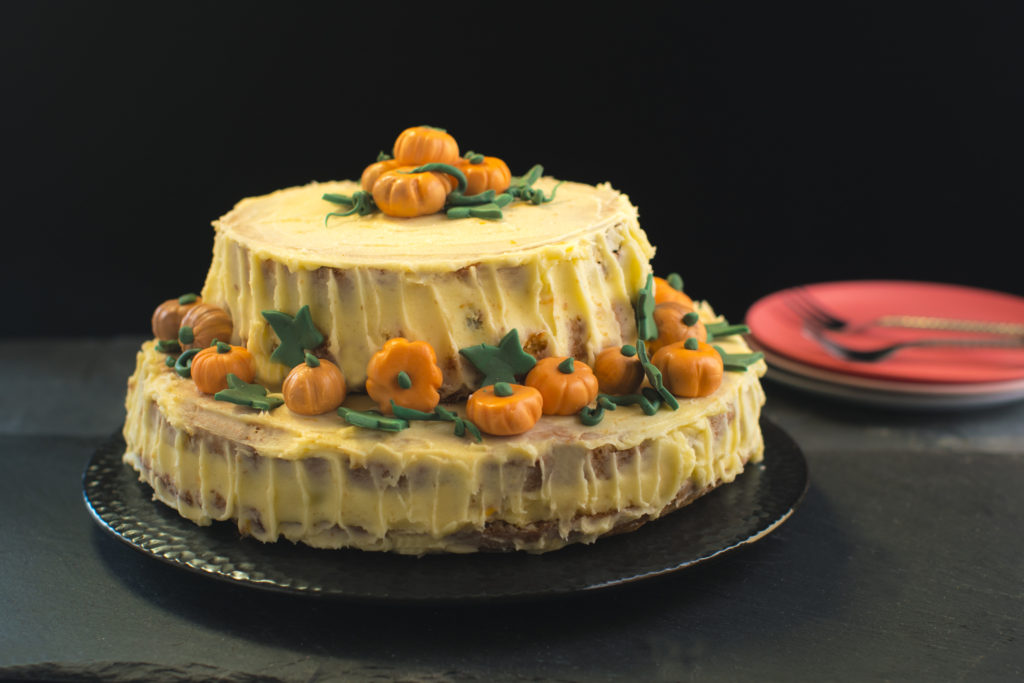 Serves 12 to 15 slices
Ingredients
For the cake
220g McKinney's caster sugar
200g softened butter
5 eggs
1 tsp vanilla extract
400g plain flour, sieved
2 tsp baking powder
About 50ml milk
For the buttercream
450g McKinney's icing sugar
220g softened butter
1 tsp vanilla extract
1 orange, zest only
60ml milk
For the pumpkins
200g McKinney's rollout icing sugar
Orange colour paste
Green colour paste
200g blueberries, washed
Method
To prepare the cake
Preheat the oven to 190°C/fan 170°C/gas 5. Line a 15cm cake tin and a 23cm cake tin with baking parchment.
Place the McKinney's caster sugar and butter into a bowl in the mixer and whisk until pale and fluffy.
Add the eggs, one at a time, whisk after each addition.
Add the vanilla extract and fold in the flour and baking powder.
Pour into the prepared tins and straight into the oven. The 15cm cake will need about 20 minutes while the baking time for the 23cm cake will be approx. 30 minutes.  Check that the cakes are done by inserting a skewer and it should come out clean.
Leave on a cooling rack.
To prepare the buttercream & decorations
Place the McKinney's icing sugar, butter and vanilla and orange zest into the bowl of the mixer and beat until light and fluffy, adding some milk.
To make the pumpkins
Colour some of the rollout icing sugar with orange colour paste.
Shape about 24 balls of rollout icing sugar (different sizes), press the centre down slightly, and use the tip of a skewer to make indentations down the pumpkin.
To make the leaves, colour some McKinney's rollout icing with green paste and shape little leaves for the on top and leave to dry although it will remain slightly soft.
To assemble
Slice each layer in half lengthways.
Place a cake layer on a cake stand, spread 1/4 of the buttercream onto the layer and sprinkle 1/3 of the blueberries over.
Continue layering the end with buttercream. Pipe around the edge.
Arrange the pumpkins and leaves over the cake, serve and enjoy.
You can find some more McKinney's Sugar recipes on their facebook page or on their parent website Nordzucker.