When it comes to Christmas baking, it doesn't get more festive than gingerbread so why not whip up a batch of these seasonalGingerbread Cupcakes by McKinney's & Catherine Fulvio. Get the kids involved in the kitchen as well and let them frost the warmly spiced cupcakes and decorative gingerbread men. Allow the comforting scent of Gingerbread ooze through the house this Christmas and greet guests on arrival to your festive soiree.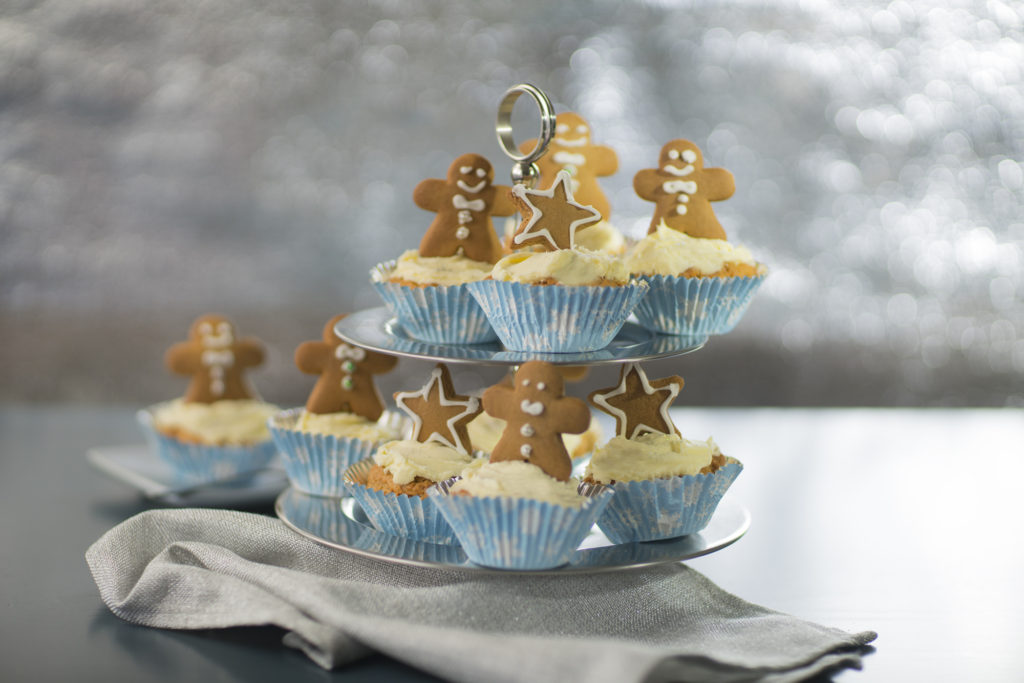 Makes 12 Cupcakes
Ingredients
For the gingerbread cookies
250g plain flour
1 tsp bread soda (bicarbonate of soda)
½ tsp ground cinnamon
½ tsp ground ginger
120g butter
160g McKinney's Rich Dark Brown Sugar
2 tbsp golden syrup
2 eggs
For the cupcakes
120g softened butter
160g McKinney's Light Golden Sugar
3 eggs
300g plain flour
½ tsp ground ginger
¼ tsp nutmeg
1½ tsp baking powder
½ lemon, zest only
50ml water
100ml milk
For the buttercream
100g softened butter
220g McKinney's Icing Sugar
1 tsp vanilla extract
4 tbsp milk
For the topping
McKinney's Royal Icing
McKinney's Caster Sugar
To prepare the Gingerbread cookies
Preheat the oven to 180°C/fan 160°C/gas 4. Line a baking tray with parchment.
Preheat the oven to 190°C/fan 170°C/gas 5.
Line a baking tray with parchment.
Place the flour, bread soda, cinnamon and ginger into a food processor.
Add the butter and blend until it resembles breadcrumbs.
Mix the eggs and syrup together and add just enough to form a stiff dough.
Wrap the dough in plastic and keep in the fridge for 30 minutes.
To shape the cookies
Roll out on a clean surface lightly dusted with flour to about 0.5mm.
Using a gingerbread house cookie cutter or a sharp knife, shape the cookies, transfer onto the prepared baking tray.
Bake for about 12 to 15 minutes and then leave for 10 minutes on the tray before transferring to a cooling rack and set aside to decorate.
To prepare the cupcakes
Preheat the oven to 180°C/fan 160°C/gas 4.
Place the cupcake cases into a muffin tray.
Cream the butter and McKinney's sugar together until pale.
Whisk in the eggs, one by one.
Fold in the flour, baking powder, ginger, nutmeg and lemon zest.
Pour in the water and enough milk to form a cake batter.
Spoon the mix into the cupcake cases.
Bake for 18 to 20 minutes depending on the size.
Leave to cool completely before decorating.
For the butter cream & to decorate
Whisk the butter, sugar, vanilla extract and milk for at least 5 minutes together until pale and fluffy.
To Decorate
Make a small amount of icing using McKinney's Royal Icing Sugar, following the on-pack method. Use a piping bag to decorate each cookie with the royal icing.
Spread some butter cream onto the centre of each cupcake and place a gingerbread house cookie again each on. You can use the royal icing to glue the snowballs on top.
You can find some more McKinney's Sugar recipes on their facebook page or on their parent website Nordzucker.