Fish City Belfast – Review
We all love fish and chips. But we normally get this from our local chip shop. We have got it in restaurants before but its been…..average at best. Until we found Fish City in Belfast. A relatively new restaurant in Belfast City Centre, Fish City is leading the way in the sustainable restaurant trade. Located on Anne Street in Belfast City centre just next door to Victoria Square shopping centre it is extremely accessible from anywhere in the city centre. The owners John and Grainne are extremely proud to tell their patrons that all their food comes from sustainable sources. That's a big big mission statement to have. But it is also very important to both our local, national and international food sources.

So as you may have guessed Fish City specialises in fish. But not at all limited to just this. Their menu contains plenty of non-fish related foods to keep every diner happy. However you'd be a fool not to try their Award Winning Fish and Chips.
While we are on that topic of awards, let's have a look at their award shelf so far…..it's quite a list and grows every few months! Quite a list eh!?

So we popped into Fish City to write this little review. We had ordered about 6 times previously both for delivery via Deliveroo and for a sit down meal in their restaurant. At this point I'd also like to mention that the fact this restaurant is available on Deliveroo in Belfast City Centre is a massively overlooked thing. The food delivered is of equal quality as served in the restaurant, so don't hesitate!
Both John and Grainne are extremely attentive to all customers who pay the restaurant a visit. Taking an interest in each person to ensure they enjoy their food. This is something which can be easily overlooked by other restaurants who are only after quick service and high turnover. Oh and an important note, this is a licensed restaurant. So you can enjoy a drink with your fish and chips. How good is that!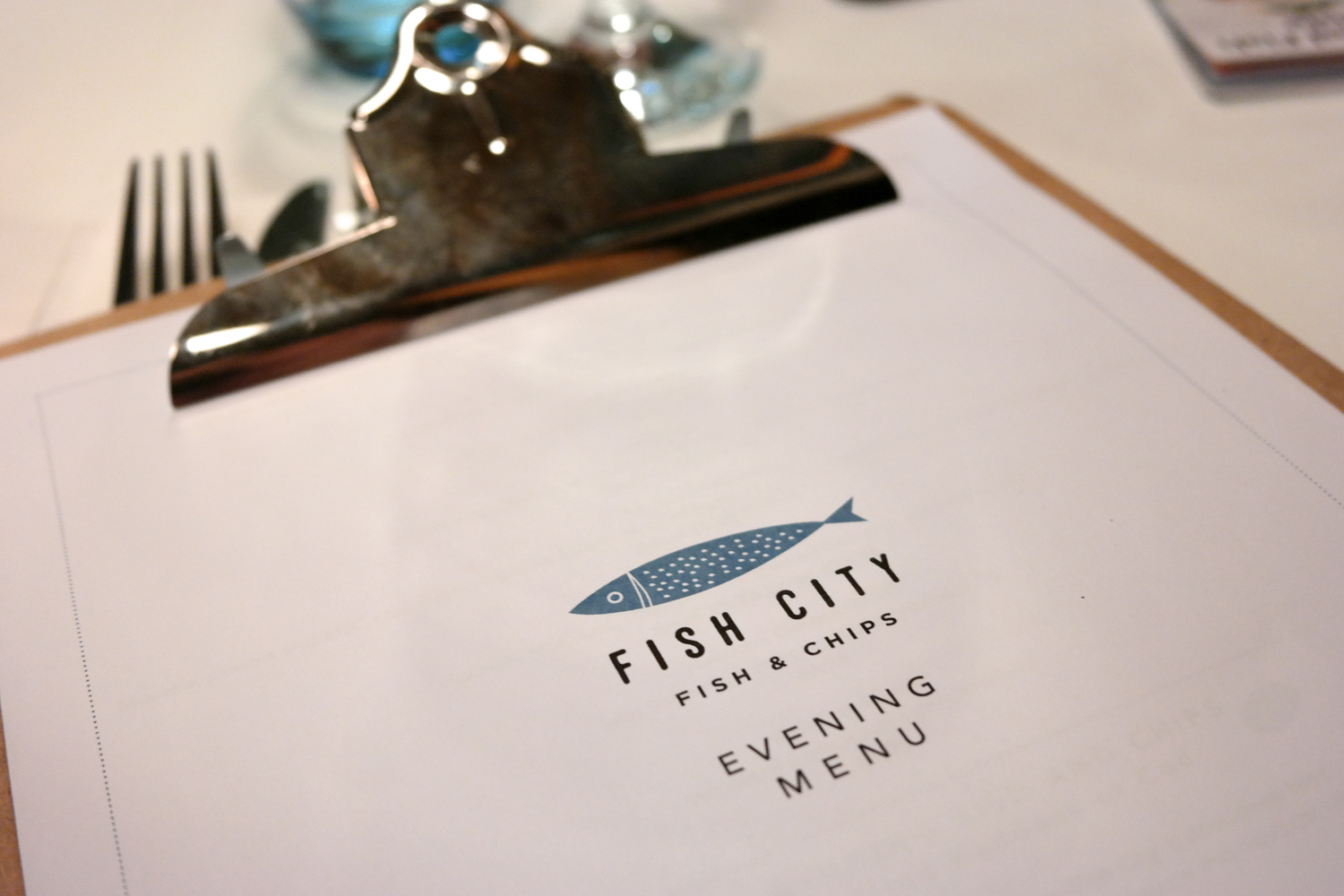 The menu in Fish City is comprehensive but not too much so that you have too much to choose from. They keep it relatively simple but still with an excellent selection to choose from. An absolutly incredibly addition to their menu is the ability to ask for the calories of each meal. This is so rare except for in massive chains so shows a great dedication to being 100% open to ingredients and content of their food. It allowed me to accurately record my meal in MyFitnessPal, so my personal trainer can see exactly what i've been at. So lets take a look at what we had.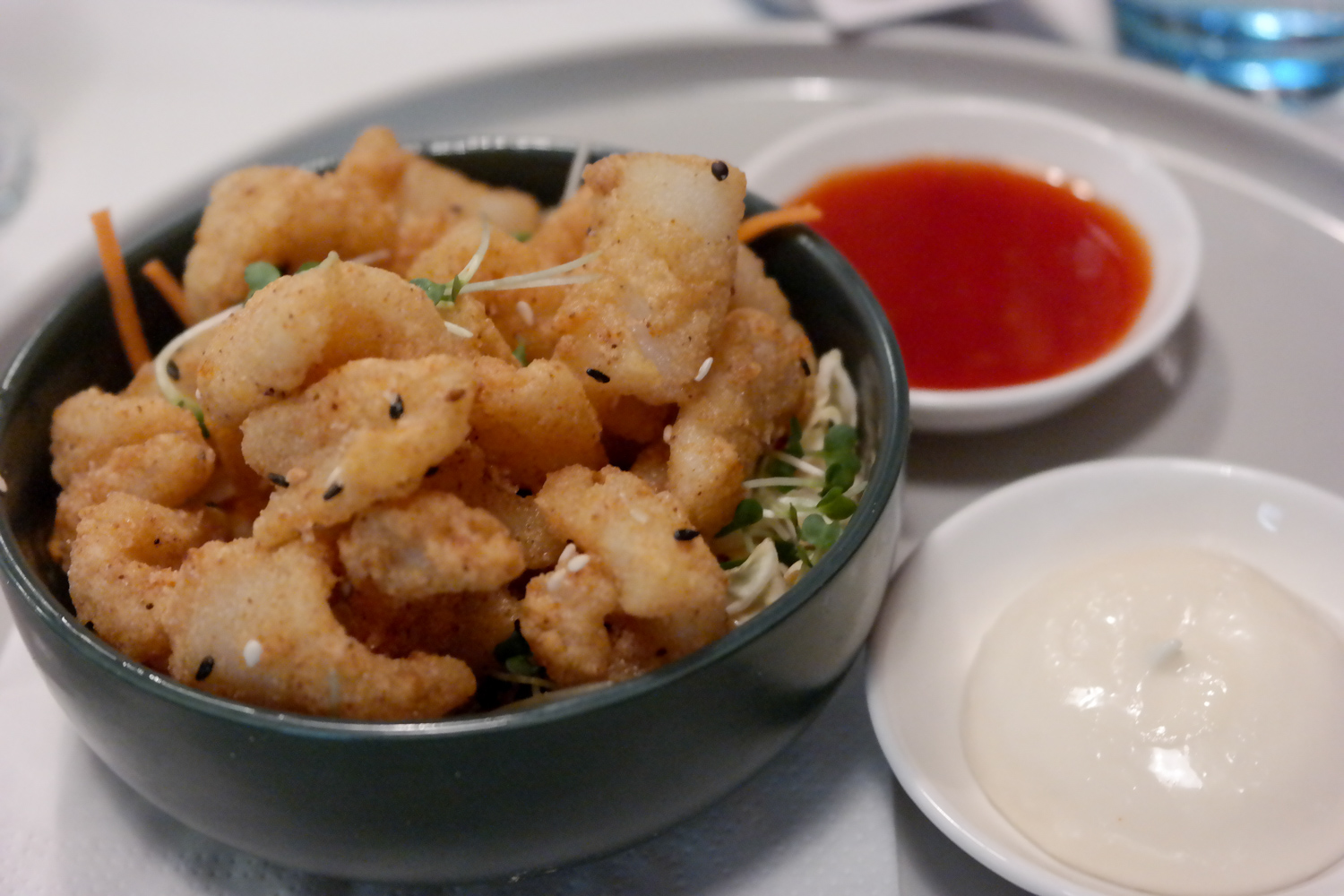 For starters we had
Salt N'Chilli Squid with napa slaw, garlic, aoili and chilli jam. This squid was perfectly cooked and incredibly fresh.  Not to mention that it was gluten free too!
Fish Cakes which included salmon MSC cod, smoked coley, smoked haddock served with mixed salad. These were probably the best fish cakes we had ever had anywhere. Again incredibly fresh and perfectly formulated to include the right amount of each fish.
For mains we had
The Award Winning Fish and Chips. MSC certified cod. This is fresh cod in a light 'n' tasty Fish City batter, deep fried and served with home made mushy peas, tartar sauce and hand cut chips. Just want to include a special mention for the mushy peas. These are real mushy peas! Unlike some served in other chip shops. The fish was coated in such a beautiful batter it did not at all take away from the wonderful fresh taste of the cod. The chips were perfectly cooked and served in a wonderful separate basket.
Cod Tacos. This is something I hadn't had in a long time. They are hard to get right. Fish City mastered this plus more! Strips of lightly battered cod, tomato and red onion salsa in a soft tortilla served with a herby yoghurt dressing. These couldn't have been batter. Just simply mind blowing. Such simplicity but packed with flavour. All the tacos come served with hand cut chips and salad.
Both mains were filling but we ate every drop. Not stodgy, not greasy just perfect.