Ok….we finally gave in to this American craze of cake pops. The concept of cake pops is always pretty similar and is a lot simpler than many people think. Basically a ball of cake on a stick decorated in many (sometimes intricate) designs.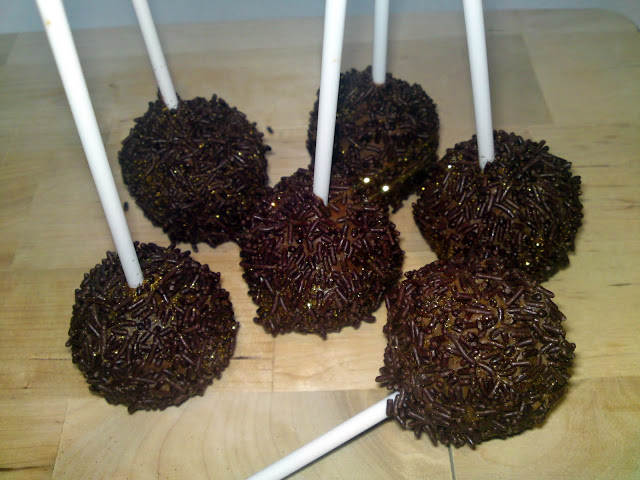 First of all we need to make the cake. To do this follow the recipe below.
The Ingredients:
Cakes:
75g Coco Powder
300g Caster Sugar
2 Eggs
250ml Milk
175g NEILL'S®Flour
2 tsp baking powder
0.25tsp bicarbonate soda
40g Butter
0.25tsp Salt
Half a tub of ready made frosting such as Betty Crocker. I never use ready made frosting but this makes the recipe super easy. However if you prefer to make your own frosting you can use the frosting recipe
here
. You will only need about 1/2 of this recipe.
200g Milk Chocolate
Selection of sprinkles and decorations
The How-To:
Preheat oven to 180c.
Cream the butter and sugar together.
Add the eggs one at a time ensuring each is combined before adding the next.
In a separate bowl sieve the flour, coco powder, baking powder, bicarbonate soda and salt.
Add the dry ingredients to the wet mix alternating with the milk until all ingredients are combined well.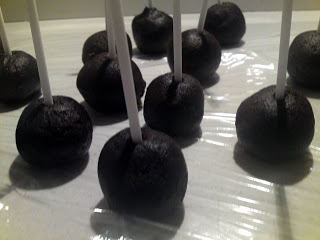 Place the mixture into two lined cake tins.
Bake in the oven for 30 mins or until a skewer inserted comes out clean.
Allow to cool for 10 mins before turning out on a wire rack to cool completely.
Now for the crazy part. In a large bowl using your hands smash your two cakes up until you get a bowl of what looks like breadcrumbs texture.
Take your frosting and add tablespoons at a time mixing well until the cake crumbs and frosting come together to form a dough which you can roll into small balls. These will form your cake pops.
The size of your cake pop balls are entirely your decision however I think 1.5 inches works best.
Now take your lollipop sticks which you can buy in most craft shops or get them even cheaper in this Amazon link to the left.
Now a trick. Before inserting the sticks into your cake pops you want to tip the end of the stick in some melted chocolate. This is a top tip for helping hold the cake pop on the stick!
Now for the fun part. Decorate these however you wish. You can be as elaborate as you want or as simple as you want. Simplest option which I have demonstrated here is to dip the cake balls into melted chocolate and then cover in chocolate or multi coloured sprinkles. Be as creative as you want. I also added a dusting of edible glitter.
Place your cake pops in the fridge to cool and harden up. This wont take long. Then serve!
Perfect for children's partys and another top tip for displaying cake pops is to take a piece of polystyrene and cover in tin foil or coloured paper and simply stick your cake pops in it!
You're Done!