If you're like us you will always have scrap pieces of paper containing recipe notes in bags, wallets, recipe books, pockets and just about everywhere else you can imagine. Its amazing how many things you jot down to remember 'later' not realising that later often means weeks or months down the line and that is if the note doesn't get lost along the way!
We desperately set out last month to end our notes disorganisation. Being a little OCD the chaos was causing us unnecessary stress and confusion, not to mention mess.
We have always had the habit of handwriting all our recipes and articles, (even this one you're reading now!), before publishing them here and throwing away the notes. We decided action had to be taken! We're very keen writers and believe strongly in keeping the art of handwriting alive, especially in the day and age of laptops and iPads. We purchased a lovely hardback black notebook and ever since it follows us everywhere, always with at least a couple of recipes or articles in the process of being written.
After completing 20+ pages in the book we realised how wonderful it looked to have the 'original' BakingBar recipes and articles all in our notebook, what an amazing legacy to pass down!
The one compromise we never make with keeping our journal is the pen we use. You enjoy writing so much more with a pen you are comfortable writing with, its a very good investment to encourage your writing. We prefer the fountain pen as it has elegance and class as well as a quality of writing that a ballpoint pen simply cannot replicate. Are we pen snobs? We don't really care, it's whatever you feel most comfortable writing with. Our Sheaffer pens follow us everywhere which our notebook does. A top tip – when writing with a fountain pen blot your page after you finish writing before turning over to write on the back, this stops ink being passed onto other pages.
That being said, if you are considering investing in some new stationery then you might be interested in checking out some of the fantastic office supplies available on the Office Monster website. A friend of mine told me that you can always trust in the Monster as they have such a fantastic range of pens to suit all writing styles. As soon as my pen runs out, I will definitely be checking out some of their best-selling office products.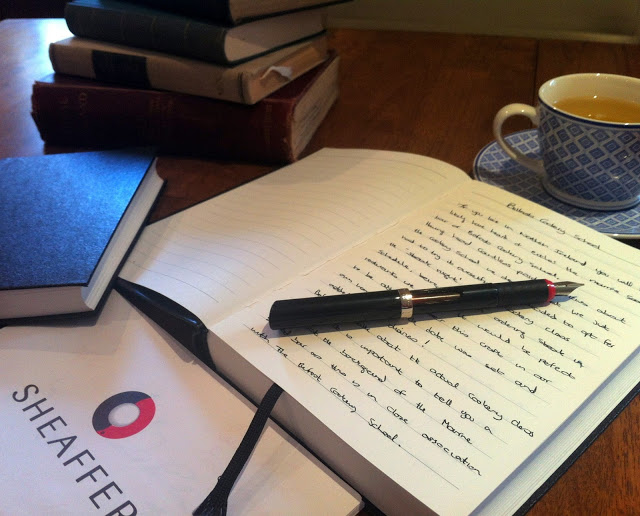 We know a lot of our readers do not necessarily own blogs or websites themselves which is why we think it is even more important and extremely useful to start keeping a recipe journal or notebook. This not only records your recipes and ideas in one place for safe keeping and easy reference but gives you a book which shows your journal and development of your baking skills as you try more complex and exciting recipes. Not to forget something to pass on to future generations to try their hand at a recipe which you maybe wrote yourself or found on our website.
In conjunction with National Stationery Week which runs from 22nd – 28th April Sheaffer has decided to run a fun competition! You can enter here for your chance to to have your handwriting analysed by a professional graphologist at Sheaffer if you are selected as one of the winners picked each week! You don't get an opportunity like that everyday!
So get practicing your handwriting in case you are picked as a winner, maybe you can send in one of your handwritten recipes if you win the handwriting analysis, encourage that graphologist to give baking a go too!
Oh and here is a exclusive! Keep tuned as we will be running a competition in the next few days to giveaway a few of our favourite recipe journals to give a few of you that extra motivation to start keeping a recipe journal.