Adagio Sherlock Fandom Teas
With the 3rd series of Sherlock just over everyone
has gone Sherlock mad! We are massive fans ourselves so were delighted to hear
our favourite tea company have created several Fandom teas, and one of them
happens to be Sherlock themed!
For those of you who do not know what Fandom is it best
described as a subculture of fans who dedicate a lot of their time and
enthusiasm into a particular interest such as Dr Who, Sherlock Holmes etc.
The
Sherlock Fandom Teas
from Adagio Teas come beautifully
presented in a gift box and individually packaged in small metal tins, all of
which I am positive we will keep long after the tea finishes!
There is no science behind how or why they choose to blend
the different tea varieties to match each character but in a lot of cases you
can understand some of their thinking.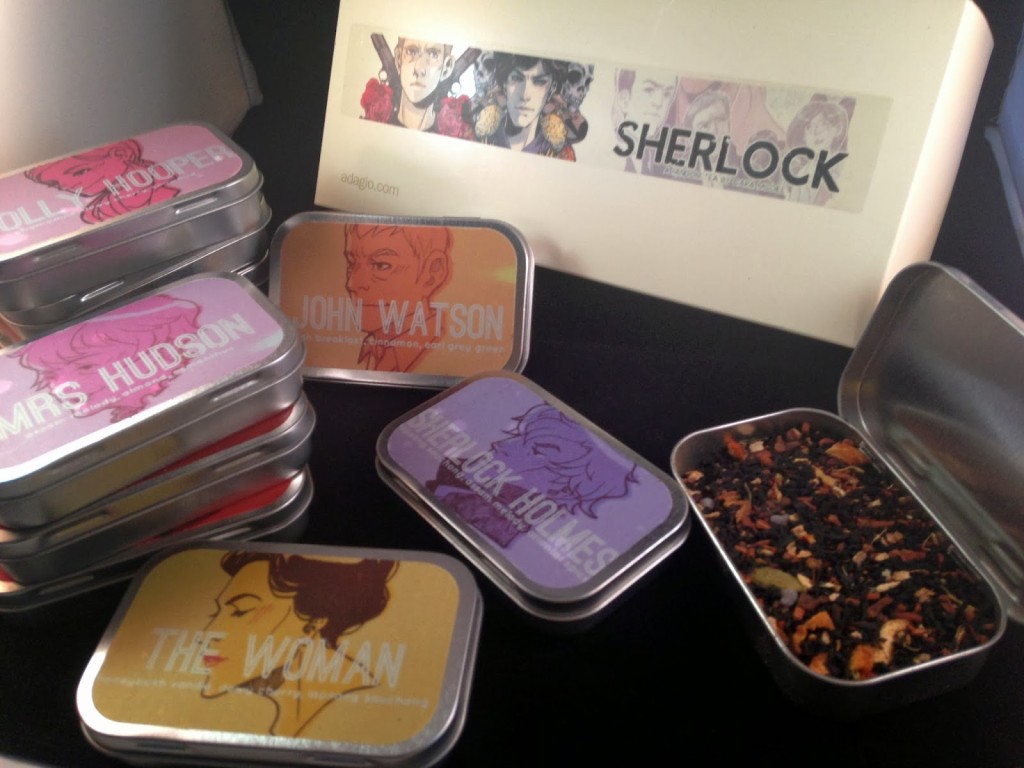 Sherlock Holmes Blend
Blend – Lapsang Souchong, Assam Melody, Oriental Spice.
There are some teas
which I do not think have been blended with the smell in mind, this is
one of them. There is nothing wrong with this as it's the taste which is most
important. To me this tea smells a bit musty, but that reminded me of Sherlock!
I imagine his clothes, him and even his apartment smelling a bit musty.  However don't let the smell put you off. This
tea doesn't taste musty at all. The taste is a little smoky with a hint of
spice. I like this tea and am positive I will use up the entire sampler tin.
John Watson Blend
Blend – Irish Breakfast, Cinnamon, Earl Grey Green.
Firstly Irish Breakfast tea is known to be a strong black
tea blend so be wary of over-steeping this tea. The cinnamon adds a wonderful
warming sensation which conjures up the thoughts of sipping this tea on a cold
winter night while sitting beside the blazing fire. I think just a touch of
sugar really compliments the Earl Grey and Cinnamon flavours. This is definitely
worth a try!
Moriartea Blend
Teas – Ginger, Masala Chai.
The key word with this tea is 'spice' but you expect this in
a tea which has a chai element. If you prefer a bit more 'kick' to the spices
you can try brewing it for a little longer. Between the cloves and ginger in
this tea blend it really creates a warming sensation perfect for those cold
nights.
Mycroft Blend
Teas – Chocolate Chip, Rooibos Vanilla Chai, Cream.
This tea has a sort of natural sweetness because of the
chocolate chip tea but I really feel that adding milk and sugar really
compliment this flavour and actually enhance it. The Rooibos Vanilla Chai tea
in this blend just lends a hint of spice to this tea which works perfectly with
the other flavours. I think this tea has a cakey smell which obviously we just
love!
The Woman Blend
Blend – Honeybush Vanilla, Dewy Cherry, Lapsang Souchong.
This tea smells wonderful in the tin but its flavours really
come out when you brew it. The delicious smell of cherry mixes with an equally
mouth-watering aroma of vanilla. There is also a subtle hint of apple which
comes from the small amount of apple pieces in the loose tea. This is a very
delicate tea but with a lot of different flavours. One of our favourite in this
Fandom sampler.
Mrs Hudson Blend
Blend – Assam Melody, Almond.
Ah Mrs Hudson…. You know she isn't the housekeeper! This tea
is full of wonderful flavours. It sort of reminds me of almond cookies but not
too overpowering. You can imagine Mrs Hudson sitting in her own little private
kitchen sipping a dainty teacup of this tea. I think serving this with milk and
just a tad of sugar really highlights the wonderful almond biscuits flavour. I
like this tea in the evening when you are trying to unwind. Good old Mrs
Hudson!
Molly Hooper Blend
Blend – Chamomile, Dewy Cherry, Snowbud.
The one word which springs to mind to describe this tea is 'girly'.
A tea can be girly right?? The scent to arise first from the tin is of cherry,
you cannot really smell much else other than this. But once brewed this tea
develops a more of a floral taste with the help of the Chamomile tea. A fairly
similar tea to the Mrs Hudson blend but unique in its own little ways. This is
another great tea for the evenings or even when you just need to unwind.
Lestrade Blend
Blend – Gunpowder, Pu Erh Dante, Hazelnut.
Just like the Molly Hooper blend was a 'girly' tea this must
be the 'manly' tea in this Fandom sampler set. Dark, earthy yet comforting,
this tea has a lot of flavours going on. The immediate aroma from the tin is
that of hazelnut but don't let this put you off (as if it ever would!). Once
brewed all three teas in this blend work wonderfully together. Gunpowder tea
can be very strong on its own but I think it is the addition of the Hazelnut
tea which breaks down this harshness. This tea is not sweet at all so if you
have a sweet-tooth  add a dash of sugar.
Anderson Blend
Blend – Grapefruit, Ceylon Sonata, Blood Orange.
I think this tea is either a love or hate blend. Quite like
the character really! With its key flavours being grapefruit and blood orange
it can be a little bit bitter at first taste but bear with it and give it a
chance, you do get use to this. I find a little sugar cuts the harshness of the
citrus. Because of the citrus flavours this tea would be delicious iced with a
touch of honey for sweetness. So store this one away for summer picnics
perhaps!
Sally Donovan Blend
Blend – Chocolate Chai, Mambo, Almond.
I have only recently been convinced by Chai flavours and I must
say I'm really quite fond of the cinnamon, ginger and overall spiciness of Chai
on a cold morning as it really gives you a wonderful warming feeling. The
addition of the chocolate flavours really creates something quite special
creating a rich smooth tea. Chocolate and Spice, what's not to like??
Excuse me while I just go pop on the kettle again…….