Rococo Roald Dahl Chocolate Bar Range
As part oft he Roald Dahl 100 Celebrations Rococo Chocolates have had the amazing opportunity to create some iconic bars of artisan chocolate. They are themed on Roald Dalh books no less! We have had the fantastic opportunity to check these out for ourselves. So lets see whats in the range.
The illustrations on each pack are truly amazing. You won't want to throw this packaging away, in fact don't! Someone you know will probably want them. Oh and it's not all on the outside. The illustrations continue on the inside with lots more information on that particular bar and others in the range. Do you know what we love about these too, when placed side by side they look like miniature versions of the books.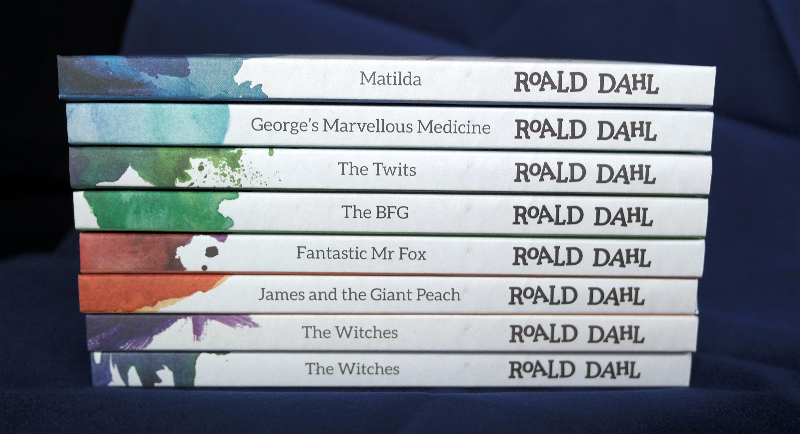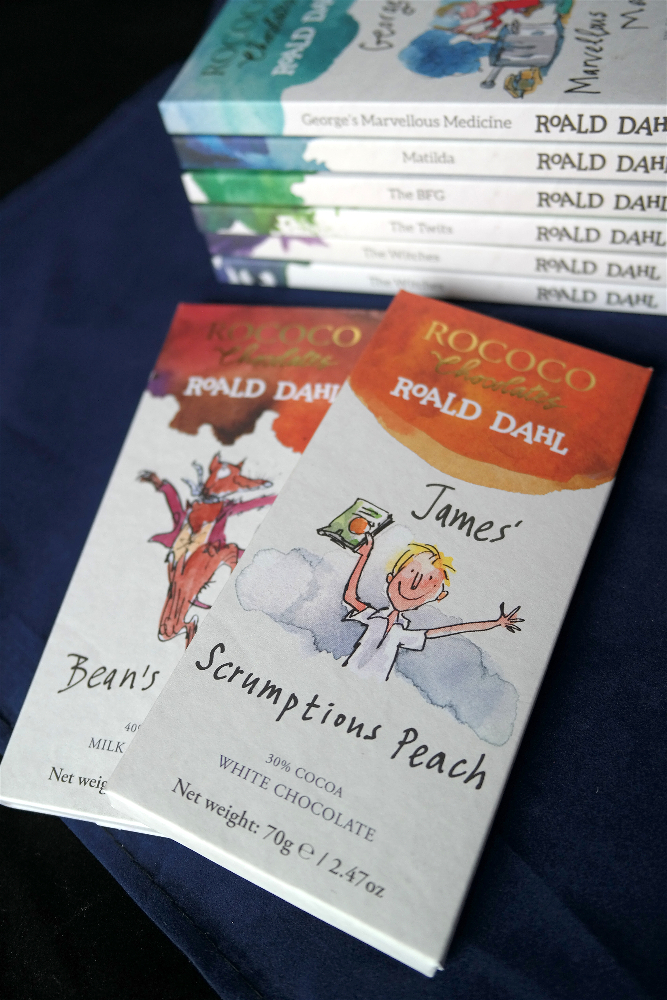 You guessed it, this bar is inspired by James And The Giant Peach. One of our favourite books. Made with 30% Cocoa white chocolate, this bar transports us straight into the story. Now where did I put my copy of the book…
Yes it is Fantastic Mr Fox! 'Ahhhh' gasped the Smallest Fox. 'This is some cider!'. This bar was created with 40% Cocca Milk Chocolate with apples. Creating the fantastic illusion of cider flavour chocolate. It works extremely well. We love it.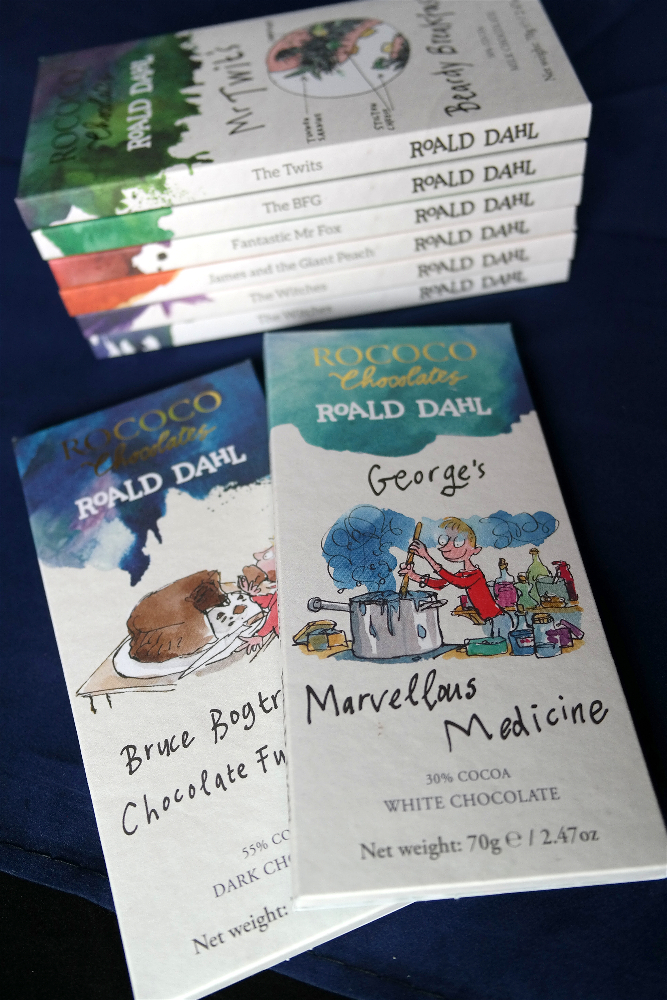 Obviously based on our all time favourite book, and movie, Matilda. This amazing bar is made with 55% Cocoa Dark Chocolate Fudge Cake. Do you remember what the cake looked like? Big, Chocolaty, Fudgy. We think this bar fits perfectly with what we thought in our mind. Delicious! And not a Trunchbull in sight!
The name kind of gives this one away. But is a surprise none the same. Made with 30% Cocoa White Chocolate  with liquorice and fennel seeds. We've been assured it is a perfect cure for grunions! We love the combination of the liquorice and fennel seeds in this bar, it creates a medicinal flavour, but not in a bad way.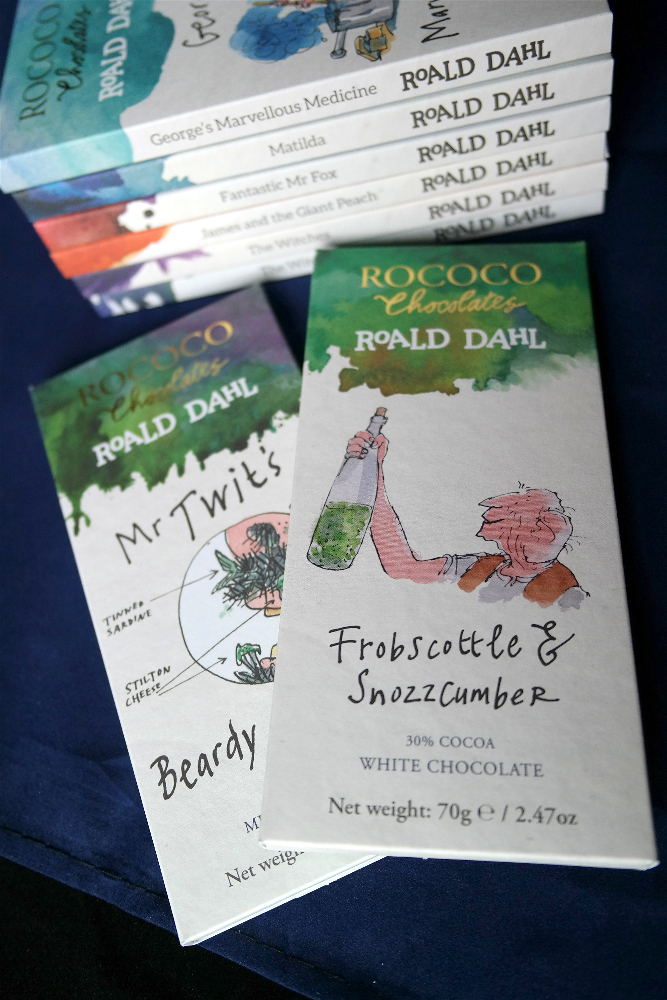 Made with 38% Milk Chocolate this artisan bar is inspired by Mr Twit's wonderful beard. Made with milk chocolate, with crisped rice, banana, yoghurt and smoked China tea. This bar has such a complex flavour. Its nice to savour just one piece. To try and distinguish all the complex flavours. The smoked China tea really adds a depth of flavour which we haven't experienced in a chocolate bar before.
Have you guessed yet? It's inspired by The BFG of course! What a wonderful book, right? One of the earliest books I remember reading for myself. Another complex bar of chocolate. Made with 30% Cocoa White Chocolate with raspberry, strawberry, cucumber and mint. This bar is marbled between the two sweet and savoury flavour combinations so you can try a bit of both. Why not grab a bar of this and enjoy the new BFG movie just released.
Can you guess this one? We got it straight away. It was one of my favourite childhood movies too. In fact we watched it recently. It is The Witches of course! We've tried both and neither have made us grow a tail, so you're safe! Formula 86 No.1 is a bar of 'Perfectly Normal' Milk Chocolate, made with 40% Cocoa Milk Chocolate. Formula 86 No.2 is a bar of 'Perfectly Normal' Dark Chocolate, made with 65% Cocoa Dark Chocolate.