The Rabbit Restaurant Review
There is a new kid on the block, or should we say sister. The laid back little sister to Galgorm Resort & Spa can be found at the Rabbit Hotel & Retreat in Templepatrick Northern Ireland. I have reviewed the wonderful River Room fine dining restaurant at Galgorm previously but it was the turn of the Rabbit restaurant which opened last year. The hotel then followed suit opening earlier this year with much fanfare! Located just 20 mins from Belfast and only 10 mins from the International Airport its very easy to get to, with great parking on site.
The Galgorm Collection were kind enough to invite me into the Rabbit Restaurant to try their new menu and see what all the fuss was about. From the walk up to the doors of the Rabbit Hotel & Retreat you already know you're in for a treat to something just a little bit different…
Inside the restaurant is open planned but yet it feels cosy and unique. It is hard to stop looking around you as you always notice something else quirky hidden in one corner or another. This isn't my first time in the Rabbit as I visited the first week it opened for a nosy so I was really glad to see both my favourites were still on the menu! Beer Battered Chipolatas (YES!) and Truffle Arancini served with garlic mayo. These are to die for and an absolute try if you visit. Even if you order them and share… These make for great nibbles even if you're only popping in for a few drinks with friends and get peckish!
For mains I had to try their Salt And Chilli Chicken which is cooked with pepper, courgette, spring onion, light soy dressing served with basmati rice or chips if you prefer. Tender cooked chicken with just the right amount of spice.
I also ordered the Dressed Prime Burger, Salted Brisket, Crispy Bacon, Cheese with an Onion Ring which is enormous! Honestly you'd be brave to try and tackle this without a knife and fork…. This is such a meat feast and every mouthful is delicious. A real show stopper burger if you've ever seen one!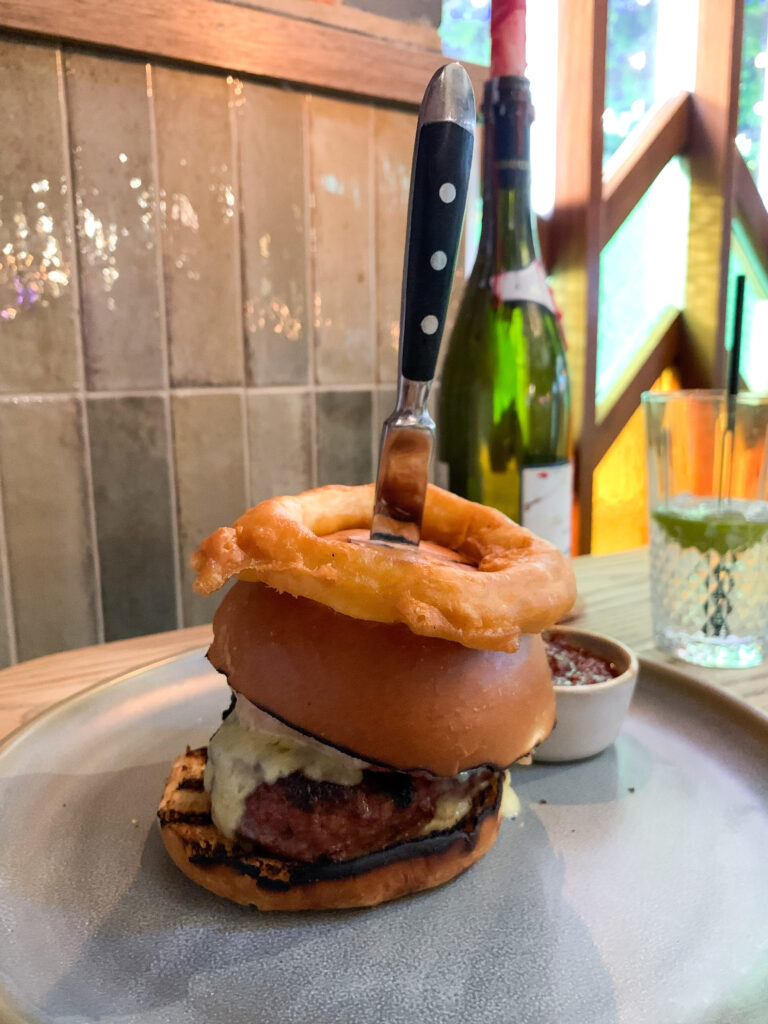 Now the bit I know you've all been waiting for….The Dessert
I opted for the Glazed Lemon Tart (To Die For!) is the best way to sum up this dessert. And of course you can't go anywhere without trying their cheesecake so there was only one thing for it….Raspberry And White Chocolate Cheesecake. Both desserts were equally as good and the perfect way to round off an amazing meal.
Don't forget to check your napkin for a little hidden sweet treat. A Galgorm Collection tradition which I was glad to see carried down to their little sister The Rabbit Hotel & Retreat! But can you resist the temptation to eat it between starter and mains?
Thank you to all the staff who greeted me, served me and made the whole visit and experience an absolute delight. We'll be back!