Wooden chopping boards aren't all boring – Why not get them personalised?
Recently, we came across a great company called Make Me Something Special. They specialise in hand-crafting high quality wooden gifts with personalised engravings, and as we love personalised items so much, it caught our eye straight away. Spotting their range of personalised wooden chopping boards, we knew we wanted one for the BakingBar Kitchen. What grabbed our attention straight away about Make Me Something Special is that they are not a large corporation that churns out mass-produced personalised products – they're a small family-run business nestled in the Surrey Hills, creating all of their wooden gifts by hand. Ben and Davina, the founders, take massive pride in their business. Each piece of wood used is hand selected locally and then crafted to the customers needs.
The Love!
Real craftsmanship goes into each and every gift that leaves their workshop. Everything from oak bookends to children's toy boxes gets made from scratch using the finest timber available, before being personalised with a choice of lettering, numbers and symbols chosen by the customer.
MakeMeSomethingSpecial has grown because of their highly passionate client base that comes back to them time and time again, requesting more unique and special items to be crafted. Gradually, their product line grew from 10 standard products to over 200. But, that doesn't detract from their attention to detail on each and every one of them.
The Loyalty
Make Me Something Special, in its first few years as a company, have supplied a vast range of clients, private individuals, schools and universities, councils, famous hotels, large corporate companies, top restaurants, wine bars and bistros, celebrities and even The Royal Family, which makes them very special, themselves! Growing such amazing customer loyalty in this short time shows how love and dedication to your craft really does win over mass-produced products. One of the more special items was a personalised toy boy for Prince George's first Christmas. You too can buy one. Isn't that amazing! If you want to read about their other special projects, you can see them here.
BakingBar gets a slice of the action
You might be starting to wonder why we're writing about this amazing company. Well, it's because we recently received a wonderful wooden chopping board from them. And this chopping board is unlike any other we've seen available on the market. This personalised board is engraved with official BakingBar branding, making it something which, no matter how dented, scratched and chopped it may get over the year, will be truly treasured for a long time.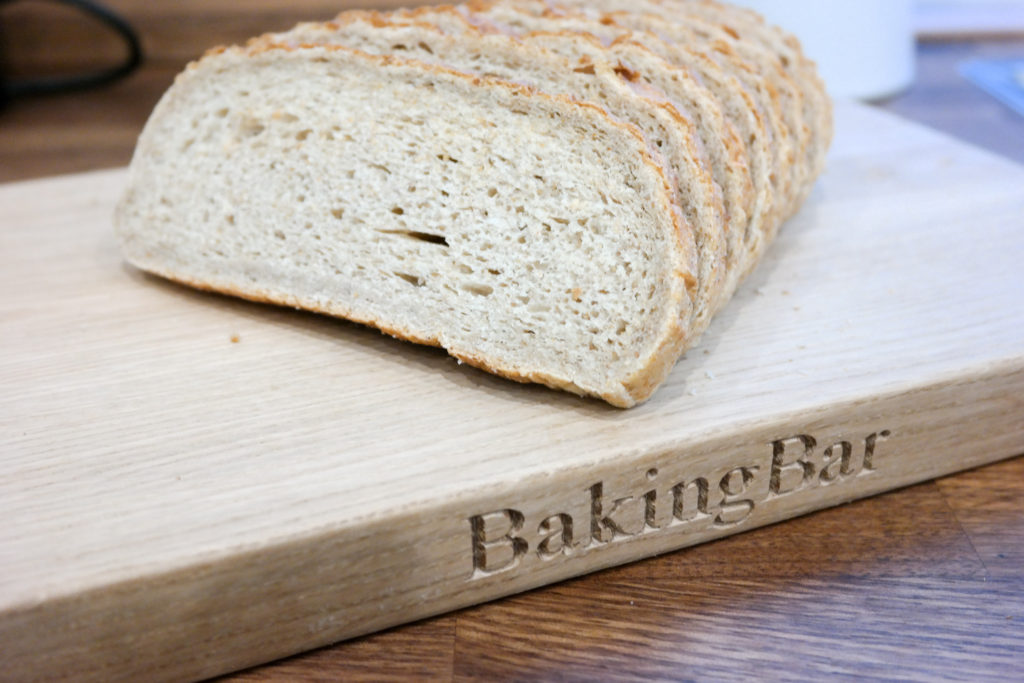 The personalised chopping board is wonderfully finished, , dense, heavy duty and just feels handcrafted to hold. Wood is one of the most tactile products that we think something can be made from. It can be smooth, rough, curved or straight. It's just nice to work with and hold. We have absolutely no doubt that the perfectly smooth chopping board will soon become rougher through use and age. But that is exactly how a chopping board should be. We have been assured that a regular treatment with something as simple as a good quality olive oil rubbed into the surface can do wonders to maintain some of the wonderful patina of the wood.
Unlike other mass-produced products available on the market, these bespoke-made gifts are built to last and be loved for a lifetime. So, next time you're consider buying something that is high quality, personalised and made with love – be it a bespoke toy box for the kids or a chopping board for the other half – consider checking out MakeMeSomethingSpecial's hand-crafted gift selection. You won't regret it.