Strawberry Muffins with Whipped Cream
This is a delicious summery recipe. Quick and easy to put together. They're a perfect breakfast, brunch or snack item. McKinney's has the perfect recipe for a batch of mouth-watering Strawberry Muffins with Whipped Cream which can be enjoyed at any time of day!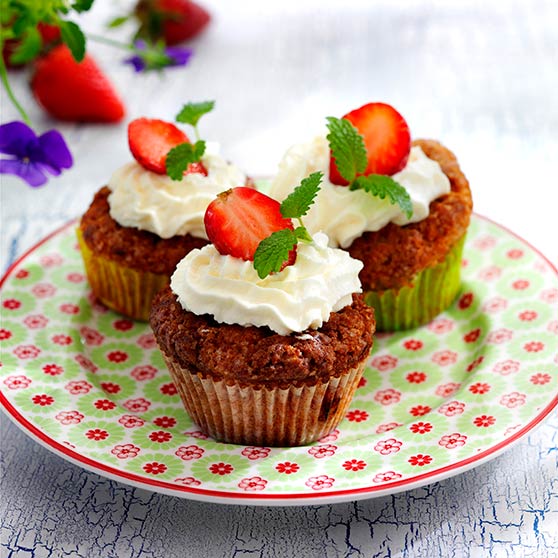 Makes 12 (depending on the size of the muffins)
Ingredients
For the muffin
240 g plain flour
21/2 tsp baking powder
150 ml liquid margarine
200 g McKinney's Granulated Sugar
3 eggs
Juice and grated zest of 1 lemon
100 g white chocolate, chopped
1/2 litre (250 g) strawberries, sliced
To decorate
150 ml whipping cream
1 tsp McKinney's Icing Sugar
Strawberries
Method
To prepare the muffins
Mix the flour with the baking powder. Add the margarine, sugar, eggs, lemon juice, and lemon zest. Stir to combine.
Add the chocolate and strawberries. Bake in the centre of the oven at 200°C for about 20 minutes. Allow to cool.
Whip the cream with the icing sugar until it forms soft peaks. Rinse the strawberries. Pipe or spoon a little whipped cream on top of each muffin.
Decorate with strawberries.
You can find some more McKinney's Sugar recipes on their facebook page or on their parent website Nordzucker.