Weekend in Enniskillen with The Enniskillen Hotel
As you will have noticed from our social media pages I have taken a keen interest in ensuring a well balanced life which includes some little trips away to break up the ever increasingly busy life we all lead. I think it is so important to look after yourself in this way and to give yourself a break from your usual routine.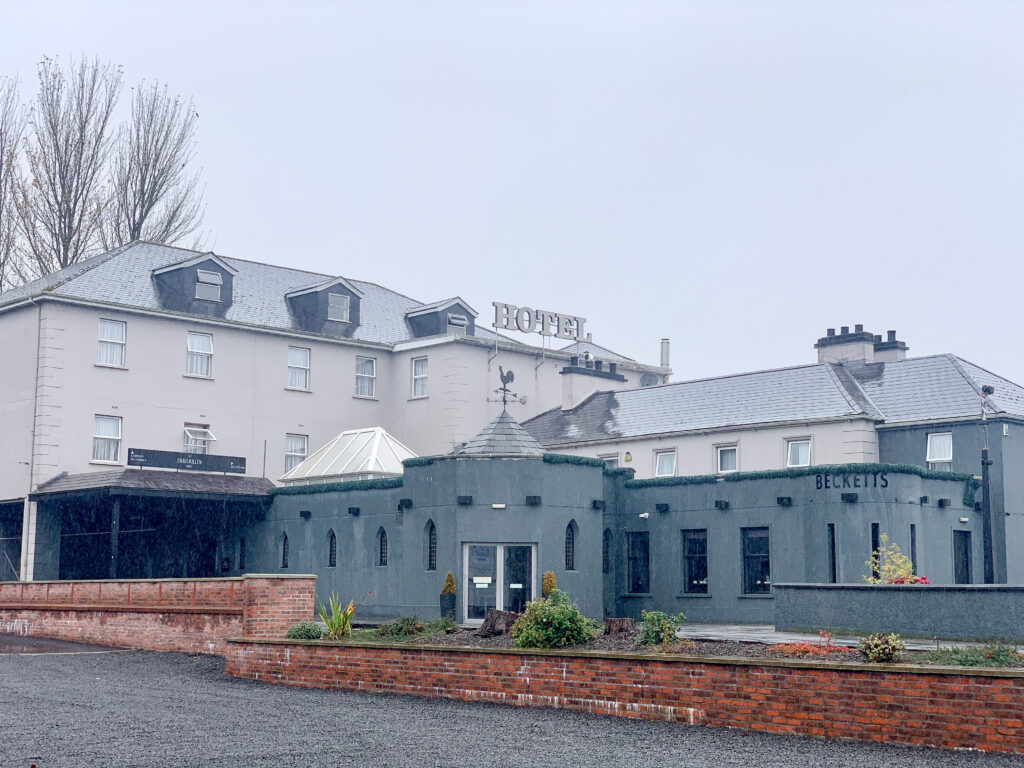 The Enniskillen Hotel were very kind to invite us to enjoy an overnight stay with them in a beautiful part of Northern Ireland and dine in Wildes Lounge.
The Enniskillen Hotel is located in the centre of Enniskillen itself so is very central to anything you may want to do or see while you're there. The town is bustling with visitors and locals alike with numerous traditional pubs and restaurants as well as tourist sites nearby such as Florence Court, Castle Coole, Enniskillen Castle, The Marble Arch Caves and even Enniskillen's very own distillery, The Boatyard Distillery. Plus lots more. It's an incredibly scenic area of the country. We recently also visited Lustybeg Island Resort and Spa which is a beautiful island escape.
The Hotel
The hotel is a small family run hotel and made up of 35 well appointed bedrooms, Becketts dining room serving a fresh local seasonal menu, Wildes lounge which includes its own menu and whisky room with open fire. We were lucky enough to stay in the hotel's Bronte Suite. The most beautiful room. So let's take a little look!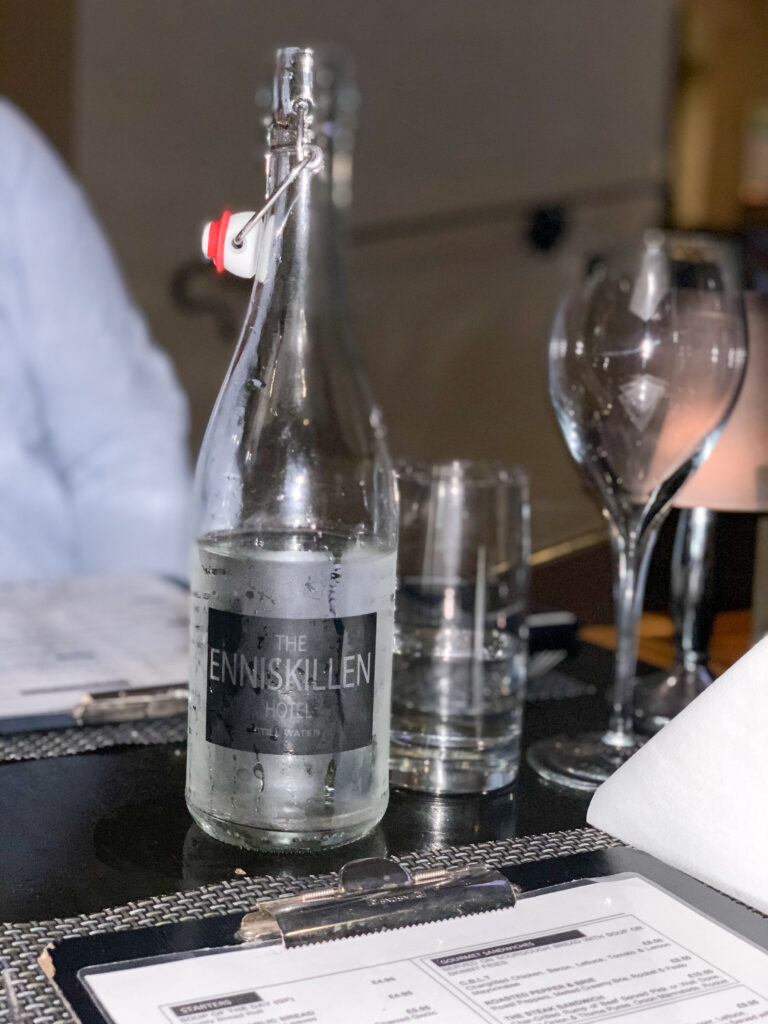 The Room
As I say above the hotel were kind enough to give us The Bronte Suite which is the nicest room in the hotel. I actually don't think I have stayed in a room as big as this before. At first we thought 'oh amazing a walk in wardrobe!!' only to discover said wardrobe was not only a wardrobe but a corridor which led into the bathroom which was huge and included a double shower AND a jacuzzi bath. (I know right!!). In the bedroom which was also huge there was a lovely seating area and fireplace. This room genuinely made you feel relaxed and at home. If this room is available when you're booking it is 100% worth every penny.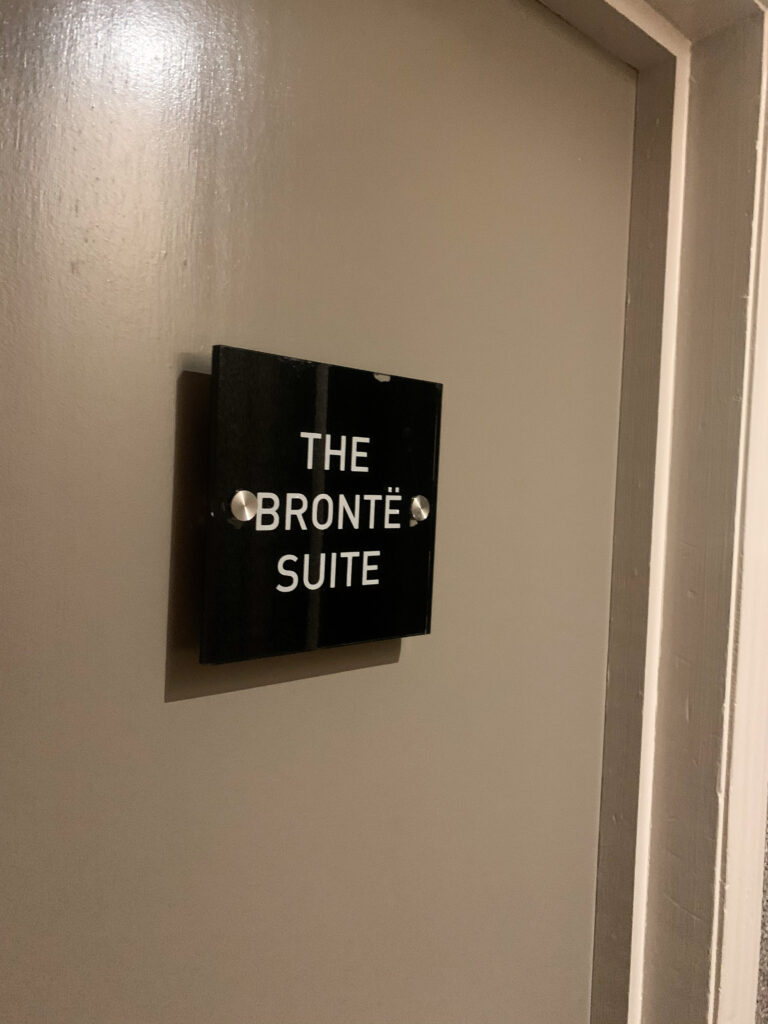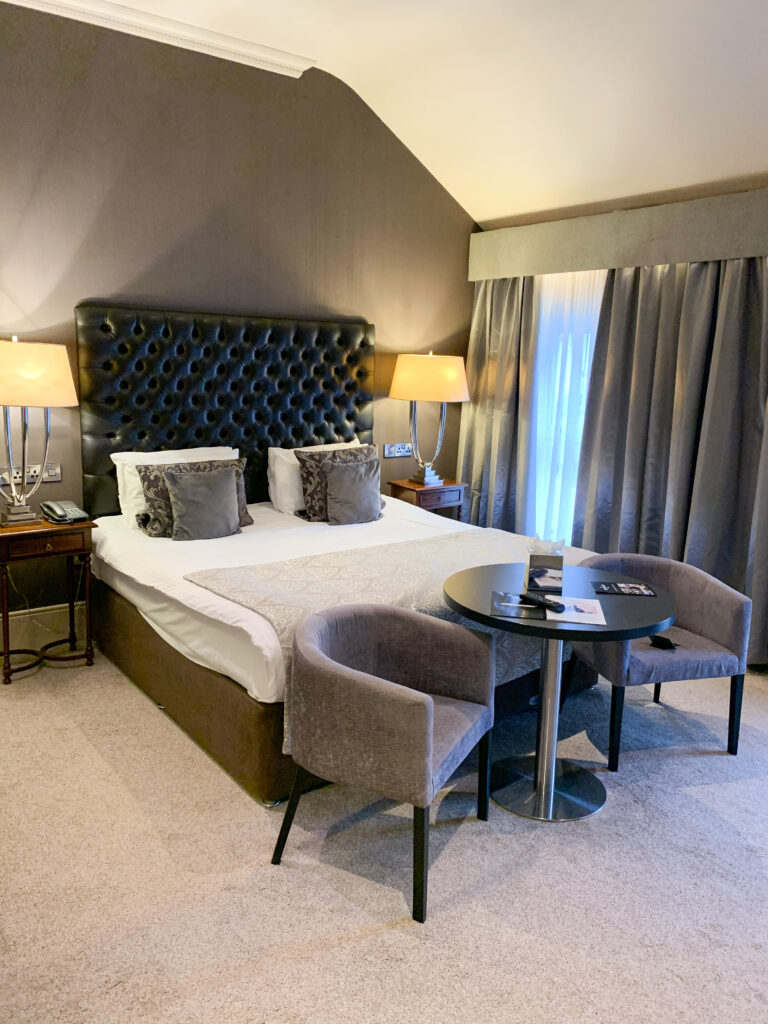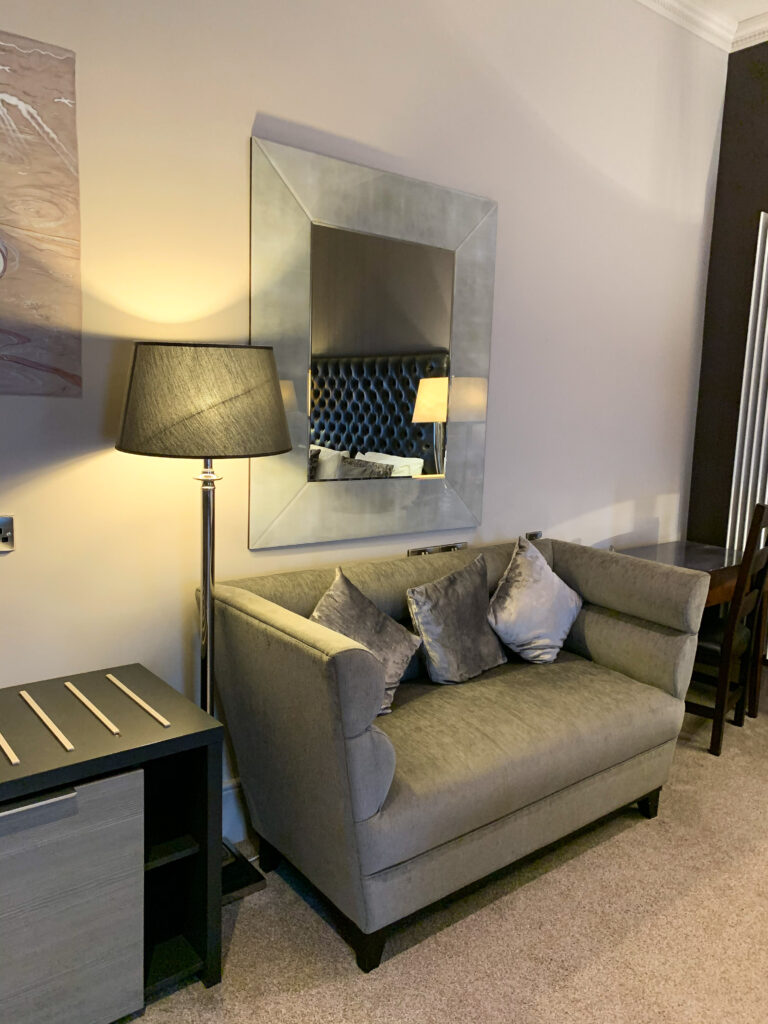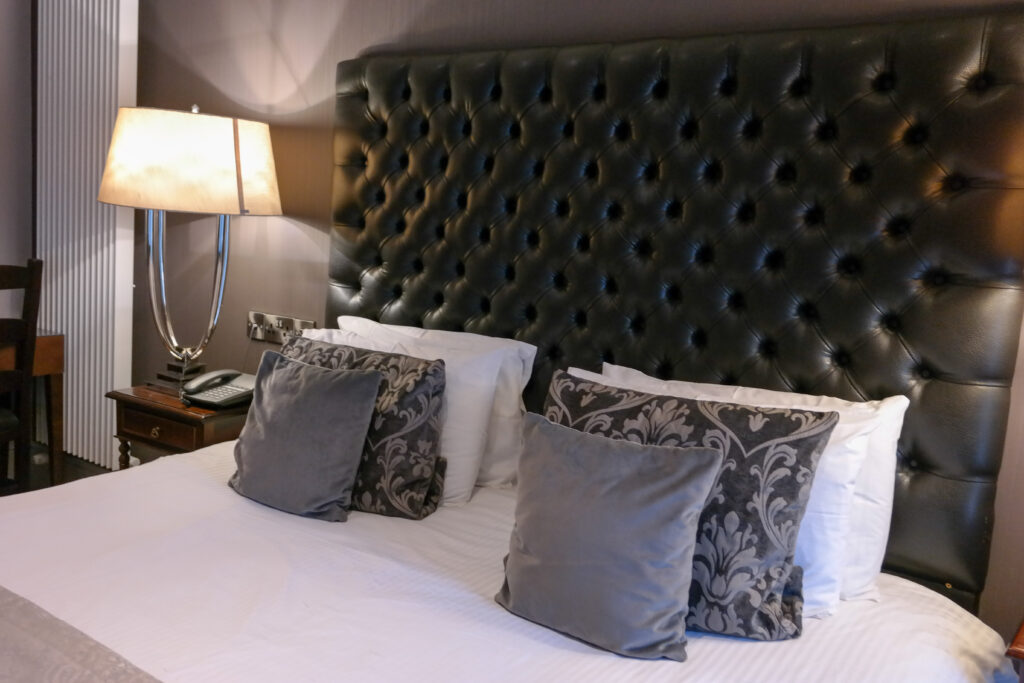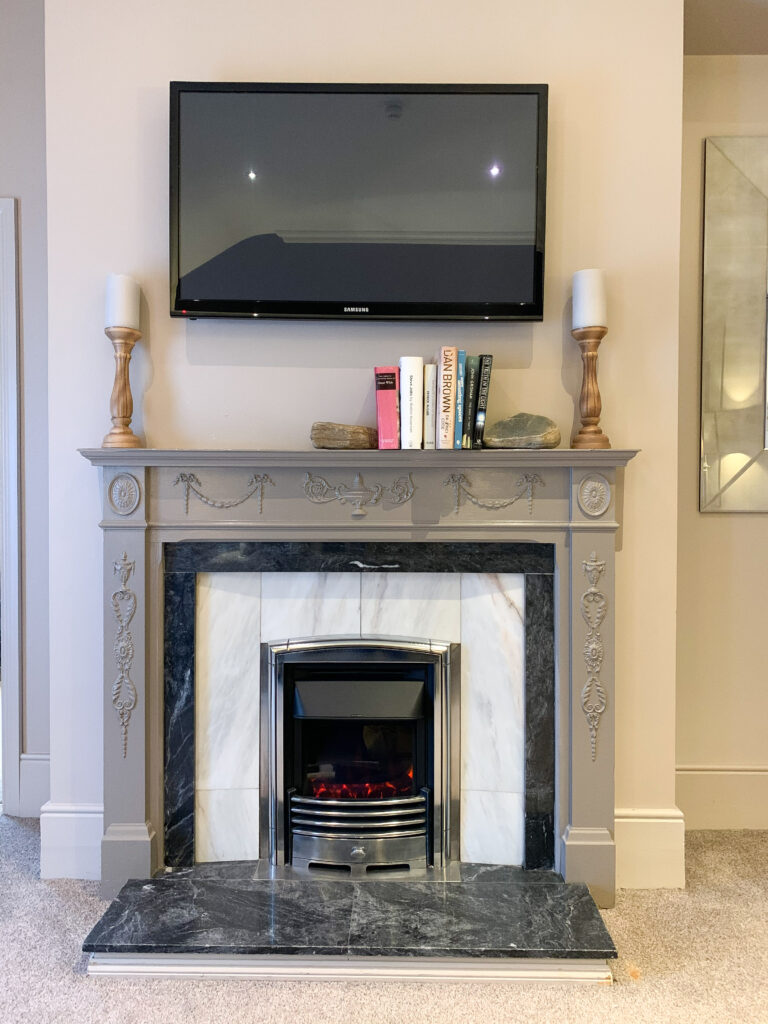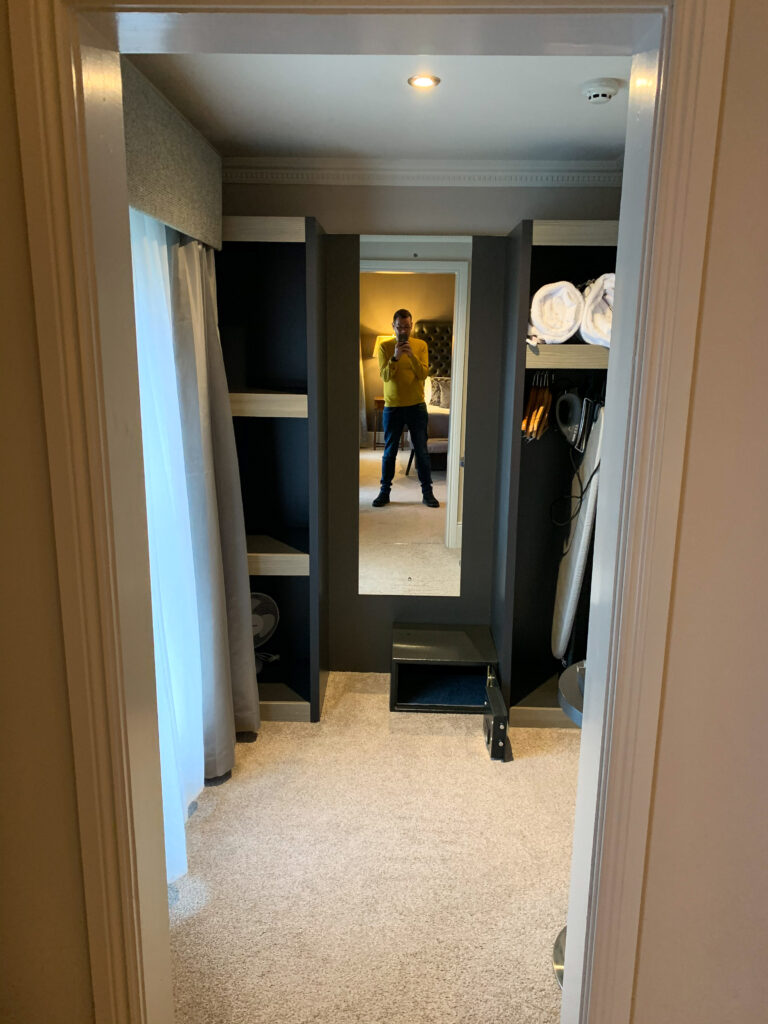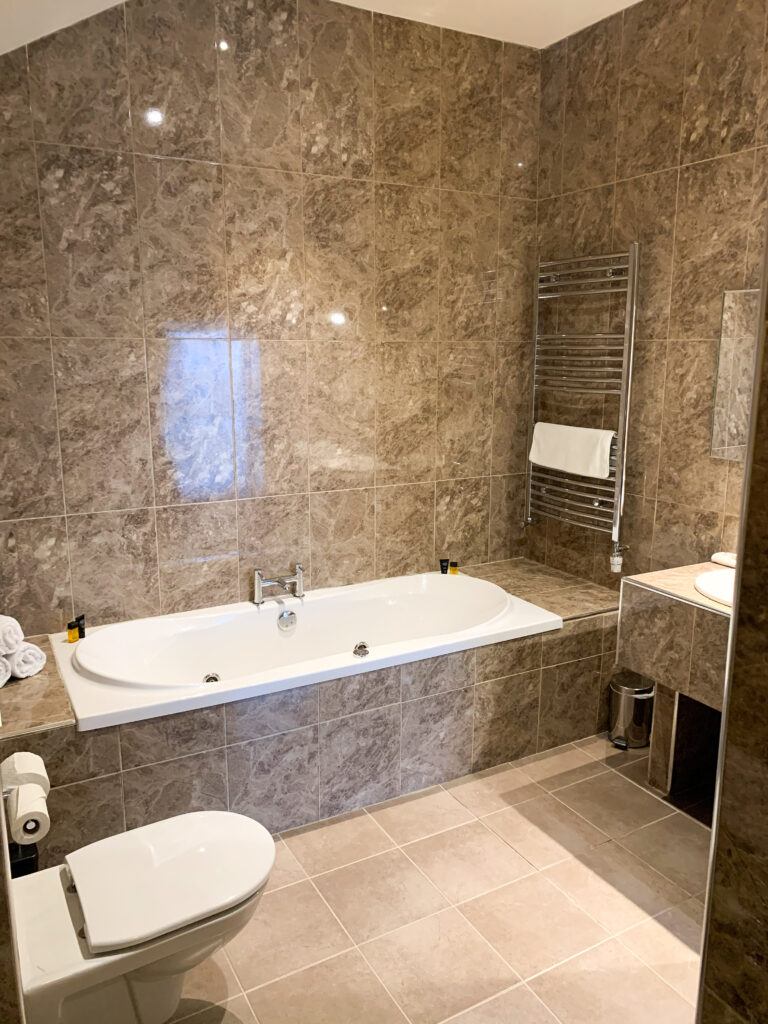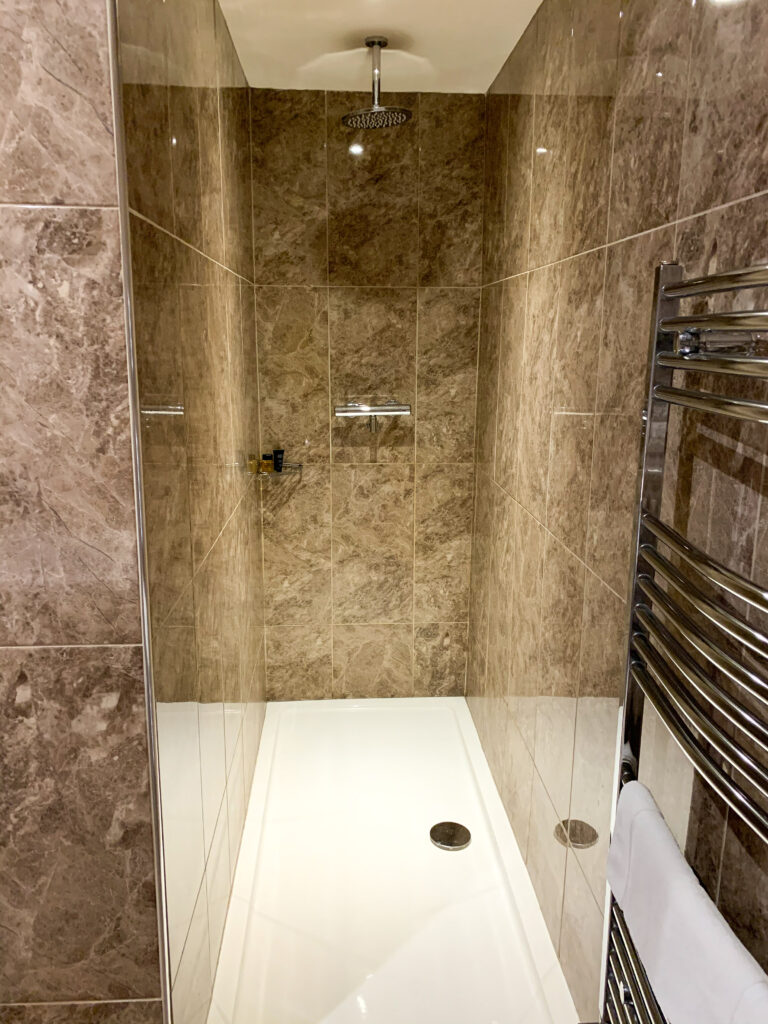 The Food
We decided to eat in Wildes Lounge. Named after Oscar Wilde of course. The lounge includes a bar and whisky room with open fire as well as the restaurant area. The whole hotel is incredibly homely and the staff are all very friendly. The menu has a really good variation of dishes on it and some excellent choices.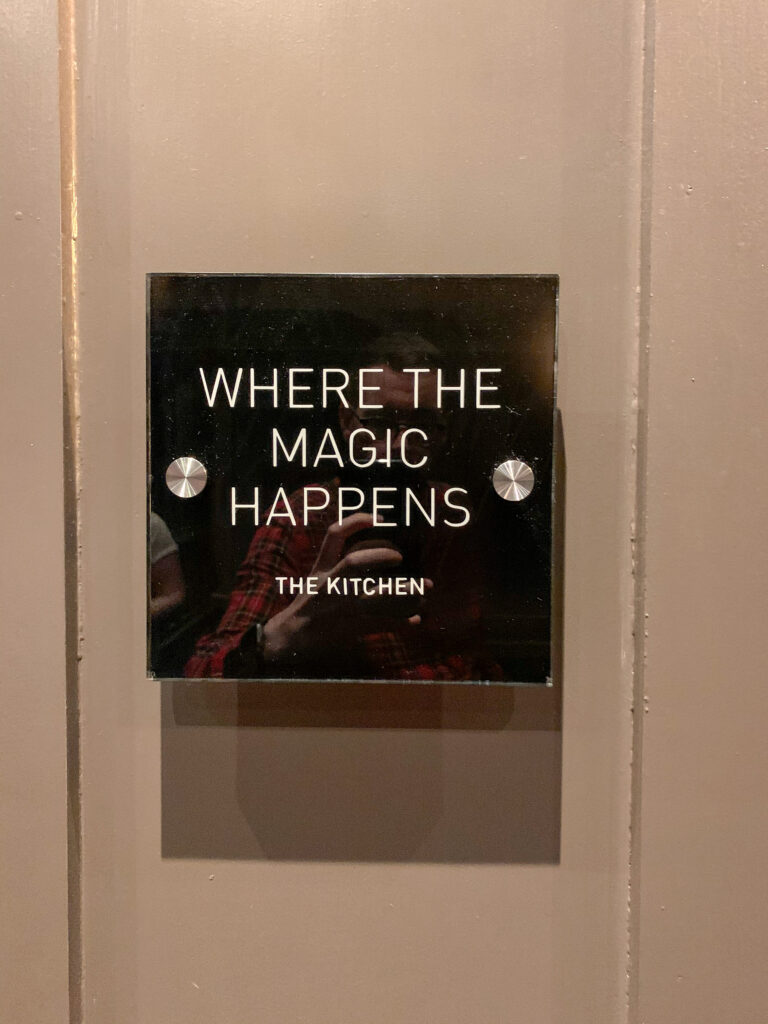 Starters
For starters I opted for Deep Fried Brie, Red Onion Jam & rocket. This came out beautifully presented, crispy and absolutly delicious. Dressed beautifully and all the flavours complimented each other as they should. We also opted for the Soup of the Day with crusty bread role. A big bowl of freshly made soup which would warm anyone up on that cold day!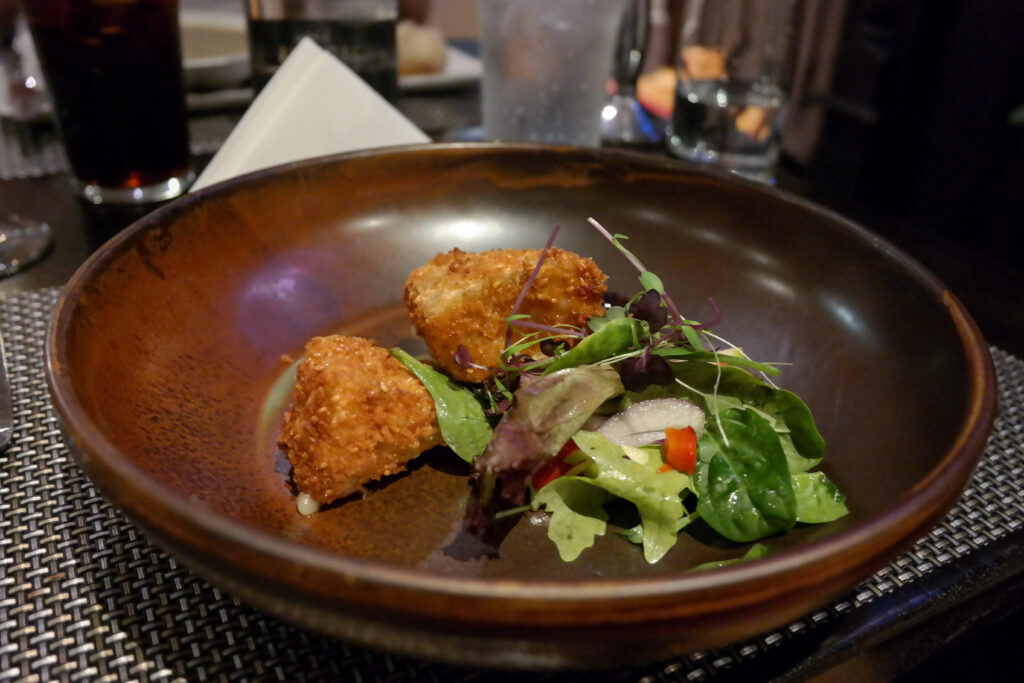 Mains
After some deliberation of the menu we opted for the Cod and Chips, Beer Battered Cod, Mushy Peas, Chunky Homemade Tartare Sauce, Served with Chunky Chips. This came out once again wonderfully presented. I really think how food is presented makes or breaks a meal. The fish was really quite large and chips cooked to perfection. The batter was just how it should be, crispy with a subtle but distinct taste of beer. Perfect! We also opted for the The Northern Smoke House Beef Burger, Lettuce, Tomato, Bacon & Cheese in a Brioche Bun Served with Tomato Relish & Chunky Chips. This was some burger!! Cooked to perfection again!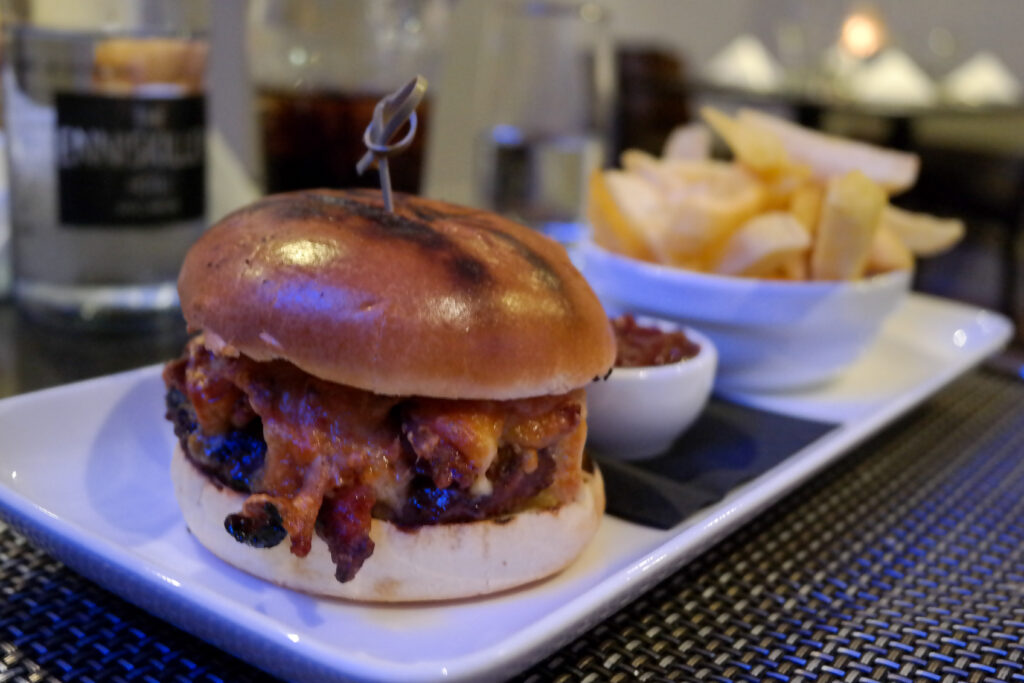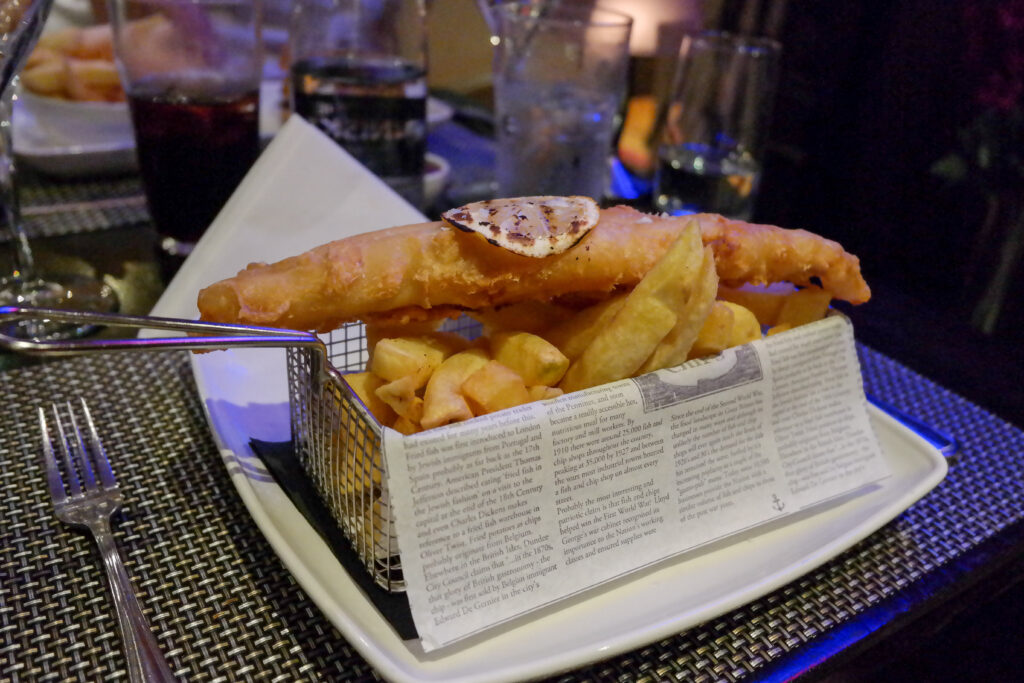 Dessert
The finale and the best part of any meal. Although at this stage we were genuinely quite full. Being dedicated of course we simply waited 10 minutes and soldiered on! We opted for the Toffee Apple Crumble. Stewed apples topped with toffee sauce, sweet crunchy crumble, creme anglaise served with honeycomb ice-cream. I didn't have any toffee apples this Halloween and this was certainly a fantastic alternative. I loved everything about this dessert. It embodied everything an apple crumble should with the addition of the autumnal flavours of toffee. Fantastic. We also opted to try the Ferrero Rocher. Layers of crumble, chocolate, hazelnut cream and ganache. What's not to love about a dessert recreating the famous Ferrero Rocher!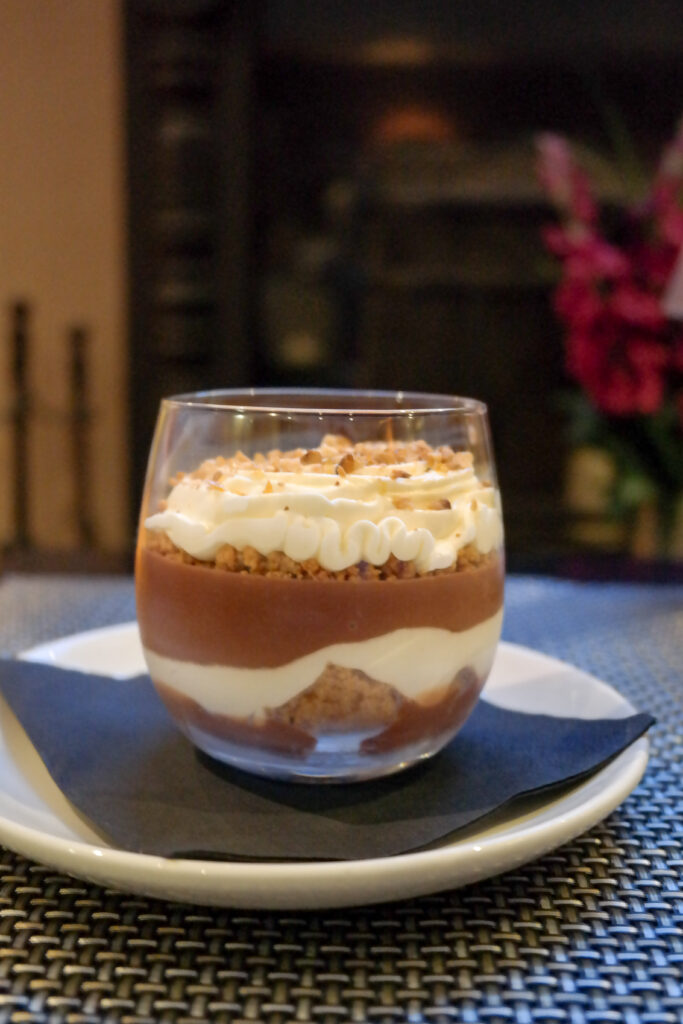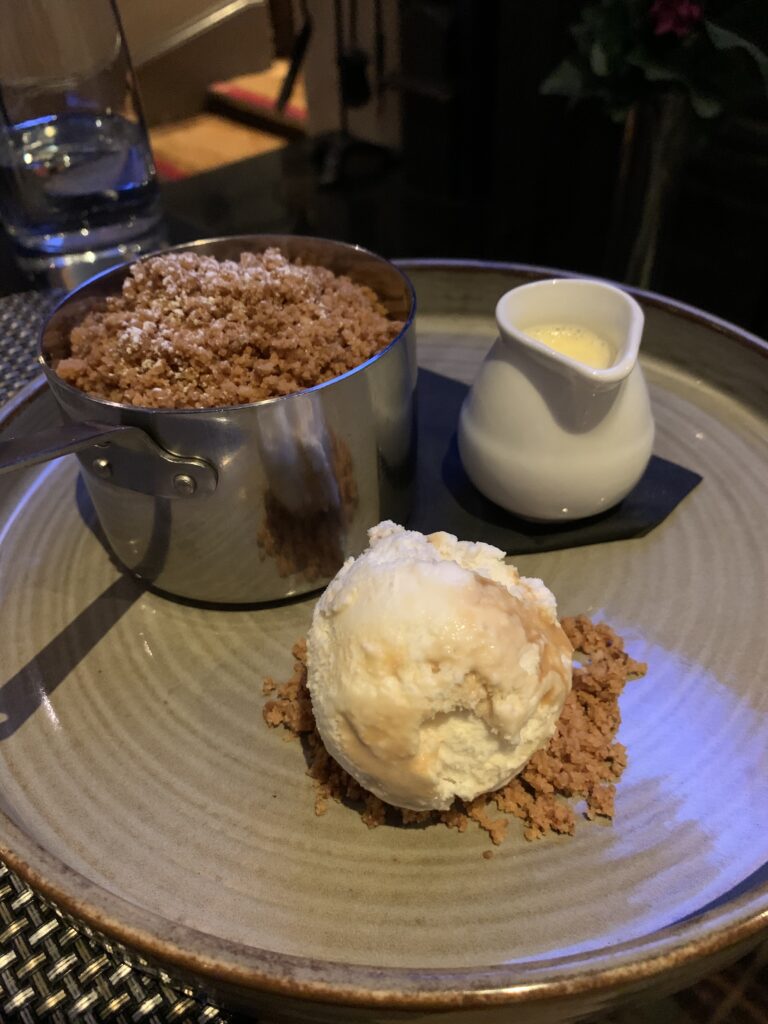 The Morning After
I love breakfast, it's the first meal of the day and really sets you up for the day ahead. When in Enniskillen a good breakfast is essential for all that exploring ahead. A great selection of cereals, juices, fresh pastries and fruit to start with the option of cooked breakfasts of various kinds. When ever offered a cooked breakfast I go for the plain obvious. Full Irish/English Breakfast. Whatever is on offer. This was a fantastic cooked breakfast using the best ingredients. Super tasty and set you up for the day ahead.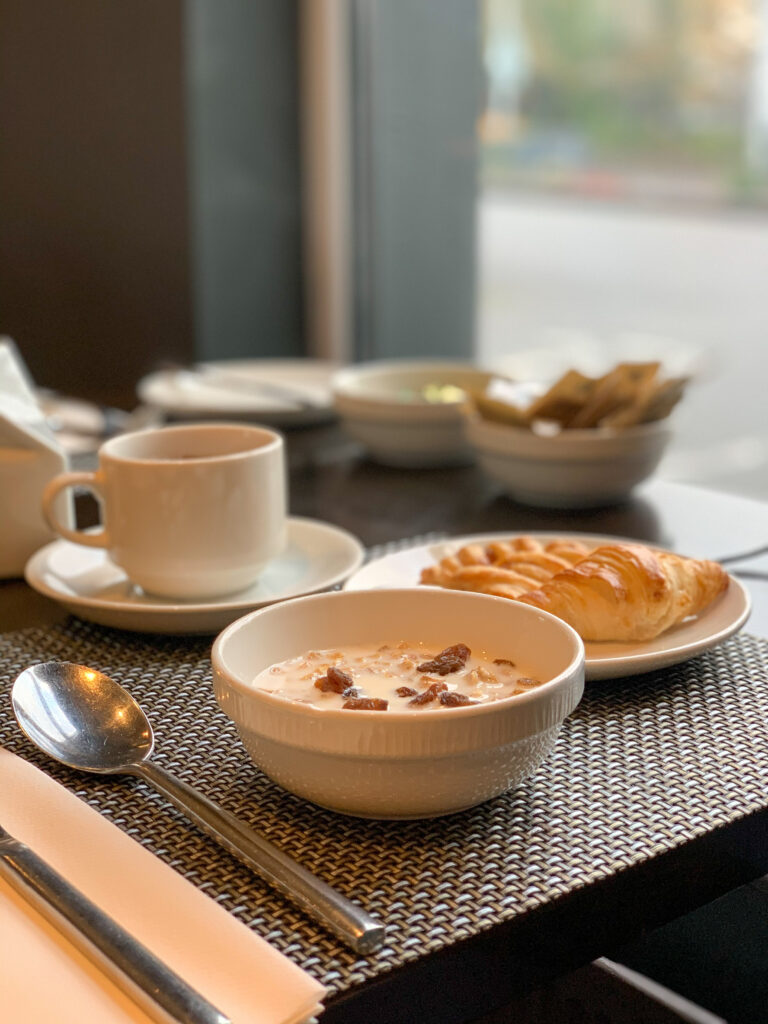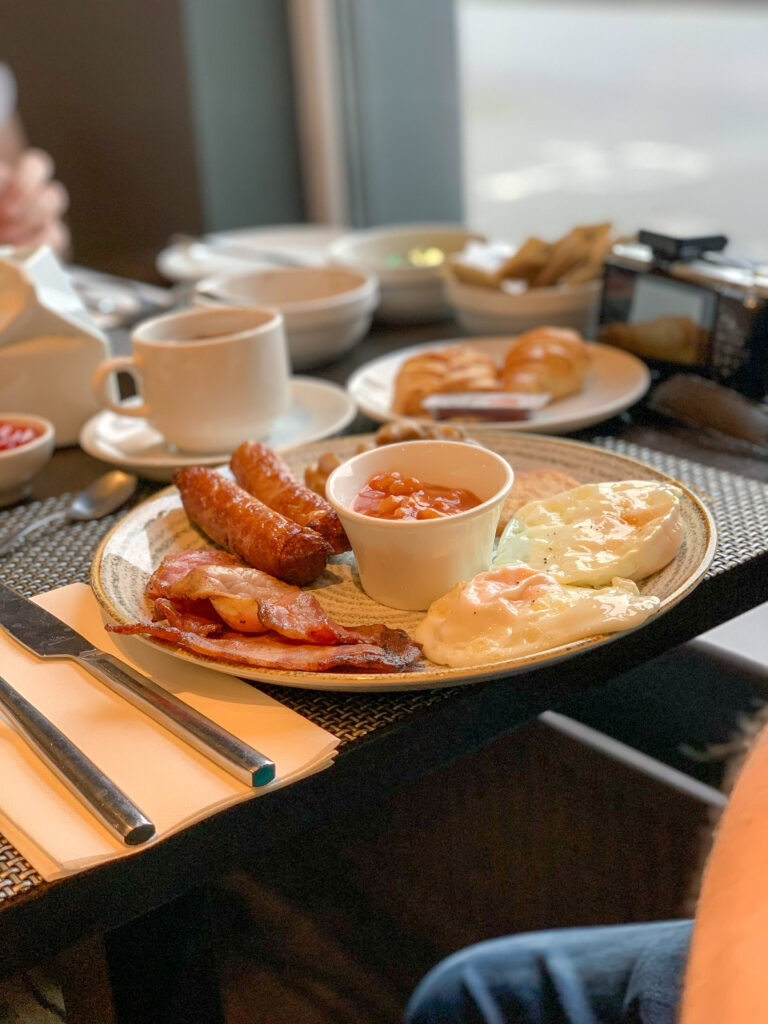 Overall our stay at the Enniskillen Hotel was fantastic. There is nothing we would want to change. The history which seeps out of the building in lots of hidden places, the staff's attentiveness and attention to detail and the rooms themselves. This is a hotel we'd go back to again and again.