Learning to manage money with Money Games
I have always been a constant learner from when I have been in school all the way through my career. My brain never stops seeking more knowledge and skills. When we were asked to check out Mortgage Calculator's Money Games I jumped at the chance. It's all free so we didn't exactly need permission or anything like that.
These games are actually all designed for kids to learn about money. When I was in school we learnt nothing about how to manage money. And I mean nothing! I sincerely hope that has changed now? So there are tons of categories of games to choose from. From real estate, farming, grocery story, restaurant simulation and tons more. Obviously as soon as I seen restaurant I was like….That's for me!
I haven't run a restaurant before but know there is a lot to it. So I was curious what this game is going to tell me about this, and how good is this going to be for kids who want some insights into possibly what they want to do as a career.
So lets dive in! In each of these categories you find the games themselves. So inside Restaurant Simulation you find games such as Coffee Shop, Pizza Shop, Chocolate Shop and tons more. Coffee Shop sounds like a fun thing to run so lets have a look.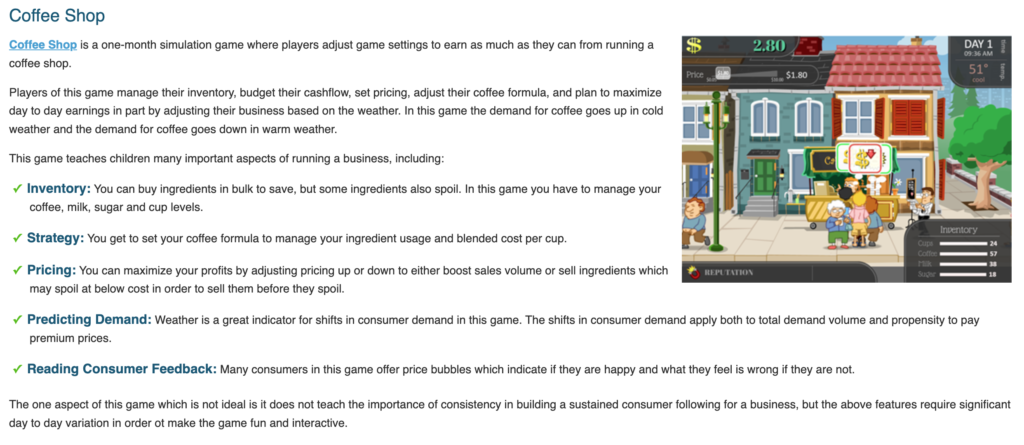 This game says it will teach you things like:
Inventory: You can buy ingredients in bulk to save, but some ingredients also spoil. In this game you have to manage your coffee, milk, sugar and cup levels.
Strategy: You get to set your coffee formula to manage your ingredient usage and blended cost per cup.
Pricing: You can maximize your profits by adjusting pricing up or down to either boost sales volume or sell ingredients which may spoil at below cost in order to sell them before they spoil.
Predicting Demand: Weather is a great indicator for shifts in consumer demand in this game. The shifts in consumer demand apply both to total demand volume and propensity to pay premium prices.
Reading Consumer Feedback: Many consumers in this game offer price bubbles which indicate if they are happy and what they feel is wrong if they are not.

So I may be guilty of spending about an hour playing a game which is meant to teach children but you know what…..I had fun so I don't care! 😀 All the games are different of course but this one took you through different stages such as purchasing inventory (the more you buy in bulk the cheaper you get it for etc), putting together a recipe for the coffee keeping costs in mind, setting a price and then you 'begin the day' and the customers start rolling in. There are dependants such as time of day and weather which will make your coffee more or less popular. You end the day with your profits and then have to decide what stock to purchase again for the next day. I can certainly see what kids would learn from this and help them understand the relationship between money and business etc.
I have included a few screen captures below of the game. Retro but amazing fun to pass the time if you're bore. I dare you!